TISSUES AND TRENCH COATS
ANNA SEW HOY
OPENING RECEPTION:
THURSDAY,FEBRUARY 16, 6:00 – 9:00PM
EXHIBITION DATES:
FEBRUARY 16 – MARCH 17, 2012
Romer Young Gallery is pleased to present Anna Sew Hoy's first solo exhibition in San Francisco, Tissues and Trench Coats. There will be an opening reception for the artist on Thursday, February 16th, from 6-9pm.
It is significant that the existence of the work of art with reference to its aura is never entirely separated from its ritual function. – Walter Benjamin
Anna Sew Hoy's work celebrates the beauty, form, and materiality of sculpture while simultaneously suffusing energy into the poetic and emotional "presence" of objects. Sewing together painted ceramic forms with the inconspicuous things that are woven into our daily rituals, Sew Hoy explores the relationship between people and the emotional intention that is [sometimes unknowingly] invested into everyday objects. In Tissues and Trench Coats, ordinary objects that have specific associations and functions are beautifully transformed in such a way that the once familiar object-functional becomes compelling, complex, and auratic.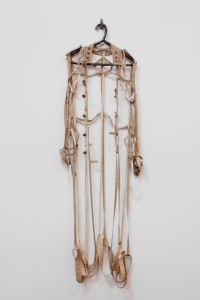 This exhibition consists of two series of works, each series created using different strategies. The tissue-dispensers meld use-value and aesthetic-value to create an uncanny hybrid. The tissue is dispensed as one would expect from a common household item. However, the tissue is also framed by the ceramic structure from which it comes – a soft, absorbent contrast to the impervious and faceted ceramic. "The tissue dispenser is an iceberg topped with a cloud, a white mountain that has sprung a leak. When I cry, my leakage meets its leakage. The act of pulling a tissue to wipe my eye becomes a performance, a ritual. This is not a tea ceremony, but simple self-maintenance, framed."
The trench coat sculptures were arrived at through a process of subtraction. The artist meticulously cuts away all the panels of fabric, leaving nothing but the seams. What remains is a floppy skeleton of an iconic piece of clothing. Structured form is un-structured. Gestural. "Try to understand how your most familiar things are put together, like a child taking apart an alarm clock. Understanding through removal, by un-construction. A trench coat has a lining, lapels, cuffs, pockets, epaulets, buttons, button-holes. The skeleton becomes a schematic of tailored parts. The tailored structure is made abject, unformed. The body is missing."
Anna Sew Hoy's work has been included in numerous museum exhibitions including "The More Things Change" at the San Francisco Museum of Modern Art; "Nothing All Day: Anna Sew Hoy" at the San Jose Museum of Art; the California Biennial 2008 at the Orange County Museum; "Now You See It" at the Aspen Art Museum; "Eden's Edge" at the Hammer Museum, Los Angeles; and "One Way Or Another," at the Asia Society in New York. She has had solo exhibitions at Sikkema, Jenkins & Co and Renwick Gallery, New York; at Karyn Lovegrove Gallery in Los Angeles. She was awarded a United States Artists Broad Fellowship in 2006 and was recently awarded a Durfee Foundation Grant to support her collaborative work with Eve Fowler, for their project called Two Serious Ladies.
For additional information, please contact the gallery at 415.550.7483 or email info@nullromeryounggallery.com. Romer Young Gallery is a San Francisco based contemporary art gallery committed to showing regional and international emerging and mid-career artists.