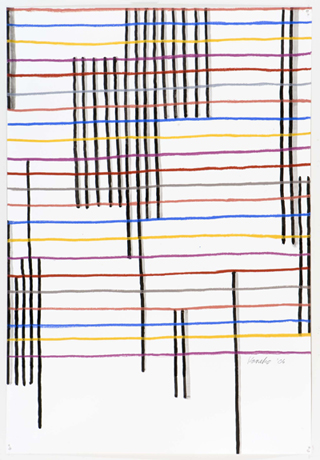 June 7 – July 21, 2012
During June and July, the Rena Bransten Gallery will present a selection of drawings, paintings, and sculpture by Jun Kaneko.  The exhibition will run concurrently with Kaneko's new production design for San Francisco Opera's Magic Flute, opening mid-June. Read the review here.
The gallery exhibition will consist of large scale ceramic works from his 'Dango' series in brilliant colors, a large ceramic head evocative of Easter Island or Buddha artifacts, a spherical clay form with vivid glazing, and paintings and drawings whose graphic rhythms indicate his interest in music and chance.
Kaneko is known for his pioneering work in monumental ceramic forms. His technical skills and penchant for pushing aesthetic boundaries have led him to extraordinary artistic accomplishments in public art, set design, and architectural projects.  His artwork is included in more than seventy museum collections.  Born in Nagoya, Japan, he currently lives and works in Omaha, Nebraska.
Image Details: Jun Kaneko – Untitled, Drawing 2006 oil pastel and sumi ink on paper, 64 x 44 inches