The landscape of luxury retail is being revolutionized, and the catalyst is art. Bucherer, the distinguished Swiss luxury watch and jewelry retailer, is leading the charge through its partnership with On Approval, an ingenious art subscription service. They're pioneering a model that curates museum-worthy art exhibitions in their retail spaces, starting with their flagship store at 57th and Madison in New York City.
From March to May 2023, this flagship store was transformed into an artistic haven, hosting a breathtaking solo presentation by renowned NYC-based photographer David LaChapelle. His works' distinct, surrealistic style, which encapsulates profound social commentary within contemporary consumer culture, delivered an unforgettable, immersive retail experience. 
Next Door at Tiffanys
Meanwhile, next door at Tiffany's flagship store, they're showcasing artworks from their owners' collection, worth hundreds of millions of dollars over the years. A recent WSJ article quotes, "Tiffany & Co. has reopened its New York City flagship with an expansive installation of artworks owned by the luxury retailer's parent company, LVMH Moët Hennessy Louis Vuitton SE."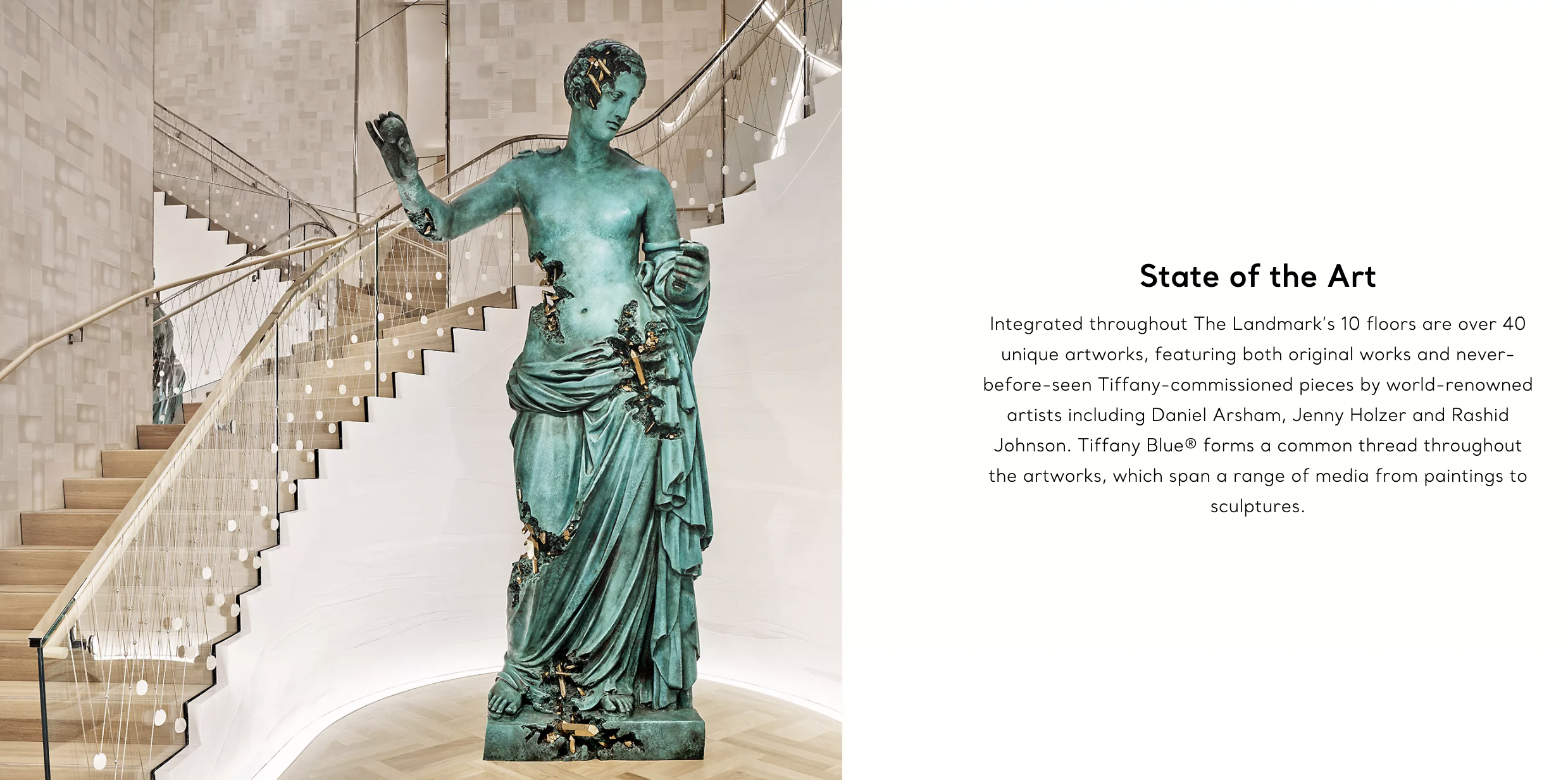 However, Bucherer's partnership with On Approval presents a fascinating twist on this trend of luxury retailers showcasing museum-quality art. It allows brands like Bucherer to offer an equally immersive and high-quality art experience but at a fraction of the cost. While Tiffany's has tens of millions on art for their stores, Bucherer is leveraging On Approval's art subscription services to deliver the same quality experience at 1/100th of the price.
This innovative approach is transforming the way luxury brands operate. On Approval's subscription model provides an avenue for businesses to continually refresh their store's aesthetic, creating dynamic retail spaces that aren't just about commerce but about culture too. It offers brands the chance to connect with their customers on a deeper level and stand out in the increasingly competitive luxury market.
Ira Melnitsky, president of Bucherer USA,  quoted in Forbes magazine; "The space is punctuated with works by artists connected to New York City, including Julian Schnabel, Man Ray, Joel Sternfeld, and others. "Our heart and soul is in New York City," […] "This is our flagship, and it is the engine that drives the car. It is one of the most exciting accomplishments of my career without question. The entire store is a careful curation from start to finish.
The subscription economy for museum-quality art is here to stay, and Bucherer is at the forefront. By embracing On Approval's services, they're setting a new benchmark for luxury retail – creating an engaging, multi-faceted experience that enriches their brand value and transforms the consumer experience.
David LaChapelle's solo exhibition at Bucherer's flagship store is just one example of On Approvals exhibitions, others include famous modern 21st-century artists like Pablo Picasso, Man Ray,  and Pierre-Auguste Renoir. The success of this venture is likely to inspire other collaborations between On Approval and luxury retail brand, setting the stage for an exciting future of luxury retail spaces morphing into dynamic art museums.
As the integration of culture and commerce becomes more prevalent in the luxury retail sector, Bucherer and On Approval's partnership is a shining example of the transformative power of art. This is indeed the dawn of a new era in luxury retail, proving that the fusion of art and commerce is not just an aesthetic choice but a strategic one. The blend of art and luxury retail is here, and it's proving to be a game-changer.