SFAQ Interview with John Leo, Co-founder of Fountain Art Fair, about the upcoming LA Fair next week.
How long has Fountain Art Fair been around for and what promoted you to start it?
Fountain began in 2006 shortly after co-founder David Kesting and I went to Art Basel Miami Beach in 2005.  We were overwhelmed by the fairs in Miami and noticed that there was a niche that was not being satisfied.  Specifically, that of the young independent galleries and artists that thrived in our Brooklyn community.  We felt it was a shame that so much talent was going unseen, and thought that the fair circuit would provide the exposure that these projects truly deserved.  We did our fist exhibit in NYC during the armory show in 2006 with just 3 galleries.  in 2010 in Miami we had grown to 25 projects.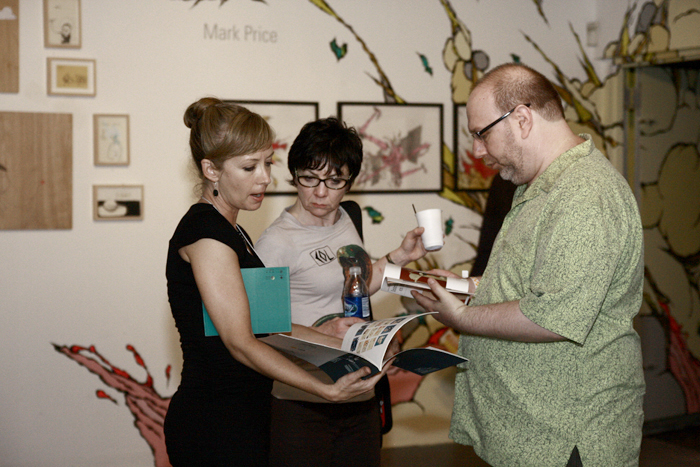 Fountain is known for it's avant garde edge – which seems refreshing to a lot of other fairs – what are some of the more memorable performances over the years?
It is that avant garde spirit that charges Fountain forward in people's minds.  I would have to say that some of the most memorable moments have been put forth through our good friends at Grace Exhibition Space.  A gallery from Bushwick that specializes in performance based work, run by directors Jill McDermid and Erik Hokanson.
Miami 2010 was the most outrageous set of performances we had ever hosted.  The Estonian based collective Non Grata executed a reverse auction of a golden effigy of Duchamp's famous Fountain (our inspiration).  When the bidding was over and the work was valued at $0 they saturated the work in lighter fluid and ignited it. Shortly after a crew of assialents came into the courtyard where there was a parked car (which had housed a performance by Marni Kotak only moments prior) and attacked with steel pipes smashing the car to smithereens among a cheering crowd.  They passed the pipe to others and everyone got in on the action.  It was certainly a sight to behold and almost forced the closure of Fountain for the remainder of the weekend.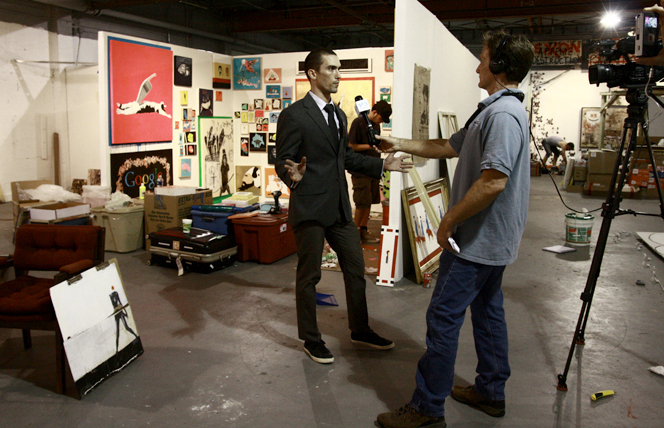 It seems the fair has been growing very rapidly  – this is the first year in LA but you have done NYC, Miami, and Chicago. How do you feel LA will go over in its first year?
The fair has grown at a tremendous rate.  This expansion to LA marks our first new city in over 4 years.  We feel confident with the group of galleries and artists on the roster that the show will go over well.  People in the art world look to Fountain to be the one standout among the shows.  It was art forum that quoted us as "Posessed of a scrappy youthful verve lacking in its more prestigious neighbors," and it is this sentiment that brings the people.  When you visit Fountain you do not feel like you are at a traditional fair, you fell as though you are a part of a movement.  I think we are going to see a very successful event.
Typically Galleries at fairs get cranky when there is live music and performance going on – but it makes it more about the art in my opinion. Can you talk about this relationship between the two mediums?
Music and art are complimentary.  When have you ever been at an artist's studio and found the artist sitting in silence?  Seldom ever.  It is this nature that we work to reflect.  Fountain is about the celebration of art and we feel that you cant have a celebration without music!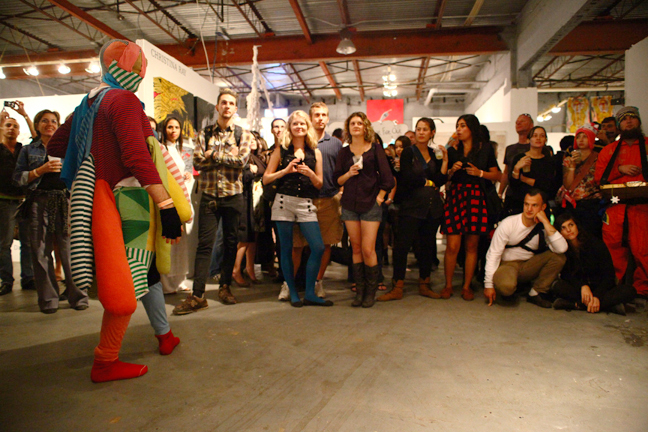 How many new West Coast based galleries have signed up for LA?
We are working with local west coast artists Aleve Mi Loh, Carly Ivan Garcia and the Venice based collective The Mechanism.  New west coast galleries include, Blythe Projects, LA – Chalk Gallery, LA – Hungryman Gallery, SF and the always wonderful Ever Gold from San Francisco.
How does Public or Street Art play into the vision of the fair?
Fountain is all about engaging the viewer and we feel that Street art and Public projects really play up to that side. Street art has become an integral part of the exhibition as it is what is most current and constantly evolving.  In this way we are able to keep people abreast of current trends and of what is happening right now.
Are you expecting the Hollywood A list to make a visit?
I would be psyched if we had some celebs, but do they buy art?
What can one expect from Miami Fountain in December?
Miami 2011 will mark our 7th year there.  So lucky seven means an extra strong presence as the go to alternative fair! Keep your eyes peeled for updates immediately following LA.