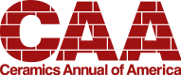 The Ceramics Annual of America 2011: Exhibition and Art Fair at Fort Mason, Festival Hall San Francisco, California
Exhibition Dates: October 7-9 2011
Friday: 10am-8pm
Saturday: 10am-8pm
Sunday: 10am-6pm
Opening Reception: October 6, 2011, 5:30 – 9 pm
The Ceramics Annual of America (CAA) is an ambitious exhibition and art fair spotlighting the quality and diversity of contemporary ceramics from around the world including works from China, Korea, Mexico, Australia and Italy. It is the only event of its kind in the United States and the goal is to encourage the education and enrichment of the public, cultivate a fertile art market, and foster dialog between collectors and makers of ceramic sculpture.
Part of California's continuing legacy of excellence and innovation in ceramics, the CAA is the largest exhibition and art fair that is entirely focused on ceramic art in America and is modeled after the Ceramic Biennials held in Europe, Korea, Japan and China. It provides a venue for the top regional and international artists from working in the clay medium to show their work to a broader audience of collectors.
The CAA is organized by the California Ceramics Cooperative, a group of invested regional ceramic artists, and will feature panel discussions, lectures, tours as well as daily interactive art demonstrations from 4-5 that will provide a greater understanding of the artistic process for students and educators alike. Schools located in the Bay Area will have free admission all day Friday and should contact the Ceramics Annual for Reservations. Featured artist and instructor Kevin Nierman, author of "The Kids 'N' Clay Ceramics Book," will provide "Artistic childcare" on Saturday and Sunday from 11-3.
The exhibition will be held in the 50,000 square ft. Festival Hall at Ft. Mason, capable of accommodating as many as 10,000 people. A popular attraction for countless national and international visitors to the city, Ft. Mason still resonates with the presence of the California Funk movement of the sixties and seventies that inspired ceramic greats living in San Francisco today. Its close proximity to nature, unique architecture and nostalgic atmosphere contribute a breathtaking backdrop for an impressive array of Ceramic Sculptures.
Last years event was a huge success with over 7,000 people in attendance. The museum quality exhibition included educational lectures by curators such as Peter Selz and Phil Linhares and renowned artists such as Jim Melchert. "The size and scale of such an exhibition and the education opportunities, all under one roof, were extraordinary."—Art Historian, Peter Selz.