Actual Size Gallery, LA
SFAQ Interview with: (C) Corrie Siegel (L) Lee Foley (S) Samia Mirza (J) Justin John Greene
How did the Actual Size come about?
(L) It's hard to imagine now because there are a lot of artist-run spaces reaching out, doing collaborative projects, but I was just talking to some fellow gallery owners about how, when I first moved here a couple years ago, it seemed like there were a lot of high-end spaces and a lot of casual artist run spaces…
(J) And a lot of non-profits.
(L) But that there weren't that many nice clean spaces, that were approachable and seemed open to hosting a wide range of events.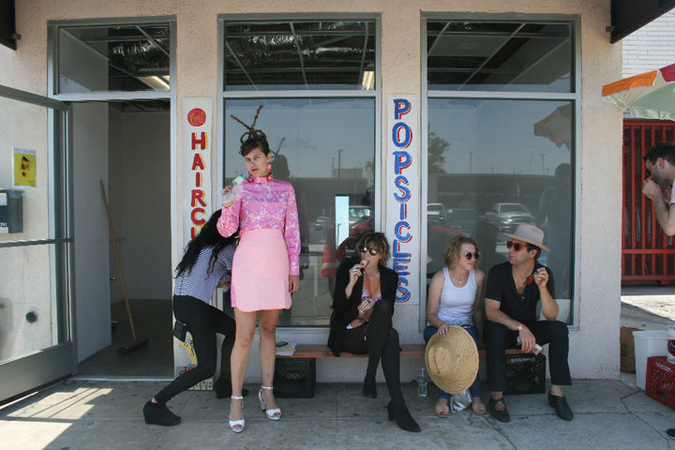 Would you say that you are a space that shows "Emerging Artists?"
(C) We don't limit ourselves to the term "Emerging Artist." We enjoy collaborating with and creating conversations between artists at all levels and disciplines. We have worked with artists such as Larry Fink, Alex Prager, Gaylen Gerber and Tyson Reeder. In an upcoming exhibition we are curating in conjunction with the Pacific Standard Time initiative we are exhibiting works from Ed Ruscha, Barbara T Smith, Gui de Cointet, and Larry Bell. One of our main goals is to show artists as if they are emerging. There is no distinction between the more established artists and the people who haven't had many shows. Instead, it's about developing an intimacy with the work and the artist's focus in order to create an experience that allows you to feel connected and understand the culture of the work.
Can you tell me about some favorite projects Actual Space has done?
(C) The Hook was an arm wrestling championship we planned in conjunction with the Perform Chinatown festival. Even though the contest got pretty heated, it also showed the collaborative spirit of the Los Angeles art community. In many ways the match was a great equalizer, creating unlikely pairings between artists that make completely different types of work in different points in their career, it does not matter what level you are at as long as you are committed to the creative struggle.
(L) We collaborate with artists in order to develop events and exhibitions, but we also initiate projects through Actual Size. We often create a framework and then invite artists to participate. We hosted an event last summer called Twelve Hour Song, which was a collaborative sound experiment that started at midnight and continued through noon the next day. We invited over 40 groups of musicians to generate a continuous sound experience for that entire time. While one band was finishing a set, another group of musicians would set up outside. It allowed different artists to work together, but within a set of a few simple rules.
(S) That being said, we try to get our artists to extend beyond the opening by way of curating an event, let's say, a reading or a performance. Katie Herzog, whose artwork revolves around libraries and literacy, brought in certified therapy poodles and allowed children to read to them as a supplementary event. That allowed us to get into her work and tap into her influences. All four of us agreed that we wanted a space that was really flexible in what we would do. We are privileged, at least geographically, because we are here in Chinatown, which is really secluded, especially at night when we have most of our events. Its possible to spill out into the streets, and we have taken advantage of that for many of our events, including Please Remember Everything, a late-night multimedia party that included live performance, DJs, and a 4 hour long video loop that over 30 artists contributed to. Sometimes we hold performances next door in the alley. I think the important thing is giving an artist a space where they don't feel limited.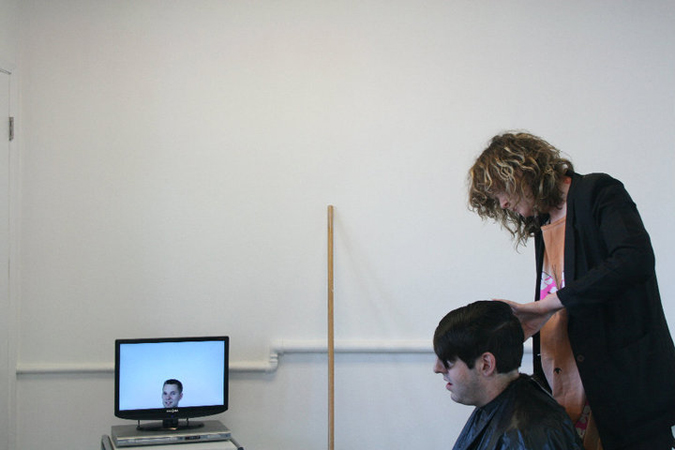 What would you define is your curatorial mission:
(L) We curate different types of exhibitions to engage audiences in the culture of the artist's work.
(J) It's a really small space with a lot of limitations but we are also free of so many limitations that galleries and spaces around us have, like financial ones, we are not representing artists and we don't have the strict agenda nonprofits have so it can be all about the art in a way that other galleries might not be able to.
Can you tell me how you go about choosing artists and developing projects for Actual Size?
(S) We meet once a week at the least, sometimes more. We toss things around, think about ideas and somehow get to the conclusion of, say arm wrestling and bratwurst. We throw around adjectives that we like or what we want to feel from a performance.
(C) We have extensive talks where we voice our thoughts about artists, projects, and what we are excited about. We work closely, and we make all of our decisions together. It's a very involved process, talking things over. We demand a lot of integrity from the artists that we are involved with. The four of us have different sensibilities in our work, so we are looking for something that we can appreciate and all stand behind. It's a collaboration amongst us and with the other artist. We try our best to get them to present their visions in a way that they are really proud of.
(L) It's almost a crit type environment, that also manifests into a real interaction between artists and the outside world.
(J) We try not to be predictable in our projects. The show on exhibit right now, Hollenbeck, has this "cabinet of wonders" feeling. It is pin lit, and very much an installation, yet the show we had prior to this couldn't have been more different. Negotiation of Objects was a very minimal sculpture show that was brightly lit – making those decisions that don't ever define us as a gallery that is only going to show one kind of work is something that we have been concerned with.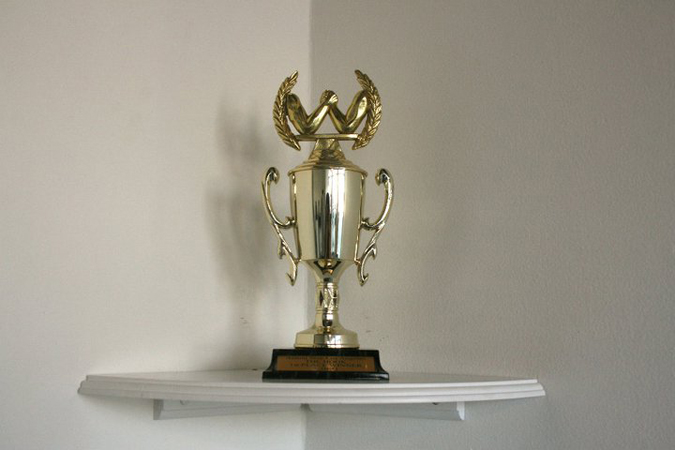 Can you talk about West Coast art? Actual Size's relationship with the Bay Area?
(L) We got this space from a woman who owns a gallery in San Francisco who said she really wanted to hand it off to someone who wanted to keep this building a gallery, not just make it into a store. Because we don't really represent artists, a lot of our exhibitions are not centered on the goal of selling things, which allows for flexibility in location.
(C) I think there is a growing fluidity in terms of the arts because of the internet. Our community extends beyond the people that you are surrounded by. San Francisco, to Berlin, to New York, to anywhere someone has a computer. When we first started we wanted to create a space that we would want to spend time in and as we are moving on we are realizing that community expands beyond locality.
Do you have future plans for the space?
(L) We have an upcoming project where we are collaborating with two Swiss artists, Sami Benhadj and Tarik Hayward, who recently completed a project that consists of photographs of large objects like boxcars or hot tubs that are suspended by a crane in a manner similar to ikebana flower arrangements. We are going to work with artist, David Abir in Feburary 2012. His installations deal with light, architectural space, and scale. We are also putting more effort into extending the exhibition beyond the walls of the space. We are always looking to collaborate with galleries and artists from varying locations.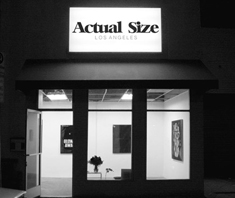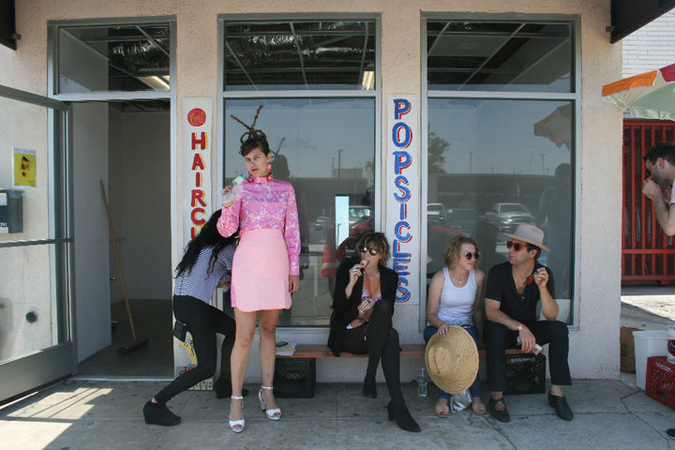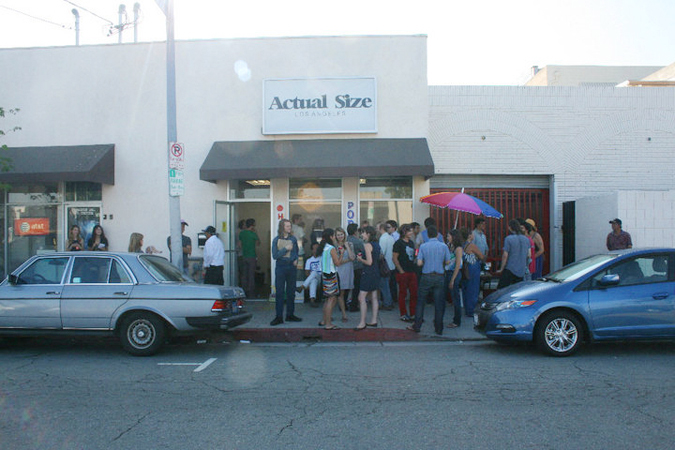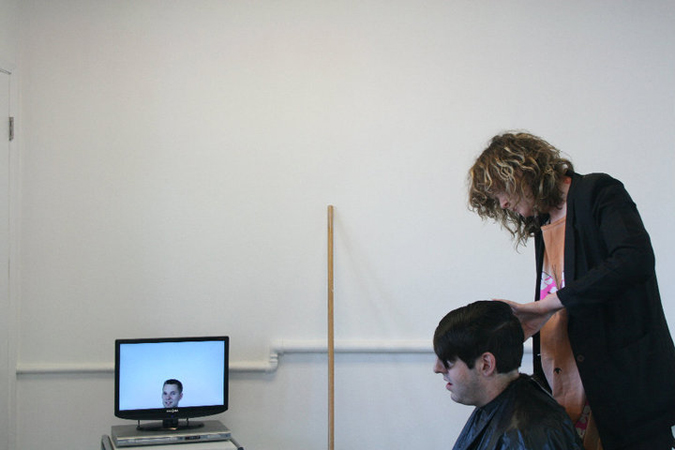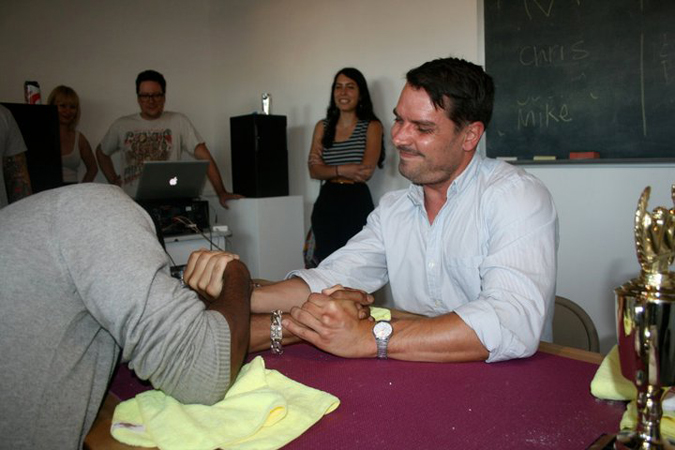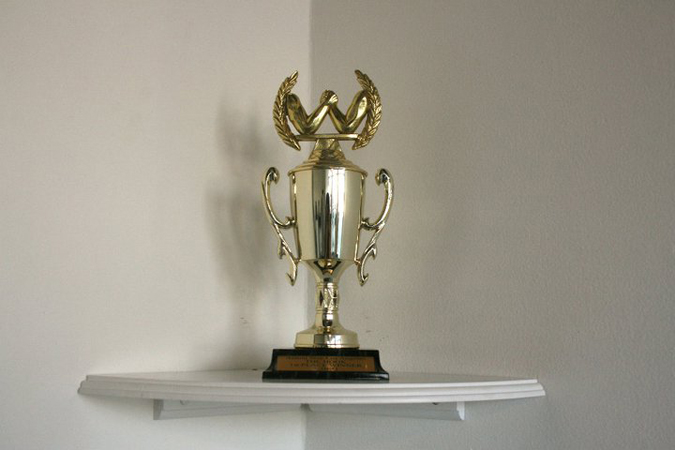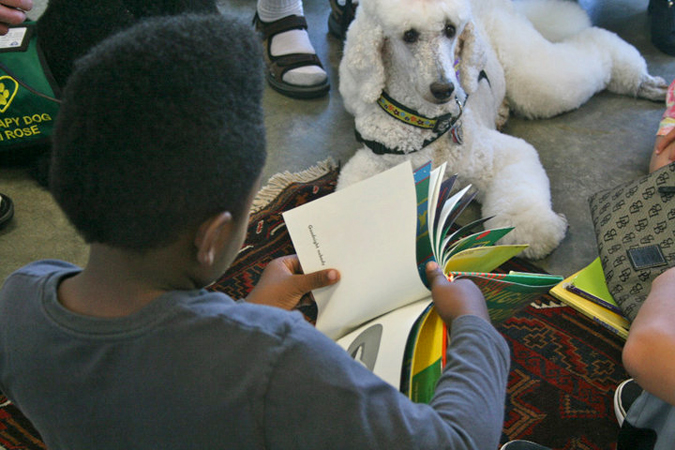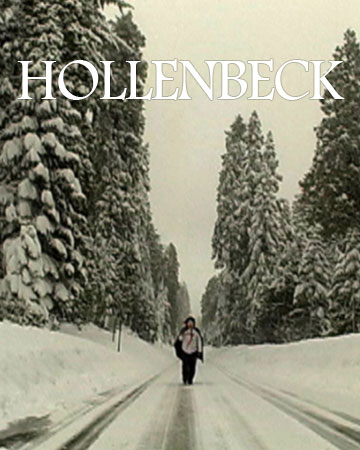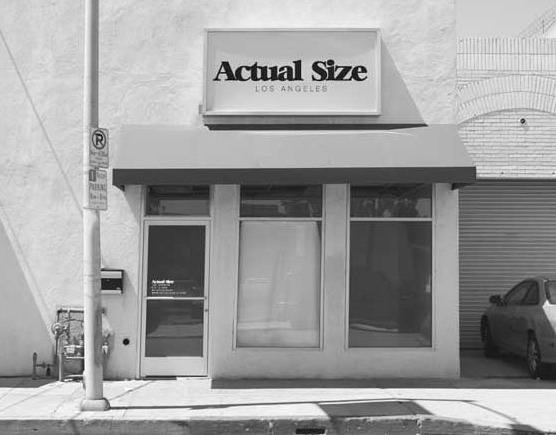 Actual Size is open Saturday and Sunday 12 – 5 and Monday and Friday by Appointment
741 New High Street Los Angeles CA 90012 Tel: (213) 290- 5458
Interview by Hailey Loman,  artist currently bases in Los Angeles.