Madrone Art Bar: Art Space for the Masses
by Anthony Torres
I was first introduced to Madrone Art Bar and its proprietor Michael Krouse by collage artist Matt Gonzalez, with his law partner Whitney Leigh and actor Sean Penn.  I was presented as a curator and art writer, and this led to conversations with Michael regarding the possibility of writing about Madrone.
To write about Madrone as a legitimate art venue raised challenging issues, because at that time, although it was filled with art objects, technically it was a bar that did not have a formal exhibition program. However, the more I experienced the space, I increasingly came to view Madrone as an ephemeral installation art environment, where two- and three-dimensional works, multi-media, and music combine to form an aesthetic constellation that blurs distinctions between the architecture, art objects, performance, everyday commodities, and social life.
With more exposure to the space, I came to understand and appreciate that the nightly festivities could be considered a constantly changing site-specific art installation environment that affects attendees' perceptions, with the centrality of the patron — both viewer and viewed — as an integral participant in an evolving discursive art scene.
      A critical aspect of assessing the significance of Madrone was understanding how it subverts conventional and settled notions of art and its presentation, through a strategy of bringing and blending together a multitude of creative forms of expression to constitute a living artistic spatial
assemblage
. I began to seriously consider how Madrone serves as a vehicle for questioning and expanding common assumptions of what constitutes the nature of art, as well as its potential for challenging the notion of museums and galleries as the sole locations for exhibiting and defining the meaning and validity of art. 
I also began to ponder how a space like Madrone functions to democratize, disseminate, and re-articulate the significance of art in an alternative functioning exhibition space — the neighborhood bar as an art forum.
These insights from these considerations led to a mission statement that came to be called The Madrone Manifesto (much of which is re-articulated here), and subsequently to curating an exhibition in the fall of 2010 titled
Bodies in Space(s):  Negotiating Sites/Sights.
In developing
Bodies in Space(s)
specifically for Madrone as a hybrid art space
,
a central consideration was how experiences and representations of the body are embedded in socially conditioned modes of expression; and how bodies are constituted as sites/sights of identification, agency, and personal history, articulated in varied cultural spaces.
The motivation was driven by a desire to present a serious art project in a non-traditional space, and specifically to exhibit a little-known body of work by Bay Area Figurative legend Theophilus Brown entitled
Encounters
, depicting sexually explicit images of men with women, men with men, and women with women, represented in varying combinations in the paintings. Anchored on representing gender — however nebulous — the exhibition was expanded to include the work of Jeffery Beauchamp and Linda Wallgren. I felt that this presentation was an appropriate provocation for a bar format, since nightclubs are often sexually charged social settings. 
However, the choice to exhibit work of the quality and value of an iconic figure of the stature of Theophilus Brown required that the work be insured while on exhibit, and Michael Krouse unhesitatingly affirmed his commitment to the interests of the artists and project by saying, "let me talk with my insurance guy." Armed with the assurance that Krouse was fully committed to serve as custodian of the art, and was prepared to address the critical fallout and possible repercussions from the content of the work, I expanded the project to included a one-night performance festival that included artists Bert Bergen, Daniel Blomquist, Terrance Graven, Justin Hoover, Geraldine Lozano, Honey McMoney, Crystal Nelson, Kathryn Williamson, and the Muistardeaux Collective.
The exhibition and performances were intended to situate the idea that peoples' bodies are "objective" social units that have a physical presence, and are sustained through objects, people, and cultural matrixes external to one's own being.
Bodies in Space(s)
thus presented the works on display and performative acts as modes of self-realization and affirmation that have the potential to articulate, translate, contest, and problematize the way in which thoughts and images construct identities and social realities through fluid, hybridizing identity-formation systems.
A central consideration in staging the exhibition and night of performances at Madrone was the customers' entire sensory experience, fostering an element of surprise and unexpected responses through the work, and contributing to dissolving distinctions between art and everyday life, issues that are intrinsic and fundamental to the Madrone experience. The juxtaposition of the works and performances with ordinary objects in a living environment elevated Madrone's ability to free people from common assumptions and expectations associated with white-cube exhibition formats and structures associated with traditional gallery displays of art.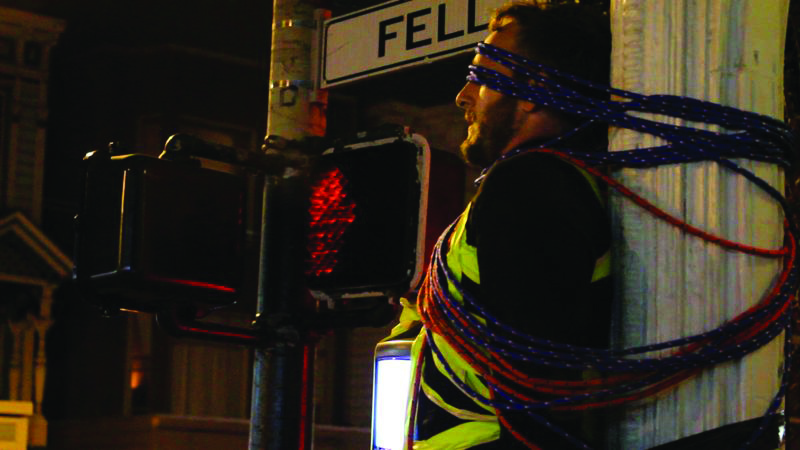 Daniel Blomquist, "Here" Bodies in Spaces: Negotiating Sites/Sights, September 22, 2010, Courtesy, the artist and Madrone Art Bar
    At Madrone, the neighborhood bar becomes a conceptual art vehicle for cultural interventions that confront the hierarchalization of various art media, as well as confounding common-sense associations people have about "art" and the localities of its presentation, as a means of imploding views that see art as autonomous and separate from the world of everyday life.
This is reinforced and evidenced by Madrone's ongoing public window installation program that has shown work by Alphonzo Solorzano, David O. Johnson, Shawna Peterson, and others. These street-front presentations function as a one-venue public art program which, according to Michael Krouse, displays work "to all ages, 24 hours a day, 365 days a year, free of charge. It's our way of giving back to the community."
In fact, the presentations at Madrone can be thought of as undermining a philosophical orientation that fetishizes and views "art" as rarified objects of veneration; rather, here the works and performers are integral to a common everyday "space" that seeks to expand personal doors of perception by displaying "art" as an edifying social force connected to a range of intertwined cultural practices.
In this regard, Madrone can be thought of as exploring the performative and intellectual processes that art is capable of articulating within expanded cultural parameters. In so doing, Madrone extends the possibilities for investigating and challenging inherited institutional assumptions regarding the nature of art and its meaning and value, by (re)integrating "art" into a total momentary social fabric while recognizing that art is always an expanding historic and social enterprise.
Thus Madrone is more than a bar; it is rather a spatial environment that functions as an aesthetic social stage, where the nightly activities take on the form of interactive performance events. The significance of Madrone is its tremendous potential to be at the forefront of creating a new forum for the dissemination of art in an everyday public sphere, one that is immediate and direct, and that links the hearts and minds of the performers, spectators, and staff in artistic ritual events that are often uplifting and perhaps even enlightening.
      Visit Madrone Art Bar at 500 Divisadero (at Fell Street), San Francisco
(http://madroneartbar.com)
— Anthony Torres is an independent scholar, art writer, and art appraiser. He has curated and traveled numerous exhibitions; published extensively in Artweek, New Art Examiner, Art Papers and others; and researched and wrote the "Illustrated Chronology" and essay "Negotiating Space: The Sketch Books," for the book, Frank Lobdell: The Art of Making and Meaning (2003).