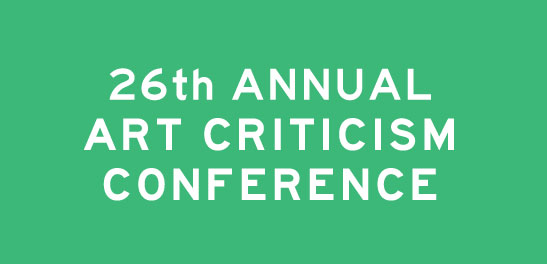 In its 26th year, SFAI's Art Criticism Conference introduces you to the historical and contemporary practice of writing about art in its many poetic and professional functions. Coordinated by Mark Van Proyen, art critic and Associate Professor in SFAI's Painting department, the conference includes two public events.
Please note that while both events are free and open to the public, space is limited and advance registration is required.
Staged Reading: Oscar Wilde's The Critic As Artist
Tuesday, August 14, 7:30 pm
Full of witty repartee, Oscar Wilde's 1890 play The Critic As Artist is a provocative philosophical dialogue that takes the role of criticism as its subject. Over 100 years after its initial publication, the issues the play raises still resonate, and in many ways it anticipates the philosophical orientations of postmodern critics.
Keynote Speaker: Lane Relyea
Thursday, August 16, 7:30pm
Lane Relyea is Associate Professor of Art Theory & Practice at Northwestern University, and taught for a decade at the California Institute of the Arts. His book D.I.Y. Culture Industry: Signifying Practices, Social Networks and Other Instrumentalizations of Everyday Art is forthcoming from MIT Press.
Reserve your FREE ticket today: http://sfaiartcriticism26.eventbrite.com