Like every year in Miami during Art Basel Miami Beach, the heat is on and the hotels are buzzing with activity. This year's NADA art fair was as conventionally structured, booth-wise, as ever, but among the many colorful, purely abstract works that seem to blend together after a certain point, there was also a grouping of intriguing highlights, many of which seem somehow food oriented, the concept even extending generally outward to domestic and familial themes—think ceramics, furniture-based sculpture, and woven wall pieces.
Mike Bouchet's large C-print of an up-close and too-personal greasy cheeseburger stands right at the entrance to the fair and there is no way not to notice it, partially because, like most everyone, viewers are starving and nursing their hangovers from last night's parties. But more importantly its realness is captivating, like an unglamorous actual photo used in a Burger King ad without all the Photoshop that makes their fast food products look almost edible.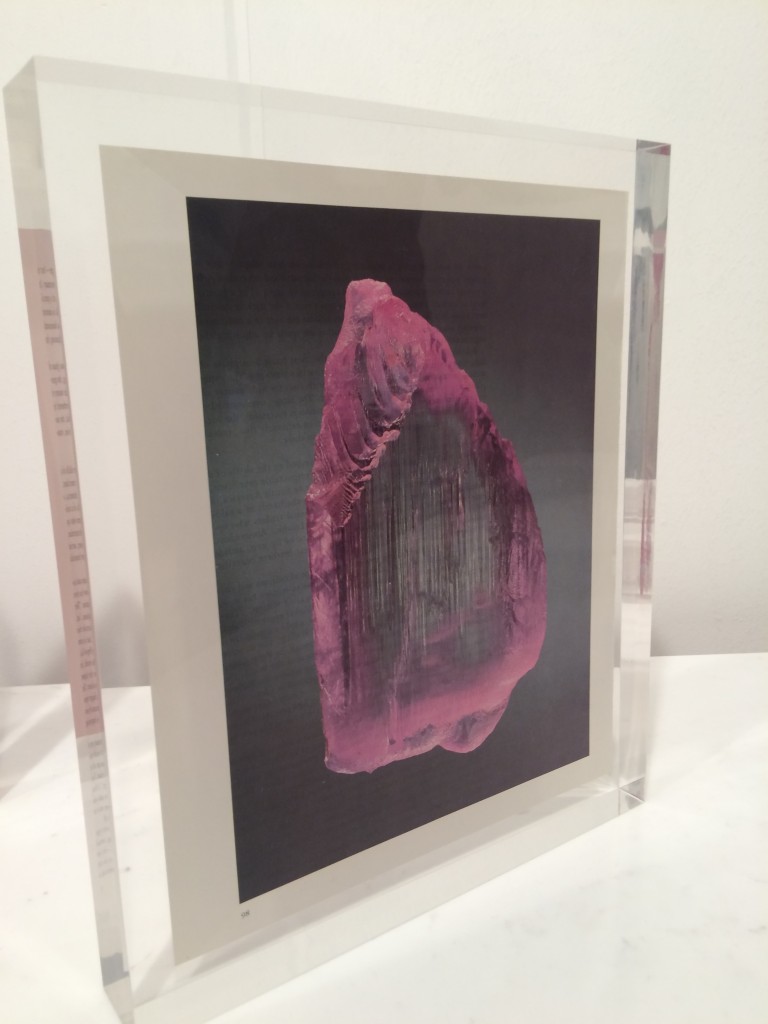 Not too far down the corridor are some shelf-friendly works by Mungo Thomson that seem to solidify books in glass, turning them into fanciful, conversation-starting, coffee table-like décor within the context of the living room, where you might enjoy a burger or other lazy meals.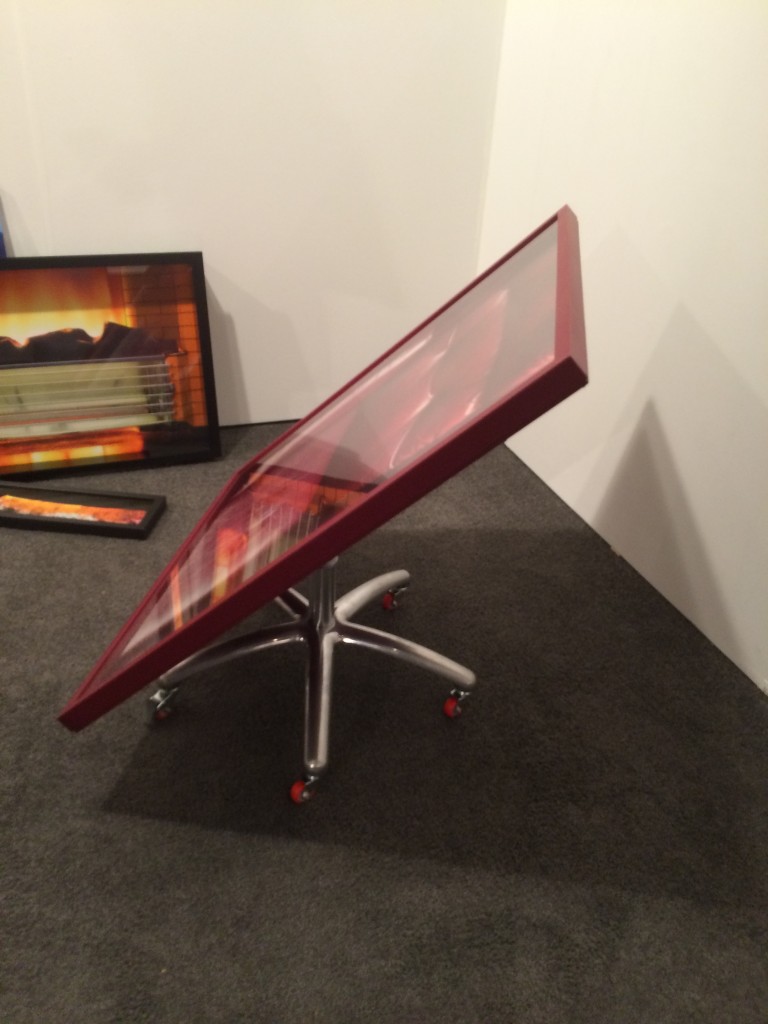 Moving from the living room notion on to the fireplace is a flattened, un-cozy, digitized depiction of a fake flaming log, somewhat lazily installed on an angle on the ground, an accompanying fiery image equally haphazardly laying flat on the floor, and a third component teetering on top of the frame of the fireplace image: a small photo of a large white-blue ice cap, directly contrasting the orange and red embers seen below. To the right a 2D '80s inspired dad-like dark red office chair has also had its dimensions inverted and is propped up by the base of an actual chair on wheels, staples of home life continuing to be reconfigured.
Weaving and femininity are front and center with lulling, hanging, woven wall works in muted, earthy colors.
At Grand Century's booth, however, we seem as far from the idea of "home" as any work at the fair gets. Dora Budor's geometric, sci-fi sculpture and digital print seem to lean toward an Apocalypse Now aesthetic.
The gooey, voluptuousness of things we eat comes back again with a large glossy print by Laurie Simmons, which appears to be half a fairytale lady's dancing legs and half melting pink frosting cake.
Sadly, hardly any video seems ever to make its way into NADA, but one small video projection of a pair of male, swathed fists punching at a large tropical hanging fruit like a boxing training session gone wild hovers just above the ground in a corner at Guatemala City's Proyectos Ultravioleta booth.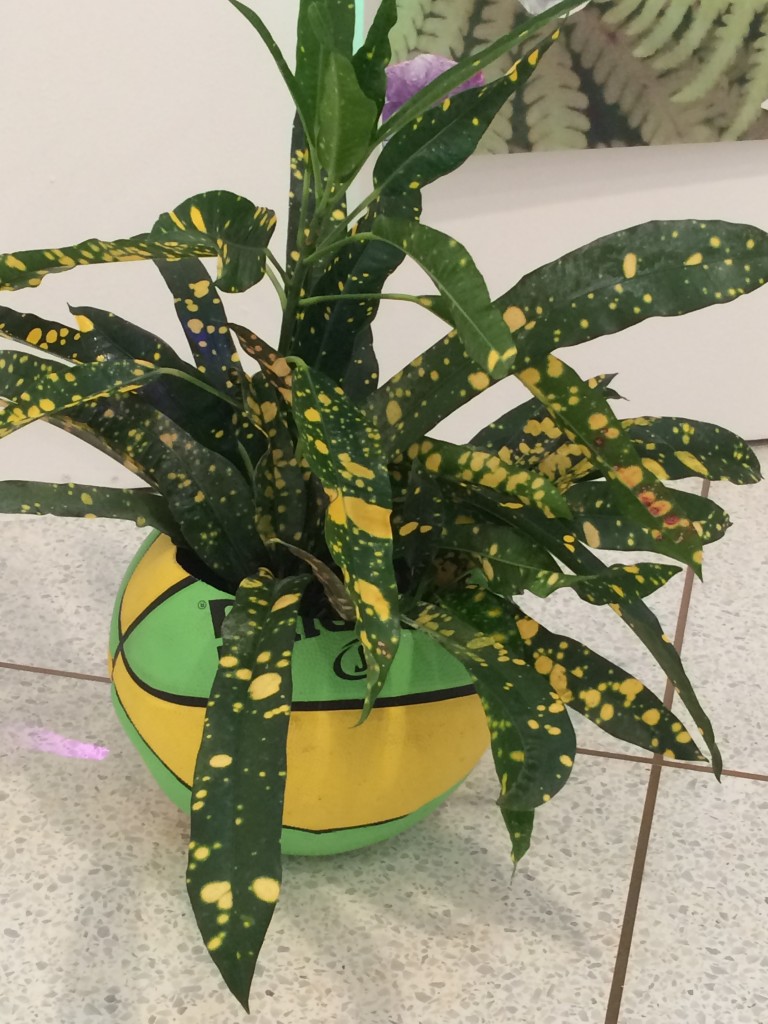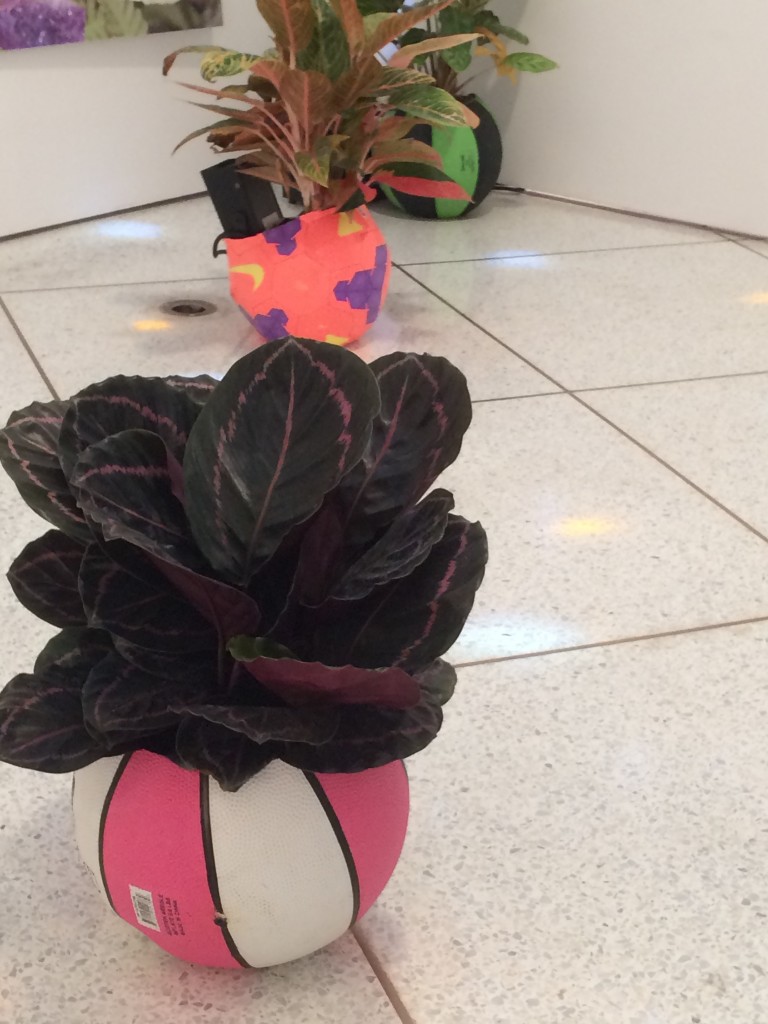 Foodie items come back into play at Sculpture Center's booth with custom made tablecloths, no less! Reminiscent of so many "curated" dinner parties native to ABMB.