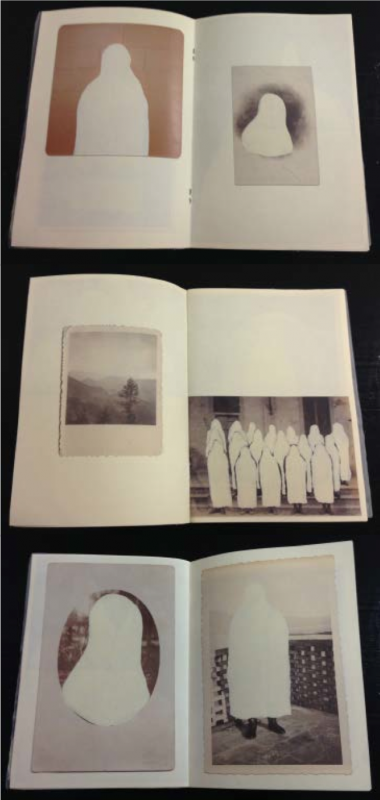 Please Come Again
By Camilla Candida Donzella (Italy)
If it wasn't for Camilla Candida Donzella I would probably not be making zines or doing much of what I do now. Multidisciplinary artist and long-time friend and collaborator, Camilla is based in Milan. She's been doing things since before it was cool to do things. Events, zine fairs, pop-up stores, photos, drawings, illustrations—there isn't much she hasn't made into a zine or turned into art. I picked her latest publication (considering her productivity, she's probably already made a few new ones by the time this article comes out), which is a collection of found snapshots, mostly very old, in which Camilla has covered every person with white paint making them look like ghosts. A very simple but funny appropriation of existing images.
Notes To Girls (9 letters that were not to you)
By Curtainboy Books
Hand-written notes, letters, post-its put together in an envelope by NY-based publisher Curtainboy Books. Dedicated to different girls of different ages probably in different parts of the States, it's a very simple and adorable idea that brought me back to my school years and the many different ways I would find to let all my crushes know my feelings . . . something that died with text messages.
Artists included: Eve Ahearn, W.M. Akers, Christina Drill, Joe Koplowitz, Alex Lee, Robert Norman, Joey Pisacane, Travis Watkins, and Ted Watkins.
I Only Have Eyes for You
By Emma Kohlmann
I only recently found out that illustrator Emma Kohlmann, based in Providence, makes tons of zines. Very good ones, too. Here, a series of quick, spontaneous, dark drawings of contorted body parts, sketched out with black ink. "It's a collection of drawings I made focusing on loneliness and solitude," says Emma, who works and hangs out with some of the most productive and exciting group of young artists. Get into their world.