Art Los Angeles Contemporary
The Barker Hangar
3021 Airport Avenue, Santa Monica, CA 90405
January 28–31, 2016
Art Los Angeles Contemporary, now in it's seventh year, returns to the Barker Hanger this January 28–31. The fair is accompanied by a program of performances, conversations, lectures, screenings, and more. A full schedule can be found on the Art Los Angeles Contemporary website.
EXHIBITORS: 1301PE, ACME., Alden Projects, Altman Siegel, Anat Ebgi, ASHES/ASHES, Galerie Bernard Ceysson, Galerie Hervé Bize, Brennan & Griffin, Bureau, Shane Campbell Gallery, CANADA, Carl Freedman Gallery, Cherry and Martin, China Art Objects Galleries, Christian Andersen Gallery, Cooper Cole Gallery, Thomas Duncan Gallery, Edel Assanti, Derek Eller Gallery, Evelyn Yard, Ever Gold Gallery, Feuer/Mesler, fiebach, minninger, Gillmeier Rech, Greene Exhibitions, Grice Bench, Jack Hanley Gallery, Henrique Faria | Buenos Aires, The Hole, Ibid., Jane Lombard Gallery, Kadel Willborn, Kayne Griffin Corcoran, Klemm's, David Kordansky Gallery, Galerie Christian Lethert, Josh Lilley, Louis B. James, Gallery Luisotti, M+B, Marc Foxx Gallery, Marta Cervera, Meliksetian | Briggs, Michael Benevento, Michael Jon Gallery, MIER GALLERY, MONITOR, MOT International, Galerie Nagel Draxler, Neon Parc, Neumeister Bar-Am, Nicodim Gallery, Night Gallery, On Stellar Rays, ONE AND J. Gallery, David Petersen Gallery, The Pit, PRAZ-DELAVALLADE, Regards, Clint Roenisch Gallery, Marc Selwyn Fine Art, SMART OBJECTS, Starkwhite, Sutton Gallery, Team Gallery, TIF SIGFRIDS, Galerie Valentin, VARIOUS SMALL FIRES, Susanne Vielmetter Los Angeles Projects, Weingrüll, and Workplace Gallery
HOURS: 11 am – 7 pm Friday and Saturday, 11 am – 6 pm Sunday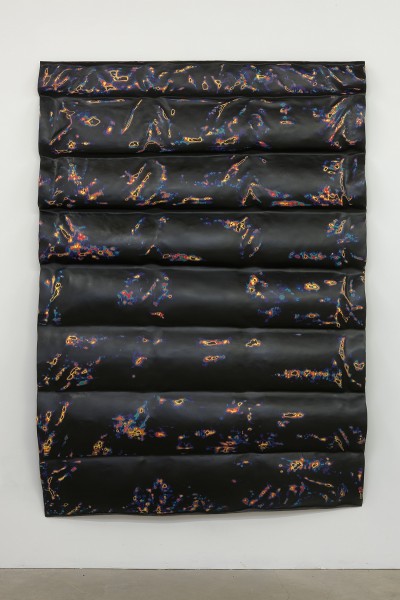 Rosha Yaghmai, Lovers Bliss (night awning), 2016. Fiberglass silk, resin, enamel, 84 x 59 x 7 inches. On view with Kayne Griffin Corcoran, Booth C12. Courtesy of Kayne Griffin Corcoran.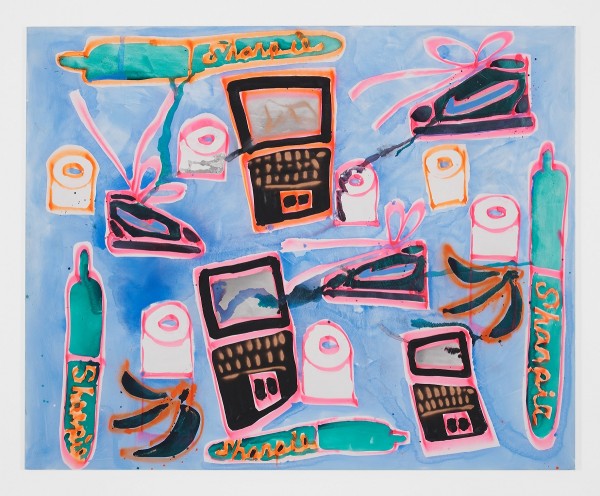 Katherine Bernhardt, Sharpies, Dell, Nikes, Toilet Paper, 2015. Acrylic and spray paint on canvas, 243.84 × 304.80 cm. On view with Carl Freedman Gallery (London), Booth C7. Courtesy of Carl Freedman Gallery.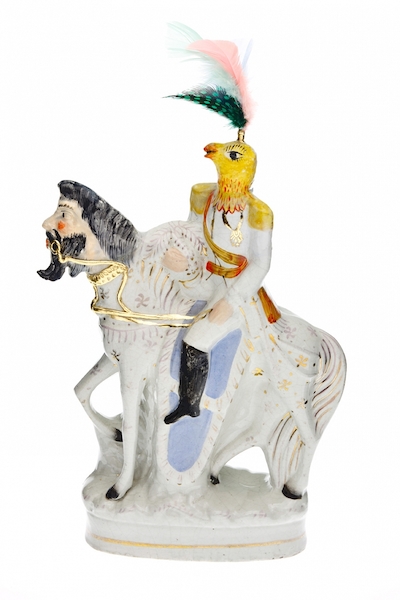 The Art of Salmagundi, Chicks Rule, 2015. Staffordshire ceramic with hand-painting and feather, 6.7 x 13.8 inches. On view with Jack Hanley Gallery, Booth A5. Courtesy of the artist and Jack Hanley Gallery.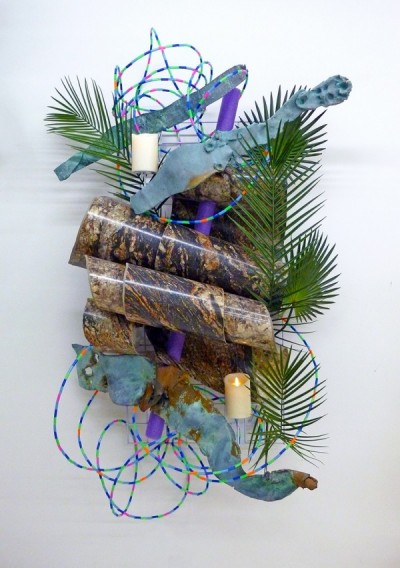 Adam Parker Smith, Heart Of Darkness, 2015. Painted steel, foam, plastic, faux palm leaves, resin with bronze patina, 54 x 61 x 19 inches. On view with Ever Gold [Projects], Booth D13. Courtesy of Ever Gold [Projects].

Paramount Ranch 3
Paramount Ranch
2903 Cornell Road, Agoura Hills, CA 91301
January 30–31, 2016
The third edition of Paramount Ranch takes place January 30—31 in Agoura Hills, at a ranch designed for use in the production of old Western movies by Paramount Studios. Paramount Ranch is a project by Liz Craft, Robbie Fitzpatrick, Alex Freedman, and Pentti Monkkonen.
EXHIBITORS: 1857, 186f Kepler, 356 Mission/Ooga Booga, Algus Greenspon, Bad Reputation, BANK/MABSOCIETY, Bel Ami, Bobby Jesus, Bodega, The Box, The Breeder, Bridget Donahue, Centre For Style, Chantal Crousel, CLAYnation, Corner Door, Del Vaz Projects, Dependance, The Duck, ECKHAUS LATTA store, Fahrenheit, Flash Art x M Café, Fonti, Freedman Fitzpatrick, Freddy, Full Haus, Grand Century & Aily Nash, The Green Gallery, Green Tea Gallery, High Art, High Desert Test Sites, Jennifer Moon & laub, Jenny's, Jill Mulleady & Michael Callies, Kai Matsumiya, Karma International, König Galerie, Kori Newkirk, Maccarone, Mandrake/Atthebar, Mendes Wood DM, MISAKO & ROSEN, Off Vendome, Overduin & Co., Paradise Garage, Parapet Real Humans, Park View, PUNU, Queer Thoughts, Real Fine Arts, Reserve Ames, Richard Telles, Shoot the Lobster, Supportico Lopez, Truth & Consequences, UP STATE, XYZ Collective, and Yael Salomonowitz
HOURS: 11 am – 5 pm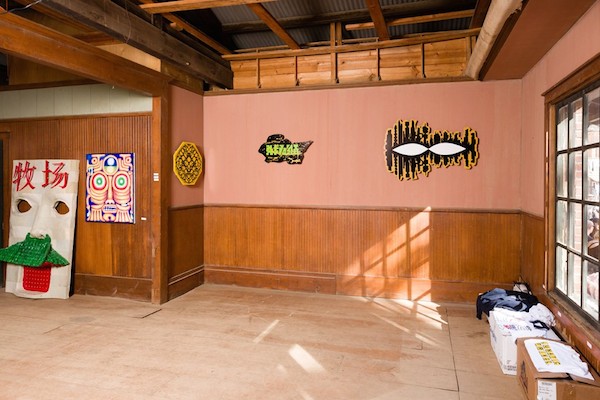 Installation view, Norm Laich on view with Paradise Garage at Paramount Ranch 2, 2015.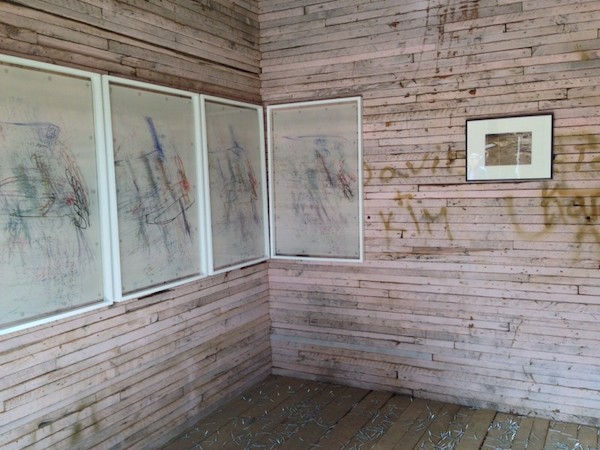 Installation view, Essex Street at Paramount Ranch 2, 2015.