Pretty Pictures NYC Column by Dean Dempsey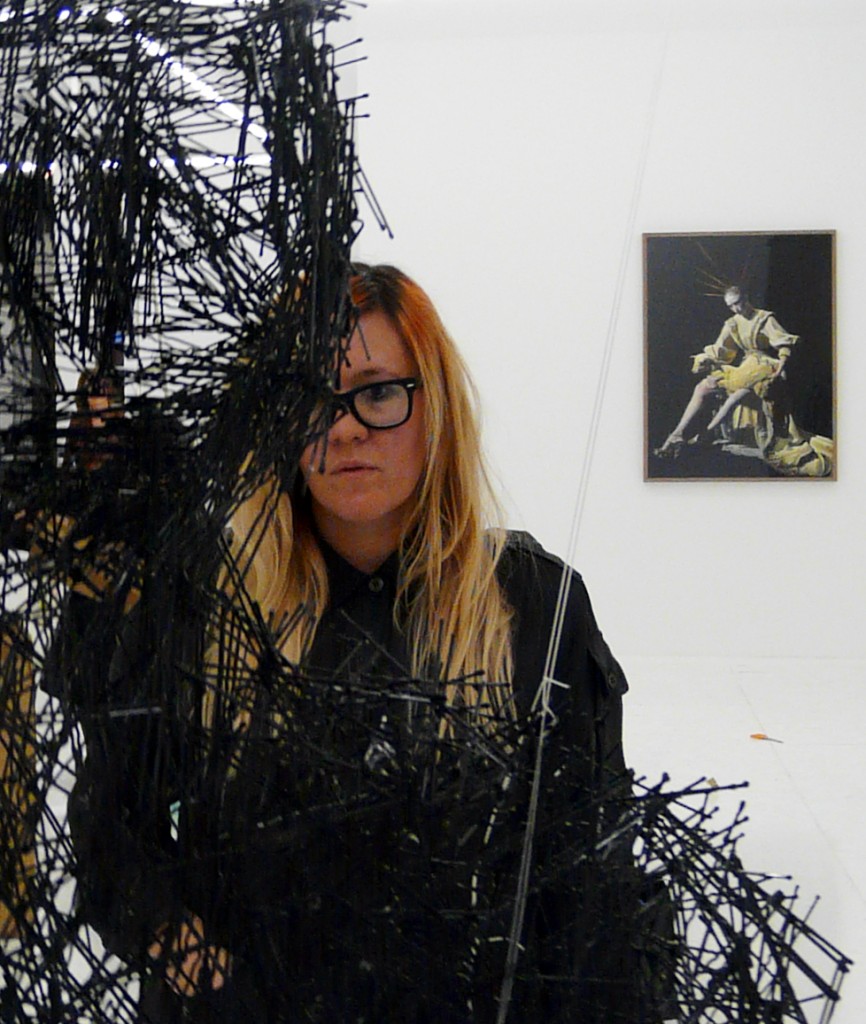 Kathy Grayson, the founder and director of the downtown gallery, The Hole, reaches for another cigarette as she waits on hold with a lawyer.  I'm trying to look like I'm not loitering, walking around the gallery as a one week interim exhibition is being installed.  Comparing the work against my own, I watch as the artists hang their pieces on drying walls and I wondered who mops the white enamel floors each night.  

Her blue hair has noticeably faded since I last saw her, and she finally hangs up the phone and asked me harshly, "Is there something I can help you with?"  She had come back from Chicago earlier that day where she planned to visit her ex but he had just been arrested.  I didn't ask the details, so I'll leave you with that little nugget to imagine the rest. 

Kathy is the former director of Deitch Projects until the owner, Jeffery Deitch, closed the downtown gallery for a cushy job as the new director of MoCA in Los Angeles in 2010.  Turning down an offer to join him for a museum position, Kathy decided to open a gallery of her own.  I sat down with the Deitch-heiress to talk about New York, downtown art scenes, politics and the mess that is Courtney Love, to give you a taste.

What is the inspiration for the title of the gallery, "The Hole"?
Well to be honest, it really just came from this club that I got into called the Hole.   I think Spencer Sweeney was the guy who kind of discovered it. He said he walked in and there was a Puerto Rican tranny and a guy in a wheelchair and he was like "I like this place" and so he started bringing the club dudes there. And then the graffiti crew, Irak, turned it into their hangout. And so there were lesbians, gay guys, graffiti thugs, club people and it was where all the different little subcultures in New York all got along and hung out. Furthermore it was the only place that I remember coming to in New York that felt like totally lawlessness. Drugs off the bar, sex in the back room, everybody doing what they wanted.
To that degree, with the New Museum being relatively fresh to the Bowery and now The Hole moving here, as well as other art spaces, what is your relationship to this neighborhood?
My connection to the Bowery was my friend Dash Snow. His studio was 138 Bowery, right above Broome Street. I spent a lot of days and nights there for years. I liked Dash's version of the Bowery, which is not necessarily what's going on now. The New Museum…I don't ever like to say bad things in public but I guess I just wish it were awesomer. Which I hope is okay to say.
There are other galleries on the Bowery that I like. Salon 94 shows two of my artists. There's Lehmann Maupin around the corner on Chrystie Street. I don't go above 14th street. Going to Chelsea, to me, is like a necessary evil. There are shows I want to see but it's the most unfriendly place. It's windy, the blocks are huge, there's nowhere good to eat, it's just so unpleasant. Deitch Projects could have doubled its sales if it had moved to Chelsea but he didn't want to and he didn't care. He wanted to do his own thing and he was enough of a destination that he could have been doing it in Harlem or anywhere.  And that huge audience of young people who followed Deitch followed The Hole and so this is where they live and hang out. Downtown felt like my neighborhood. I've always lived in this area myself.
Talk about your new space.  You've left Soho for the Bowery and about to open your fifth show at this location, how do you like it?
I designed it myself. My architect friend who was going to design it had to go out of town on a gig and we had to open so I kind of just drew with a sharpie on a printed out floor plan and was like "Do this."  The combination of really futuristic day light fluorescents, old shitty brick and sheetrock somehow turned out really good. I'm lucky.
Do you think that the downtown art scene has changed or do you feel like it's not as exciting as it was when you first started to become involved?
Lots of things have changed. I mean, like I said, the whole spirit of the scene was my friend Dash. He's gone and you know, there were people that were part of his kind of group that are still making art and it's great, but he was really like the heart and soul of things because he was the best person out of this group of people. He was the funnest, the sweetest, the kindest, the most supportive, the most enthusiastic, the most creative, the most wild, the most awesome. He pulled everybody up with him.
There is tons of great art being made right now. There's no scarcity of great, young art. But, to me a little bit of like the beautiful spirit that inspired me died. Granted, that spirit I see in other artworks and that's part of how I curate the exhibitions here, it has to have that real sincerity of lived experience, desperate urgency, passion, life to it. And so, in that way his spirit still informs what's going on here and probably what's going on elsewhere.

Do you think the downtown are scene is more relevant than Brooklyn spaces?
I don't know.  There was this one moment where it looked like Williamsburg was going to have this whole gallery scene and they had a little gallery association and little gallery crawls and then the good galleries kind of just left and the bad galleries kind of fizzled. I haven't felt that since around 2003-2004 that anything was going on there that wasn't just isolated interest. This guy Matt Stone we showed here did a great show at Like the Spice Gallery in Williamsburg. That was the last time I went to a gallery show in Brooklyn.
What do you think about the other smaller storefront spaces that are opening up on the Lower East Side?  It seems to be like every week there's a new little space to guzzle free wine from.
So far they all seem to be what I call "parent pleasers" which are the people who just want to be accepted by the previous generation and so they do what is safe and accepted. I haven't seen anybody that is like an iconoclast or a maverick, or whatever terrible words you want to stick on it. I see a lot of shows that look like mini-Chelsea, like "we have some stuff leaned against the wall, and a carpet tacked to the wall, and a dirty rag in the corner". I haven't seen any people that are really taking chances and doing something different. But that's not nice to say…
You were last in the Art Los Angeles Contemporary artfair, how was it?
Yes, it's kind of a confusing mess over there with the different art fairs but Art Los Angeles Contemporary has this great space. The guy that runs it is great. There are a lot of other galleries I like that are in it. It was affordable and we sold lots of art, if it's not the best fair I'd be surprised to see what else is better.

What did you show?
Well, you know, art fairs can be so boring, I went to so many of them with Deitch Projects. Jeffrey was always committed to presenting intersections of art and music and fashion and other genres. It's part of his larger mission of expanding the audience of art. And so that's part of the spirit that I share from working there for so long. And it just seemed like a great opportunity to feature some weird West coast things. There we had this Oakland white rapper girl at a private skate park sponsored by Urban Outfitters.
Yikes.
We didn't want to come there and be like "We're from New York! New York's the coolest thing! Look at all this New York Stuff!"  We featured our three LA based artists in our booth and then had a really "LA" party, and it was great. The best part of it was actually the DJ guys called Total Freedom and The Goozoo. They got this serious dance party going, I don't know whether they imported these 40-50 people but they looked fucking awesome and were dancing like their lives depended on it. They had the best crowd and music – the kind of magic when all parts of the party come together. Next time they're in New York I'm gonna try and have them play a New York thing. People in New York would love it.

I noticed that you and Jeffrey co-edited a book called Live Through This. Is it just a coincidence you have a gallery called "The Hole"?  Are you sending bat-signals to Courtney Love? 
It is pure coincidence.  I made that book in 2004. Jeffrey, when he was my age, he made a book I think called Lives and it was about his friends that were his age and he was hanging out with. He was going to clubs, he was going to these underground fashion shows, he was going to artist studios and so he picked like the 30 best underground artists of New York when he was in his twenties. And he made a Xerox book of it, just himself. Ninety-nine percent of the people in that book are mega famous now. And so, he told me that I should make a book about the lives of the community that I connected with, and he supported it and wrote a great essay for it, and it had people in it like Terence Koh before anybody knew who Terence was. So it was fulfilling for him to foster the new generation of what he did when he was coming of age in the 80's connecting with the Renaissance of New York, that was the new music, graffiti and East Village stuff. You know, he felt like New York was exciting again in that same way, and he saw that I was in it and helped me make a book. The fact that the gallery is spelled "The Hole" is just a total coincidence, it was really embarrassing.
And oh my god, Courtney Love came to our last opening.  One of my artists, Joe Grillo really wanted a picture with her. So I was like "Hi, this is my gallery, my artist really wants a photo with you", and she was like, "Ehhh." She took a photo with him and she asked "What's your gallery called?" and I said "The Hole" and she turned and walked away.  I was like "whoops."
She's friends with Jack Donoghue from this band that we show, Salem. I don't know her very well. I don't think she was deliberately snubbing me but it was really funny that she was just like, "Adios…"
Have you been keeping up with the Republican debates? What do you think about the political circus?
I have a philosophy with things I don't like. Okay, so you know in the art world there are lots of crappy art, there's lots of haters, there's lots of internet gossip. My policy has always been to ignore it. There was this artist – whose name you can't print – who's terrible, he's a real phony, a fucking fake artist. People would always be like, "Oh my god what do you think of this guy?" And I'd be like, "Who?"  They'd say his name again and I would just respond, "Who??" That's my policy. I don't like to support negative stuff.  It's sort of like ad-busters. If you put a Hitler mustache on Ronald McDonald, you're still promoting McDonald's because you're using the thing that you hate to try and attack it. If you just ignore it and do something better you attract people to something else. I just tune out stuff that's super negative to me. I don't care who their candidate is as long as they lose. I don't care, like, the whole thing is just embarrassing and gross and I'd like to talk about other stuff.

Have you seen any other good shows lately?
I really want to see the Doug Wheeler show [at David Zwirner Gallery]. He's 72 years old now and this is his first solo show in New York. This guy was super crucial and is the real unsung hero. He has been overlooked and now at 72 he's getting this fantastic show. I like that kind of story.
Well, in Chicago, Kavi Gupta's show was great. He's awesome. He has a show of a guy named Sayre Gomez who I love and show here. I went to the Art Institute and looked at a lot of post-war American art. I'm always so busy I never get to look at art, so if I can spend an entire day walking around the modern wing of the Art Institute of Chicago and I have the best time ever.

Where do you see the Hole in 5 to 10 years?  What is your vision?
There are a lot of things that I want to do. The first thing we're gonna do is buy a big van that we drive shit around and have a huge Hole logo on it and transport art for people, that part sounds fun. We're going to transform our basement. We have this huge basement that we could do a million different things with, so something new is going to happen with that.  Me and another guy are thinking of opening an art restaurant. And I've always wanted to open up a space in LA or London also. We have this space for ten years though so there's going to be ten years of fantastic shows here first and foremost.
The Hole seems to blend bourgeois bohemia with graffiti, pornography and boozy nightlife, and if art has ever been adopted as a lifestyle Kathy Grayson has Aced the exam.  In so many ways it beckons a new market of blue-chip hipsterdom, not necessarily subverting the Chelsea syndrome but rather giving it a new young polish to seduce collectors in buying a Metrocard downtown.  But The Hole offers a unique vision that Kathy and her team execute immaculately, with a dynamic and ever changing exhibition program that continues to engage the art community in new and challenging ways. Kathy Grayson is a long term player in contemporary art, and as she operates one of my favorite spaces in the neighborhood I'm excited to see what's in store for the months and years ahead.  I asked Kathy what was her favorite song lately.  "Ugh so mean!" she responded, "this is really embarrassing. It's a Belle & Sebastian song…they're my favorite band." She waited a moment.  "Your Cover's Blown."
Their current exhibition "Two Heads are Better than One" by Theo A. Rosenblum and Chelsea Seltzer, is now on view until March 17.
Dean Dempsey is a NYC based visual artist. Dempsey has an upcoming exhibition at BOSI Contemporary on March 7th.
www.bosicontemporary.com
The Hole
312 Bowery St., NYC
www.theholenyc.com
Art From Behind – Kathy Grayson's Art Blog