NYC – Better late than never
Written by Michael Nissim
Photos: A. McClintock
I flew out to NYC last week for SFAQ and stopped by the Armory, Scope, The Independent Art Fair, Volta and a couple of galleries and the New Museum. Over the next few days I will be musing about my art marathon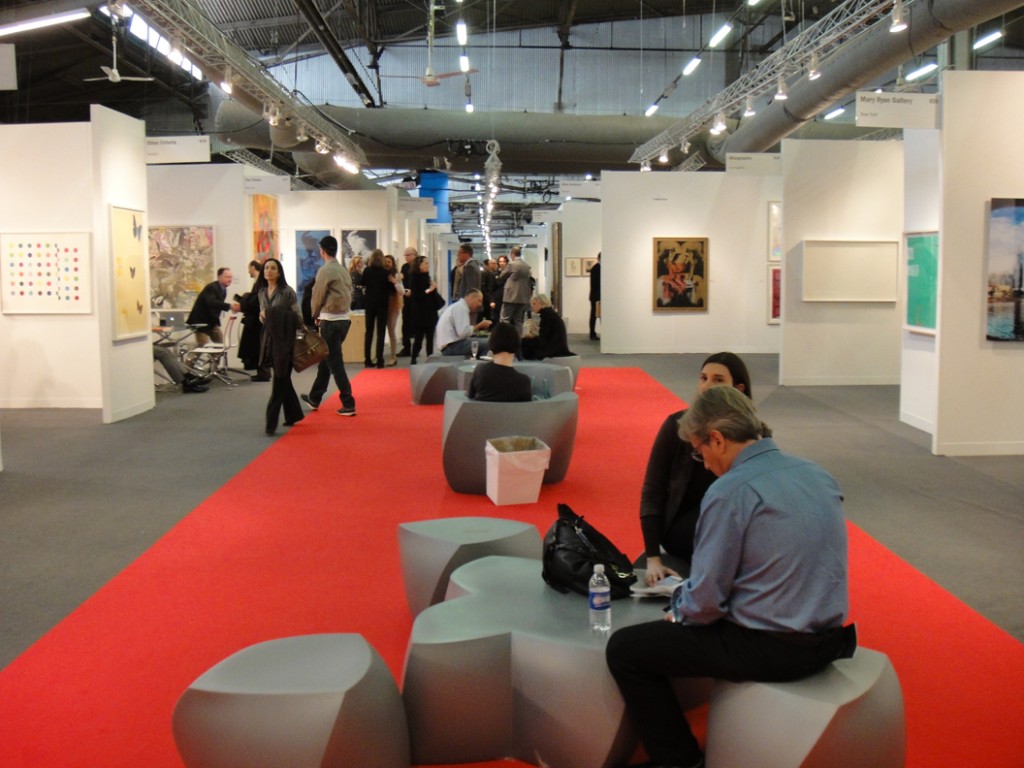 Last year there seemed to be a trend of Neon based art as well as light infinity pools/ boxes on the floor. This trend moved over to Scope this year (them being my least favorite of the 4 fairs I attended), as they just seem to be behind the curve. Everyone always says Scope is a lot better in Miami or Basel but why would Scope in NYC have such low standards (two years in a row) at one of their fairs and miraculously bloom into a visual cacoffiny of amazing luxury goods in other cities . If you have ever been down to fisherman's Warf in San Francisco that would be pretty close to the same experience with a good amount of the booths selling kitschy and corny art. There were a few gems that stood out though that I will get to later, mainly two SF based galleries.
At the Armory this year there were a fair amount of endurance pieces consisting of live performance, two women artists were lying down – not moving – perhaps they had died from boredom. Then there was some fish headed male doing some mundane tasks – he looked like he was trying to act like he was drawing when he should have just been drawing – I say this as someone who has studied theatre and I normally wouldn't judge performances by visual or conceptual artists (performance artists) with the gaze of theatre but it reminded me of a bad high school play so I couldn't resist. Sometimes you don't know what is a performance or not and these are the most compelling performances in the setting of an art fair – something that makes you feel uncomfortable. Take last year at the Armory for example – there was an area inbetween two other booths that looked like another booth but it was just unused space that had a security guard standing there with his back to the crowd making a phone call – this was one of my favorite booths until I realized that it couldn't be call art in this context – or was it an intervention by a bitter artist turned security guard.
There was a "lived in" booth that was a solo project from Christian Eisenberger represented by Teapot Gallery in Cologne. I wasn't really sure what was going on other than a self proclaimed intervention – that included him lying on a bed in the corner of the booth with art around him that looked very unpolished but not in a raw refreshing way. The art look tired. Upon further investigation I found out that he did some self-mummification performance with packing tape – and upon looking at his website I'm not really sure what all the hype is about. He's close to something but not close enough.
Then there were the mirrors – the trend of the Armory this year. Lots of mirrors…painted mirrors, altered mirrors, just plane mirrors on the wall, mirrors in wood, black mirrors, opt art mirrors…. the best mirror piece was however at Volta which I will get to later.
Another highlight of the fair was the Nordic Focus. There was one gallery in particular that I was really into. I found out that the majority of the work was made in NYC a few days before the fair as well which obviously can go either way but this time it was the right moves…D.O.R Gallery in Brussels which is run as an artist collective and have some really interesting programing.
"All works are based on agreements between artists, the artist group D.O.R, Gallery D.O.R and the potential collector. The artworks on show will include a variety of techniques and forms of expression: from pure form to pure performance, all forged by the
intentions of the artists, realized by the gallerist and artist group D.O.R."
A few other highlights were the Marlborough Chelsea Gallery, which had some great work from a few artists. Their video piece by Rashaad Newsome was a nice surprise – the nicest looking frame ever around a flat screen TV depicting a film of Hip Hop Royalty and blinged out kaleidoscope digital media. Ratio 3 from San Francisco had a pretty solid booth, nice installation pieces mixed with solid sculptures and some 2-D work.
There was also Baro Galeria in Sao Paulo that I found quite interesting. The work was based in conceptual roots but with humorous elements, if I believe correctly all the works were sculptural and utilized the surrounding environment physically and/or conceptually.
For captions, roll curser over image.