Rebecca Goldfarb
"Only__."
Eli Ridgway Gallery, Project Space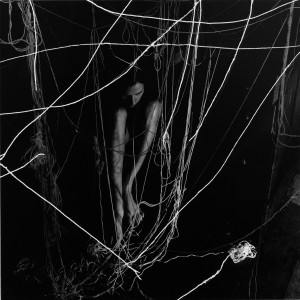 While apprenticing as a glass artist, Rebecca Goldfarb was exposed to the work of Marcel Duchamp and that seems to have made all the difference. After learning that Duchamp had lectured at the San Francisco Art Institute (Western Roundtable on Modern Art, 1949), it was but a short step enrolling for a Masters in the New Genres program, studying with Paul Kos, Tony Labat, Doug Hall, Sharon Grace and others.  
While at the Art Institute, Goldfarb formed a close friendship with David Ireland, becoming his assistant for four years, and caring for him before his passing in 2009. "His meditative yet grounded approach to making art resonated with me."
"Art is so open to interpretation and there are so many ways in which you can approach something…You can create a kind of experience…that is not based in reality, or references reality in a way that allows you to look at what we call reality…I love Surrealism in that way: that it takes things that we would think to be so dissonant in our world as we approach it and puts them together in humorous ways.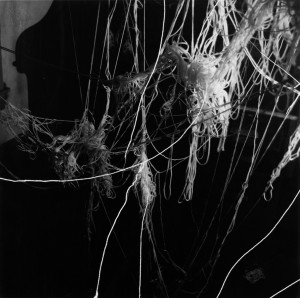 The current exhibition at Eli Ridgway (her second with the gallery), channels both Duchamp and photographer Francesca Woodman, her exhibition recently concluded at SFMOMA and currently on view at the Guggenheim.
String is a major component of 
Goldfarb's
 installation in the gallery's Project Room. As is its want, string ties together various disparate elements. Duchamp used this technique in his 1942 installation for "The First Papers of Surrealism," exhibition. Critics of the exhibition thought the twine's cobwebbing effect symbolized either quality or decay. Sidney Janis thought it represented the difficulties that must be overcome in understanding modern art. The critic for 
Newsweek
 magazine thought the string the most important work in the exhibition.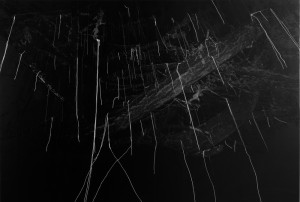 Goldfarb uses string to tie together the various components of the installation, including a poetically chalked diagram and her very personal photography. The string weaves across and through the gallery, disappearing and emerging from the walls. This is echoed in the photography itself, as the artist photographs herself enveloped by string.
The comparison to Woodman is compelling. Both are engaged in performative acts documented by the camera. Both eschew color. The two artists are often obscured by shadow, exposed yet vulnerable.
Goldfarb's photography is strong enough by itself  but tied to the installation it becomes more mysterious, more conceptual, and more interesting, as layers of meaning are intertwined, creating "a kind of experience," rather than simple viewing. Goldfarb's intermingling of poetry, photography, drawing…and conceptualization, mark her as one of the Bay Area's most thoughtful artists.
-John Held, Jr.
Eli Ridgway Gallery
172 Minna Street
San Francisco, CA
 Official Press Release:
REBECCA GOLDFARB: ONLY ______.
March 17 – April 14, 2012
Opening Reception Saturday, March 17, 4:00 – 7:00pm
In the gallery project space, Rebecca Goldfarb presents Only ________., an exhibition of new photographic and installation work. Exploring the space between action and object, a series of intricately manipulated photographs and spatial interventions depict lines that create ephemeral thresholds, appear to unravel, and ultimately lead in unknown directions. Figures and boundless masses of string perform the concept of the infinite line as the animate companion to nature and architecture alike. Such performative notions were inspired by the writings of Jorge Luis Borges and his fictional metaphors of limitless space, forking paths, dreams and mirrored images.
Rebecca Goldfarb received her BA in Art and Environmental Studies from Pitzer College in 1996 and her MFA in New Genres from the San Francisco Art Institute in 2004. Her work has recently been exhibited in the 2010 California Biennial at the Orange Country Museum of Art and the Art Museum of Los Gatos. This is her second solo exhibition at the gallery.