Interview with Jack Halloway of The Garage Sale Project
Interview by Nikki Greene
Last month I swung by The Garage Sale Project for the opening of Work Hard Dream None a video installation by Nicolas Torres. With its unassuming exterior, concrete interior, cheap beer and friendly faces, The G$P is one of the most unpretentious art spaces I've visited in awhile. And why shouldn't it be? It is literally a garage that is sometimes used to showcase art. It's a simple, economical, and yet, radical idea. I met up with the man who started it all, Jack Halloway, at one of his favorite spots to frequent -Faye's- for some good 'ole caffeine and to discuss how The Garage Sale Project started, and where it's headed.
NG: First and foremost, what inspired you to start the Garage Sale Project?
JH: In 2008, I had been up against a bit of a creative roadblock. I found myself sitting on a pile of my photos along with a bunch of props and such from jobs that were once inspiring, but had now lost their shine. I'm not into collecting things. I like to filter and purge. I wanted it all gone. I wanted to move forward. Problem was…ONE- to achieve true catharsis and move on creatively, I had to show my work…(which I had never done)…and TWO- this odd ball array of cool objects I referred to as "junk"…actually had aesthetic and monetary value…I couldn't just put them on the street. So I thought on it for a spell. Figuring out how to show my work was just confounding. I wasn't trying to be an artist…. galleries were too…too much…and while coffee joints are valid showcases in their own right, they didn't seem a good fit for me either. I simply wanted to say, "World, Here is some shit I made"…but I wanted to make my statement in a space that was on point. After some thought, I had a vision. The project I needed to take me beyond this creative roadblock was directly before me! So…I set out to build a new road… solve this problem myself. The idea was simple and humorous to me. Create a fake gallery right there behind my crumby little garage door. Why not? I'd call it The Garage Sale Project. I'd show my work and sell all my "junk" at the same time. I'd invite all my friends and serve cheap beer and wine like real galleries did. I'd blow it up for one night only and be done.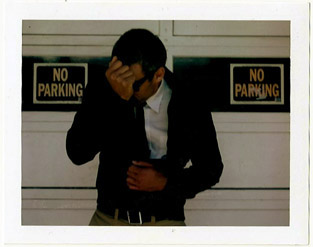 Photo Credit: Nikki Greene
I promoted a little and flyers and the whole nine.…blah blah blah…. people didn't get what I was up to…. "You're doing what?"…"Where?" I think about 20 friends showed up to my "opening" on a rainy, crappy, cold night in December. I brought out my portable record player and I blasted a bunch of scratchy old punk records and we hung out in The Garage and drank some beers. It wasn't exactly a rager…ha! But it was a good time! At one point someone came up to asked, "how much are the photos" …It never even dawned on me to price my work! I didn't even care…I don't remember getting paid. I probably gave it away.
NG: Sounds awesome! I totally understand though, when you don't show your work it's had to really move forward creatively. You can end up just kinda stuck with what you have been creating. Showing work itself is a difficult thing as an artist. You know? Getting shown in galleries and then even dealing with the politics of galleries…
JH: You are correct on both fronts. I'm aware of art world politics but have no interest in participating. I can't even speak the same language…I don't pretend to. I like to work in the shadows. There is more latitude outside of the spotlight.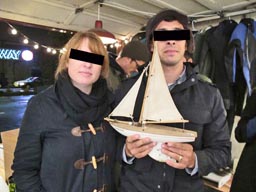 NG: Obviously, The G$P is a great alternative art space. Are there other alternative spaces in the city you go to see art? Like, when you hear of a show at a certain spot, you know it'll have stuff you're into?
JH: Paule Anglim's "Contemporary Art Center" was a fantastic experience. It was a group show in this old space over at 1717 17th street. The place was packed with photos and drawings and sculptures and videos…it was musty smelling and the carpet was nasty. I loved it! Bands were wailing the parking lot…on the roof…and inside after the police came. It REALLY was my kind of show! Impermanent, Imperfect, dirty, irreverent… Full of spirit and energy that hit you straight off. After one of the sets, the singer from this SF band, The Mallard sold me their debut LP out of the back seat of her car. The record is amazing. It was the cherry on top of a rad show.
NG: That's the best type of show – when it's a real experience, not a sterile night of awkward art jabber, red wine-stained teeth and uncomfortable shoes. Exactly why I love The G$P. It's not pretentious, and you're not pretentious! Which is a relief in a lot of ways…
JH: Ha…Thanks. Pretense holds no value. Style and integrity are what I'm interested in.
NG: After your first opening, other artists asked to show their work… What was your process to choose artists? What were you looking for?
JH: This whole thing is a learning process for me. I just go with my gut. Try to tell interesting stories and create high quality experiences with little or no budget. I offer the space, a few bucks for beer and my aesthetic and curatorial consultation. Sometimes I curate and install everything myself, as was in the case of Andrew McKinley's FRIENDS OF ADOBE portrait show…and The Hydrodynamica Project show. I like to work with people who have an authentic character and who are self motivated. They don't have to be artists. They just have to have passion and their work has to fall into alignment with my vision for the space in some way. I have come to realize my chief interest is not in the artwork per se, but rather in the personalities behind the work. The exhibitions at The G$P are the by-product of what drives these people I collaborate with. I feel very fortunate to have come to know so many good and interesting people through this project.
NG: You method is working! The G$P consistently has amazing work from really passionate people. People who aren't concerned with being labeled "Artists"… they just have to make art. Speaking of consistency though, what have you seen change in the SF art scene?
JH: I can't speak specifically on the art scene…but I can tell you about the creative scene.
The San Francisco art and music scene was so vibrant in the early nineties. It's what drew me here. Sadly, when I arrived in 1998…thousands got booted and their studios / lofts were turned into pricey Dot.com offices. Five hundred artists and musicians were put out in one building alone! Rent went through the roof and twenty year olds didn't blink when hundred dollar bills blew out of their new convertible Porsches as they blasted by. The city put up banners on the street posts that said "San Francisco…The Tech City". Bob Dylan played at my friends office Christmas party…It was insane and all that money made people crazy and completely stupid all at once. Everyone who moved here had bad style and this place sucked for several years… This is the honest truth! When the bust came…the banners came down and new ones went up that read "San Francisco…The Art City". It was comical. I think San Francisco is doing a better job of balancing its wealth while maintaining its character in the last ten years.
NG: Hah! I'm visualizing a bad 80s music video…or I guess a really awesome one. It'll be interesting to observe the changes in this city in the next few years. In what direction would you like to see the SF art scene to go?
JH: I don't follow the SF art scene…I'm only familiar with a few small circles within the community. Talk to Laurie and Daryl at The Luggage Store…Or Andrew McKinley at the Adobe Bookshop… hey know what's up with the SF art scene. They've been holding it down since the late eighties.
NG: Where is your favorite spot to go to in the city as of lately?
JH: My new favorite spot to hang is called The Way Out Café. It's on Mission @ Valencia.
Coffee, good eating and rock'n'roll served up with a smile! My old pals Debbie and Russell run the place. Go visit on a Sunday morning when Russell is spinning old 60's garage, R&B and soul sounds. Warning…His records will make you get up and dance!
NG: I'm going next chance I get. Sounds like a dream! Well Jack, what do we have to look forward to from The Garage Sale Project?
JH: Everything you ever wanted and more. Just on a smaller scale.
Try to keep up with all the big ideas for a small garage:
http://thegaragesaleproject.com