A new gallery in the Tenderloin/ Lower Polk area opened up about two months ago and it's mainly photography based. They have a new show/ zine release coming up this Friday.
DAN BOULTON
SOUTHBANK
August 24th 6pm – 10pm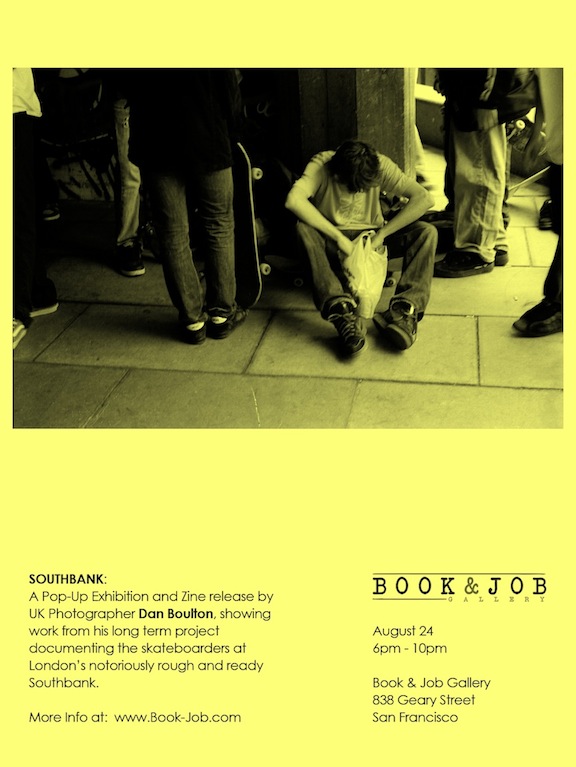 August 24th, Book & Job Gallery will exhibit a Pop-Up show consisting of a series of photographs by UK photographer Dan Boulton.
Boulton's first solo show in the US consists of images pulled from his long term documentation of the skateboard culture of London's most revered meeting place based in the under-croft area of the South Bank Centre. Originally an architectural dead-spot, the space has been used by the skateboard community since the early 70's alongside some of London's more undesirable residents. Boulton began documenting the skateboarders in 2005 as news broke of yet another attempt to clean up the area in line with the corporate gentrification of its surrounding spaces. As a skateboarder, Boulton clearly identifies with his subjects however he has chosen to eschew the established format of skate photography preferring a documentary approach with an anthropological viewpoint more akin to the work of August Sander or more recently Larry Clark or Ari Marcopoulos.
A signed limited edition zine of the SOUTHBANK work will be available exclusively at Book & Job Gallery and Dan Boulton will be in attendance.
Book & Job Gallery
838 Geary St.
San Francisco