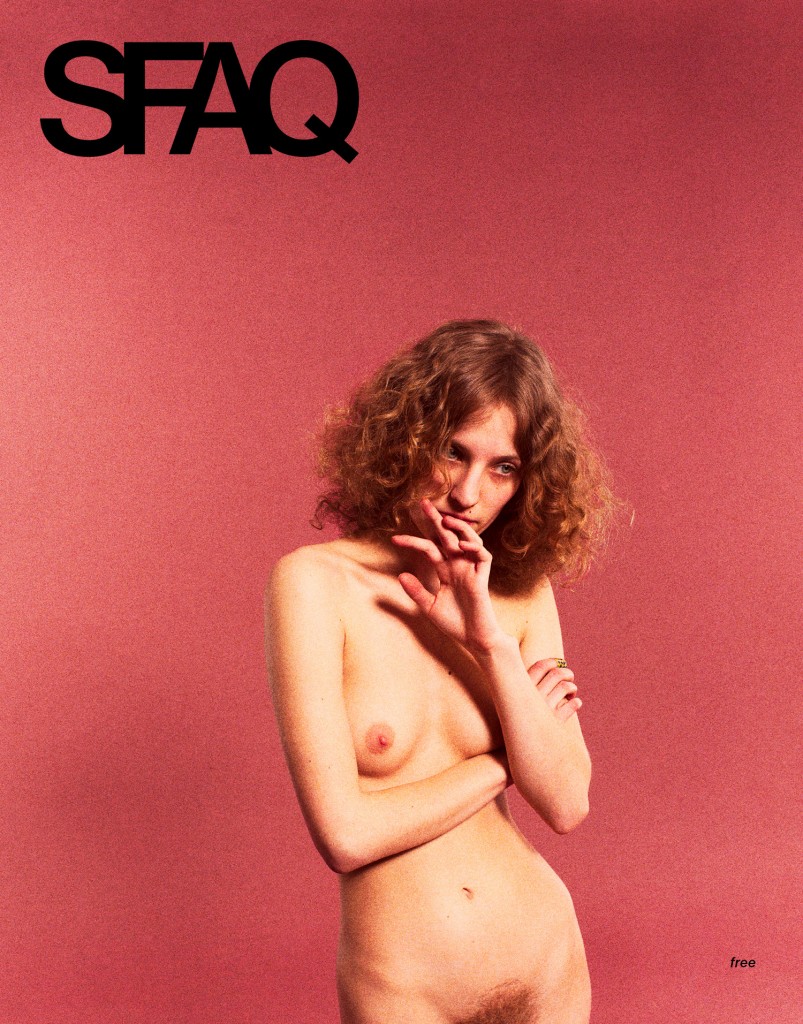 SFAQ Announces Issue 19 Release
+
SFAQ [Project] Space Preview Party
Thursday, February 12, 2015 | 6-9pm   \\   449 O'Farrell Street, San Francisco, CA 94102
SFAQ is pleased to announce the release of Issue 19, which will be celebrated at 449 O'Farrell Street, the site of the first edition of SFAQ [Project] Space. The Issue 19 release party will provide a sneak preview of the inaugural edition of SFAQ [Project] Space, a social sculpture. The celebration will be held on February 12, 2015 from 6-9 pm. Free to attend.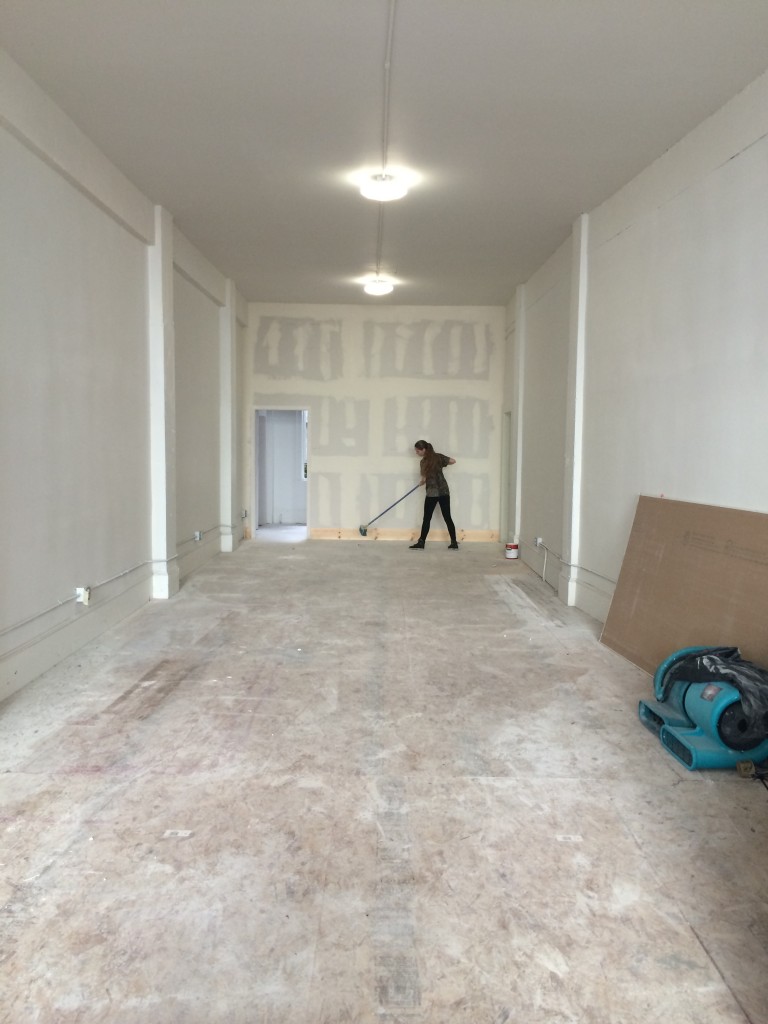 The first incarnation of SFAQ [Project] Space will open in a 1,200 square foot Tenderloin storefront recently converted from a massage parlor into a raw exhibition space, and is slated to open March 13, 2015 with four months of programming scheduled through June, 2015.
Supported by generous funding from the Kenneth Rainin Foundation, and under the direction of SFAQ's Publisher and Editor in Chief Andrew McClintock, SFAQ [Project] Space will be a multidisciplinary temporal institution that provides a place for its patrons to encounter, discuss and think about artifacts of contemporary of art and culture organized in exhibits and events on film, food, performance art, performing arts, visual arts and lectures and discussion. SFAQ [Project] Space will be open on Tuesday and Thursday evenings from 6-9 pm and on Saturday and Sunday from 11 am-5:30 pm. Entry is free for everyone.
SFAQ [Project] Space will be introduced to the public on February 12, 2015 with event highlights from SFAQ [Project] Space's programming schedule that include:
Amy Franceschini
founding member of Futurefarmers and SFAQ Issue 19 [Project] artist will present, The Conjurer—a tracing of three economic epochs in San Francisco through the purchase of three shares of stock (gold, grain and Google), the procurement of related raw materials and the enactment of a magic trick performed by The Reality Thief.
Dennis Leary
the San Francisco-based chef will be offering small dishes in collaboration with a surprise guest. Leary will be the head curator for the SFAQ [Project] Space's cafe, Harvard.
Music by Jackie Im and Aaron Harbour
Projection/Performance and Bay Area hip hop and Lebanese wedding music provided by the minds behind Et. Al and Curiously Direct, among other endeavors.
Issue 19 of SFAQ features:
Petra Collins, Dave Hickey, Richard Hell, Ulay, Mark McCloud, Bill Daniel, Lee Mingwei, and many more. Columns on the militarization of the internet, WeChat, funding of digital art, Eco-poetics and John Cage, the hustle of language and contemporary performance, the globalization of the art market, immigration and U.S. imperialism, and different perspectives on feminism.
SFAQ [Projects] included in issue 19 as pull out posters:
Tom Sachs and Amy Franceschini
PREVIEW: Additional Programs at SFAQ [Project] Space
A full schedule of programming will be announced in the middle of February. The following is a sample:
Gallery 1 Exhibitions
A revolving program of exhibitions organized by Andrew McClintock including the opening exhibition curated by Petra Collins to open Friday March 13th. Also on display will be past and current SFAQ [Projects] by Barry McGee, Tom Sachs, Amy Franceschini, Alexandre Arrchea and more. The full exhibition schedule will be announced soon.
Harvard Cafe
The Harvard Cafe is an espresso bar that also hosts a food program curated by San Francisco chef and restaurateur Dennis Leary that activates on exhibition openings and special events and during daytime hours on Fridays and Saturdays.
Lecture Series
Every Tuesday evening, patrons are invited to engage in lively discussions on a vast array of topics. Lecture organizers will include Nicole Archer, Ben Valentine and others:
Nicole Archer, Assistant Professor of the History and Theory of Contemporary Art at SFAI, will be organizing four critical conversations around key issues in contemporary art.
Ben Valentine, art critic and culture commentator will organizing a series of panels on the complexities of networked creativity in today's unique technological environment.
Tenderloin Institute of Art
SFAQ [Project] Space patrons will be offered the chance to attend the MFA program and receive a degree from the Tenderloin Institute of Art in an hour and a half course offered on two different Saturdays, to be announced. Instruction provided by MFA Department Chair, Jeremiah Jenkins. From the TIA catalogue:
At the Tenderloin Institute of Art, students will learn to develop a body of work, back it up conceptually, and apply critical reasoning. Students will exhibit their resulting work and walk away with a MFA. The school will consist of 6 stations, each devoted to a particular area of interest: technical skills, conceptual skills, history and theory. Each station will have a task to complete and information on how to complete that task. Students will have exposure to art historical information, conceptual vocabulary, documentation of their work, and exhibition practices. After students complete the stations they will step up to a podium to present their thesis and defend their work. The work will then be on display and students will be able to print their own official MFA certificate.
Video Cafe
On view every other Thursday evening, Tony Labat will curate a series of screenings surveying both historical as well as contemporary Video Art, local, national and international. Selection of videos from Electronic Arts Intermix (New York) as well as the Kadist (San Francisco) video collection. Themes will examine artists using video as a personal/political tool, the cinematic in video production, the sculptural, language, narrative and non-narrative.
For more information about SFAQ [Project] Space you can subscribe to the SFAQ mailing list at www.SFAQ.us or email: info@nullsfaq.us