Starting tomorrow is the Golden Gate Park music festival of the year (i've never been – but i've heard it a good way to see way to many bands at once and buy $10 bottle water…BUT they always have some good artist projects going on. It's typically been in the street art realm which is something that we tend to forget exsitsts over here at SFAQ…BUT..Guy Overfelt's work is quite amazing looking and worth checking out…but the festival is SOLD OUT…so just dig on this for now…also read Guy's interview in the NEW SFAQ!!
Guy Overfelt, #DARKSIDE (after Hendee), 2012. Steel, Roll Cage Paint and Two-way Plexiglass Security Mirror, 96″ X  75″ X 65″ each (3)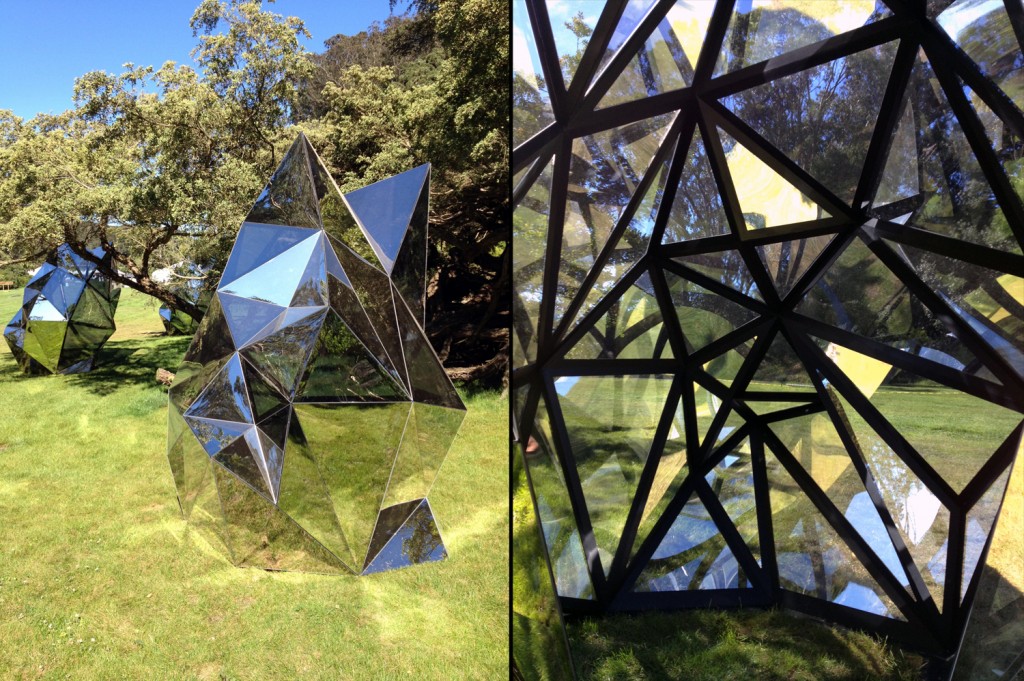 Outdoor sculptural installation for Outside Lands Music Festival, SF, CA // Aug 10-12, 2012
Places to be visible and invisible by orientation and choice, maybe by chance. The seen among us and the unseen around us. Life sized reality folders to parse your body presence.  Hidden within the spaces, on discovery and observation, you. The structures are made of two way plexiglass security mirror surfaces attached to a steel substructure. Interaction allows participants to view others from within the structures without being seen. A reflection of us and what's around us, these structures enable a play between.
Support: Ever Gold Gallery, Ezco Design, Marin Metal Works, Jeben + Sebine Berg, Danny Speirn, Bruce Tomb, Parlay Speed Shop, Plaskolite, Piedmont Plastics, Another Plant and Super Fly Presents.