If your in San Francisco this Friday, make it out to The Popular Workshop this Friday for the opening reception of "Eating Out of the Drain" featuring works by Chris Lux and Dane Johnson.  Both artists are originally from San Francisco and currently live and work in Los Angeles.  TPW is a great space in the neighborhood of Lower Polk at the cross streets of Sutter and Geary with a HUGE gallery space, project space/store, and design firm in the back.  If you've never been to the space you should definitely go and check it out.  TPW is known for their epic design skills and maintaining a great aesthetic with their programming.  Enjoy, and see you there!
Press Release courtesy of The Popular Workshop, San Francisco:
"Eating Out of the Drain"
Works by Chris Lux & Dane Johnson
Opening Reception Friday October 19, 2012 6 – 10pm
Dates: October 19 – November 17, 2012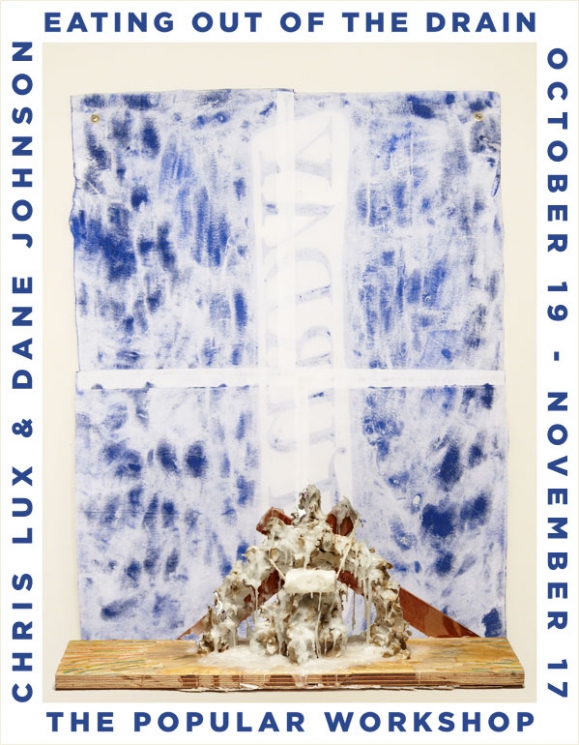 The Popular Workshop
1173 Sutter Street // San Francisco // CA 94109
415.655.3765
The Popular Workshop is proud to present "Eating Out of the Drain," an exhibition of new work from California based artists Chris Lux and Dane Johnson.
Presenting documentation and sequential examples of his own artistic process alongside three principal pieces of sculpture and painting, Lux expands upon his own previous work, and articulates a lineage of inspiration that leads from Ingmar Bergman, Depeche Mode, and Balthus, to Sir Hans Sloan,  Pope Pious VI, and Jacobus de Voragine.
Sourced from a collection of objects and contemporary images compiled within the confines of his apartment, Johnson's work, shown in an array of mediums including painting, photography, print-making, sculpture, and collage, addresses the increasingly abundant and disparate elements of visual culture.  While rejecting cynicism and desensitization, in favor of protection, safety, and above all, pleasure, he defines the artist's position as a catalyst for correlation and cohesion.
With the work of Lux and Johnson, "Eating Out of the Drain" makes an attempt at a visual language with which to navigate the palimpsest of our societal history, and address where we now find contemporary culture.
Visit The Popular Workshops's website for more details and their online store!