http://vimeo.com/33735117
After exhibitions in Brescia, Italy and Basel, the latest exhibition of "Collect the WWWorld: The Artist as Archivist in the Internet Age" opens tonight at 319 Scholes' Bushwick gallery. In their press release, 319 Scholes writes:
The show investigates the impact of this process on art practices and on the role of the artist, who more and more evolves into a filter, a collector, an archivist, a post-producer of already existent cultural material.
Each incarnation of "Collect the WWWorld" has shown different artists, which has been cataloged on a Tumblr by the same name. Judging by the works represented on its Tumblr, the act of "collecting" is less like a museum and more like a magpie. Valuable content to be stored and appropriated includes, but is not limited to: clip art, chance beauty in Google searches, satellite images, the idiosyncratic ways we create an identity on social media, and démodé software. These things represent what is free for the taking online and what has been/ will be, the New Aesthetic, a pixelated view of the world. Many of the collected internet scraps are turned into collage, and cause reflection by way of nostalgia; others correlate pop culture images of the digital era with fine art. Collages of Internet images are generally pretty shallow, but collages of text posts and tweets are nearly psychotic. Cory Arcangel's "Sorry I haven't Posted" of intermittent bloggers and selected tweets of "Working On My Novel", are some of the best examples. They show, more often than not, that people have no self-awareness.
The videos associated with the exhibit are almost entirely about the binary of self-composition online: deconstructing why and what adroit art makers are positing, versus blind-reblogging and YouTube spazzing. This discourse ranges from global trends, like memes, to the disconcerting fact that most content creators—of high and low culture—are speaking to an imagined audience. There are also beautiful and ironic collages of found video and digital art that are even more entertaining than the sincere graphic-based videos from the 1980's.
Finally, the is the .gif, the most perfect frivolous use of the Internet. .gifs have evolved far past a waving flag at the bottom on a web page in 1996. They are the solution for jokes necessitating more than a single image. Sites like dump.fm are based on conversations exclusively through .gifs, in an inclusive chat room of real-time visual narratives. Like the other work collected on the "Collect the WWWorld" Tumblr, its .gifs are just trying to communicate.
"Collect the WWWorld: The Artist as Archivist in the Internet Age" opens tonight at 319 Scholes at 7 pm- 10 pm.
-Kendall George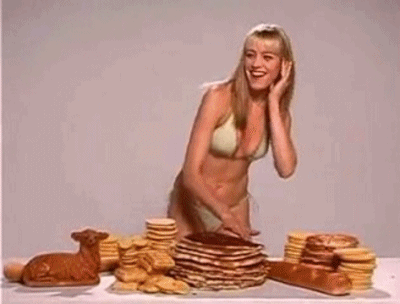 All images via the Collect the WWWorld tumblr.