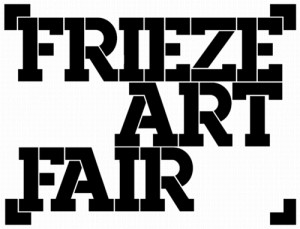 Written by Dean Dempsey
Frieze London 2012 turned 10 this year, and also included Frieze Projects, a program of artist commissions for site-specific work to be made each year and presented during the fair. This year's big shot is Berlin-based Cécile B. Evans, winner of The Emdash Award. Cécile (I coincidentally named my basil plant that a week ago, which recently took wings and died) creates an audio guide that directs the audience through the fair as a panel of non-art experts lead us through the maze of impeccable white cubicles. What's best about this piece is the strange, hobbit-like hologram host that appears throughout the fair and who, as it turns out, is art historian Simon Schama. The audio guide is just like the one you never want to spend money to use at any museum; with a little walky-talky looking gadget coupled with pair of headphones (does the fear of lice cross your mind too?). The panel is made of people who are experts in their own field but not art, like the TV producer Caryn Mandabach, who is the brains behind American sitcoms like "Roseanne" and "The Cosby Show," and the biologist and author Roger Tabor who is perhaps best known for his obsession and knowledge of cats, leading his very own BBC show on the fury needle-paws called, you guessed it, "Cats".
Cécile's project effectively aims to shift how we view and interact with art at a contemporary fair attended by people with varying experiences as an art audience. The tour purposely omits information that would contextualize our viewing, such as dates, names and how the work fits into current or past movements. This subversion of authority makes approaching art, well, more approachable, with art-speak and confusing jargon replaced with conversational perspectives. I read Cécile say "In the art world, we're starving for a new sincerity or a new sentimentality that just hasn't been there for a long time," and I think that she offers that with this project. Hell, this populist approach is a lot like my writing. Do you understand the words that are coming out of my mouth?
A new kid on the (art fair) block is San Francisco ex-patriot Johnny Abrahams, whose acrylic line paintings tease the viewer as it offers no place for the eye to rest. Showing with New York's Jack Hanley Gallery, Johnny reroutes line and depth of field, reducing content to elemental form and design to create incredibly instable structures. It's like Nintendo on acid, and the geometrical shapes seem at once very one-dimensional but infinite, pushing us away and pulling us in again. Speaking of populist, people crowded around the works; trying to make sense of how the neatly placed lines seemed to dance and move in front of them. Each little section had a rhythm that matched itself with my heartbeat, which is strange, because I don't know about you but I always forget about mine even beating. Johnny creates an optical tug-of-war that offers an ingredient in painting that is almost kinetic, and I think a new possibility for flat work.
Around the way was the work of Mike Kuchar, being shown by LA-based Francios Ghebaly Gallery. How did I not know how comically – and delightfully – homoerotic his work is? I confess to be much more familiar with his late brother and collaborator George, but it was a real treat to see Mike's comic-book style in person and its biblical references portrayed with perfect perversion. Subliminal (or maybe overt) insertions of snakes, spears, hammers, guns and ropes alongside veiny and mostly uncut dicks suggest fantastical webs of phallic similarities, reinventing folklore and stealing from hetero-masculine iconography. In one drawing, a soldier sits with his legs spread, sucking his thumb and clutching his weapon and teddy bear as he looks blankly ahead. His tool hangs like a boneless utter, the foreskin seeming to mimic his combat helmet as his starfish asshole lay agape. I'm not one for militaristic imagery (because the military sucks, yeah I said it), but this particular piece had a distinctive presence in the puzzle of Mike's both violent and mythical body of work. Don't ask, DO TELL.
Meanwhile, on the other side of the art fair metropolis at Gavin Brown Enterprises was Thomas Bayrle's "Galaxy Windscreen Wiper",  a diptych of Warhol's Chairman Mao screen prints with two windscreen wipers washing over his face. The piece included an audio component, which was Nico and The Velvet Underground's "I'll Be Your Mirror" song with just that line on repeat. Evoking 1960's nostalgia, the piece corners the dead singer, dead art icon and dead political symbol – what a trio, together at last. The windscreen wipers clear the vision of the colorful Mao…hold on, I think I'm on to something…if Mao is our mirror, and he's dead…doesn't that make us dead too? Or maybe art? Or maybe the art market?! Hmm, brain juices are really starting to flow; I think I'll rewatch M. Night Shyamalan's "The Sixth Sense" to help explain this one. Anyway I enjoyed it, but maybe I'm just a Nico junkie. And a closet communist, of course (in that I believe closets belong to everyone, ha!).
On the way out I took a gander at Reena Spaulings Fine Art, a New York gallery that is a collective of artists named after a fictional art dealer. Among their roster at this year's Frieze was K8 Hardy. K8 takes commercial and pop material and fabricates defiant and beautiful gestures of social commentary. She seems to play a lot with the female body (no pun intended, girl!) and ideas of the feminine allure and male gaze. K8 strips advertisement and fashion photography of literal context and emphasizes the clouded feelings associated with the female body in a fucked-up misogynistic world…or so I think. But I'm not sure she's interested in political messages – a lot of her work seems more invested simply in the social signifiers that clothes, fashion and appearance create. One piece on view showed a woman, with K8 being the model as she often is, with her legs parted toward the viewer and one hand pressed between. Placed around the woman are several purses, situating her in a constellation of women's commodities and making her body another form of apparel. The work also feels somewhat retro, perhaps it is the color palette or maybe it's even that Jason Priestley-esk wig circa 1990 from Beverley Hills 90210 (oh god I'm getting flashbacks). K8 continues to address serious shit without being a total downer, and has a style and language that seems uniquely her own.
Dean Dempsey is a visual artist based in New York City who has a remarkable inability to finish anyth.
—
Up Next for SFAQ Online: Turner Prize 2012 at Tate Britain. Here's a little glimpse to hold your excitement -it will involve the SHANGRI-LAS (If that doesn't excite you I don't know what does).