Martin McMurray: Disputed Episodes at Gallery 16
Please join us Friday October 5 from 6 – 9pm for the opening, Live Music with The Verms
The show runs from October 5 – December 1, 2012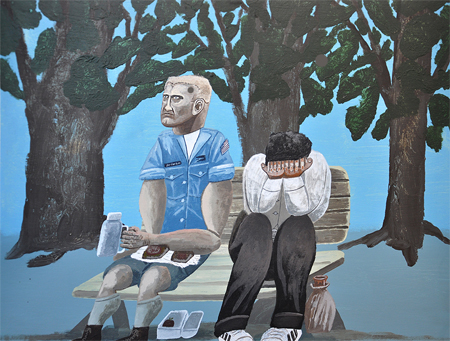 Gallery 16 is thrilled to welcome artist Martin McMurray back to the gallery for his second solo exhibition. We will present a large survey of McMurray's idiosyncratic paintings. The Detroit native has developed an international following for his work that is often likened to Jim Nutt, Jockum Nordström, H.C. Westermann and Philip Guston.

McMurray is a painter whose modestly sized works are charged with emotional human drama. The narrative scenarios in his work frequently deal with the history and tragedy of human mistakes. His work is charged with the complexity of lifes daily routines, rituals and anxieties. He often paints a single scenario in a serialized trio of paintings each offering a slight variation on the related narrative. These serialized suites offer a commentary on the chance and fragility of our possible futures.
The artist will also present a large group of nearly 100 paintings that take the form of imaginary books, fashioned out of wood and painted in a tromp l'oeil manner. These dense unyielding objects force the viewer to  concoct our own potential storyline, offering us only the title and authors image on the back of each book.