I escaped New York City just before the art fairs hit. At the moment I would rather crawl over ground glass than endure an art fair. So instead I picked up a rental car at 8am last Monday and drove to Elizabeth Jaeger's studio in Bushwick to get sculptures (a goddess, she had coffee in hand for me) then to Nicole Wittenberg's studio in Tribeca for eighteen paintings by six different artists (heroically, she had them waiting for me on the street, coordinating construction workers and traffic—one of those herculean acts of friendship that mean more than any earthly treasure). The last stop was New Jersey to collect a giant pink suitcase stuffed with Ann Liv Young's mermaid tail. By noon I was on the highway listening to a mix CD of 1990s hits Josephine Halvorson made: I looked at my sculpture co-pilot, she just smiled—good company for a twenty-hour drive down I-95 in a white Jeep Liberty stuffed with art.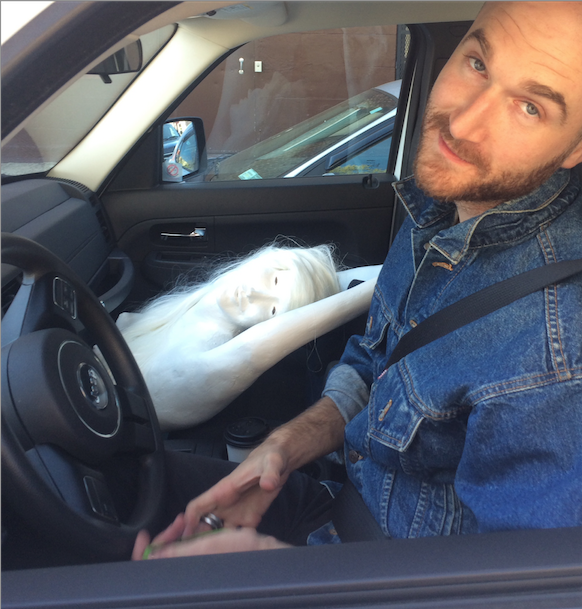 I made it to Miami very happily with burly men at every gas station questioning me about the creepy dead-sex-doll slumped in my passenger's seat—"hey, tell me about the laydee in yer car." In my cut-neck t-shirt with pictures of manatees on it, shorts and riding boots, I would just say: "Oh her? She's just along for the ride." I stopped at a sleazy Daze Inn in Florence South Caroline and threw my  jacket over her for the night—I had nightmares of someone breaking in because the perverse novelty factor was so high, like those people who smashed into cars to steal Beanie Babies off dashboards—and beanie babies don't even have tits.
I love long solo drives listening to music—it is a very American idea of freedom. Think of Emily Jacir's brilliant "From Texas with Love" (2002) where she asked Palestinians what music they would listen to if they could drive for an unbroken hour, then placed their 51 choices over footage of her cruising through the Texas desert. When I was a Southern teen, feeling amorphously angry and trapped, I used to drive aimlessly, shouting along to angry girl music—it helped a lot, my version of therapy.
I'm in Miami to enact an affectionate pirate take-over of my friend Nina Johnson's Gallery Diet while she cares for her very fresh baby. For May, June, and July I'm renaming the gallery NIGHT TIDE and organizing exhibitions and performances of things I like, based largely on subtle color-feelings. When the indomitable Andrew McClintock, editor-in-chief of SFAQ, asked me to start writing weekly art reviews again after I mysteriously stopped without a word a few months ago. I told him I want to write about everything but art. However, I  would do a weekly column on "summer vacation": swimming, what I'm doing in Miami, what I'm reading—which all have something to do with art, but more to do with living. And, because he is a mensch, he agreed—so here is the first of my short weekly diary entries, which will also document the rise and fall of NIGHT TIDE.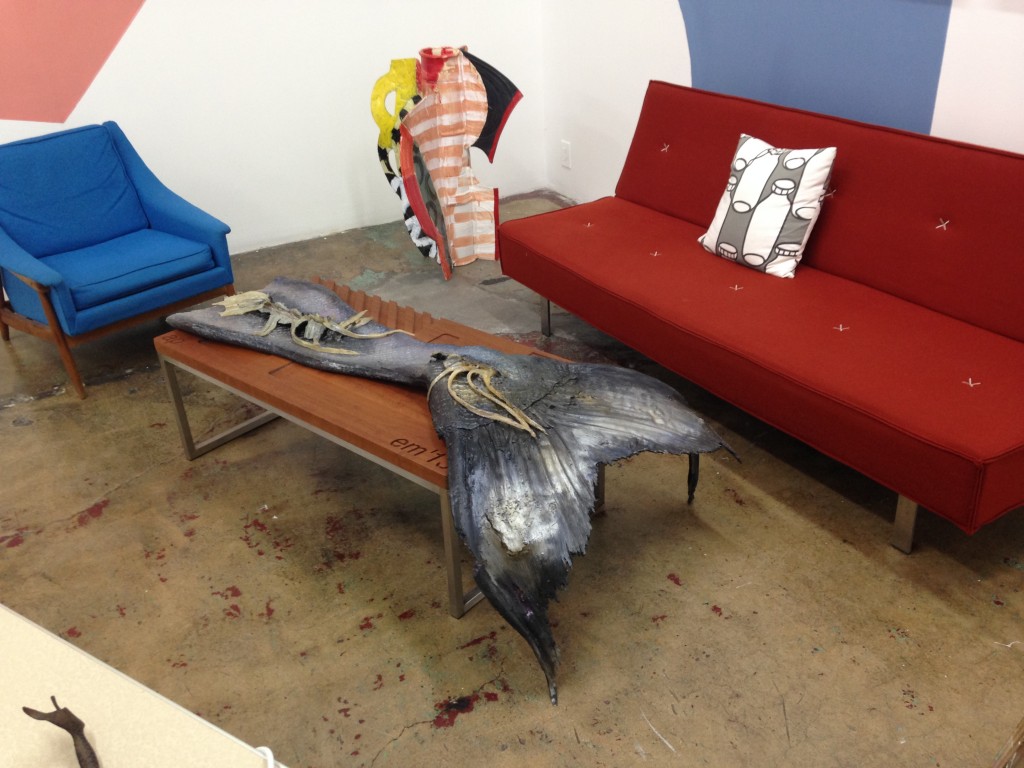 The first thing I did at Diet was to take everything off Nina's desk, replacing it with a cast-iron mermaid and some books. I then plopped Ann Liv's "scented" rubber tail on the coffee table (my idea of re-decorating).
I brought more books than clothes as usual, but all my clothes are blue or white.
—Jarrett Earnest