Founded in 1974, Kala Art Institute has operated out of the H.J. Heinz Building in West Berkeley since 1979 and has gradually grown to occupy over 15,000 square feet of the historic building on San Pablo Avenue. In addition to their renowned Fellowship and Artist-In-Residency programs that enable artists to utilize their exceptional facilities, Kala offers over 100 classes annually to the community, stages 8-12 exhibitions per year through their ambitious gallery program, and provides art-based curriculum to between 2500-3500 school age students through their Artists-In-Schools program. Furthermore, Kala's ongoing schedule of artist talks, special events, lectures, and panel discussions, round out this dynamic institution's numerous contributions to the Bay Area's artistic community.
I recently sat down with Archana Horsting, Executive Director and Co-Founder of Kala, to talk about the history, mission, and evolution of the organization, the artistic community in the East Bay, and the many ways Kala supports artists, art education, and the general community.
-Kelly Inouye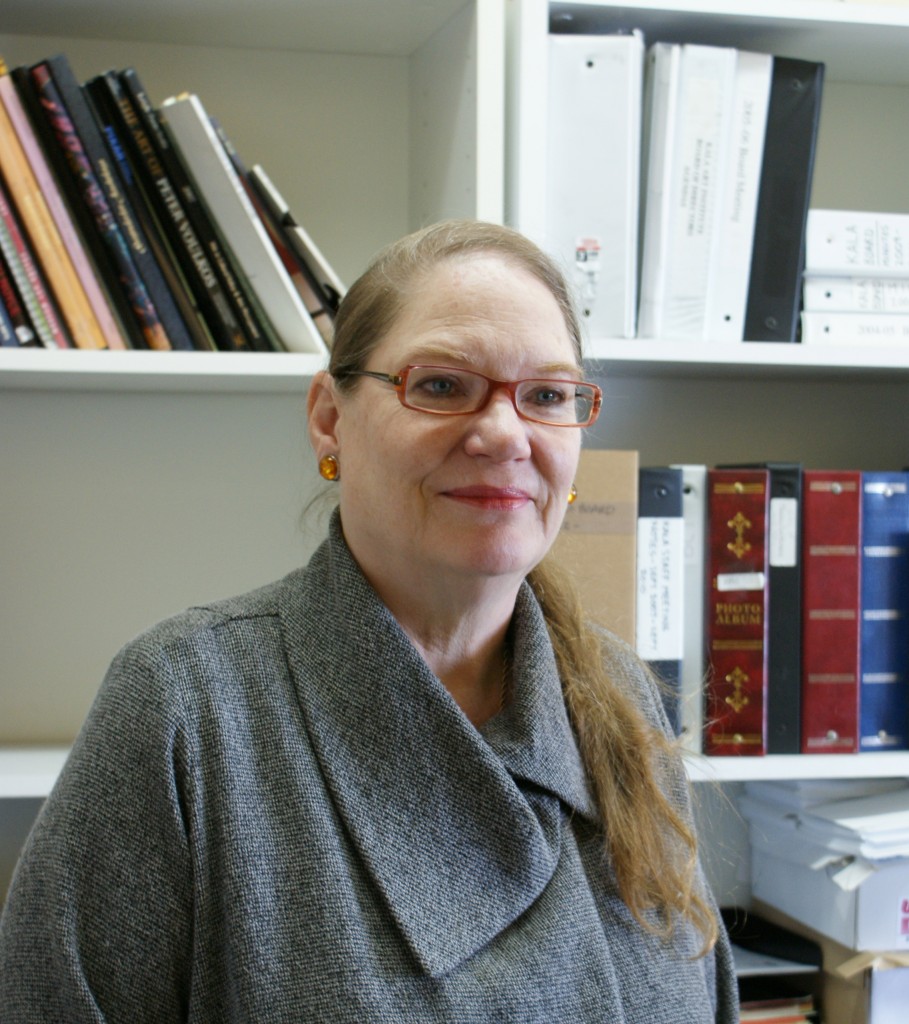 Archana Horsting, Executive Director and Co-Founder of Kala Art Institute. April 2012. Photo credit: Kelly Inouye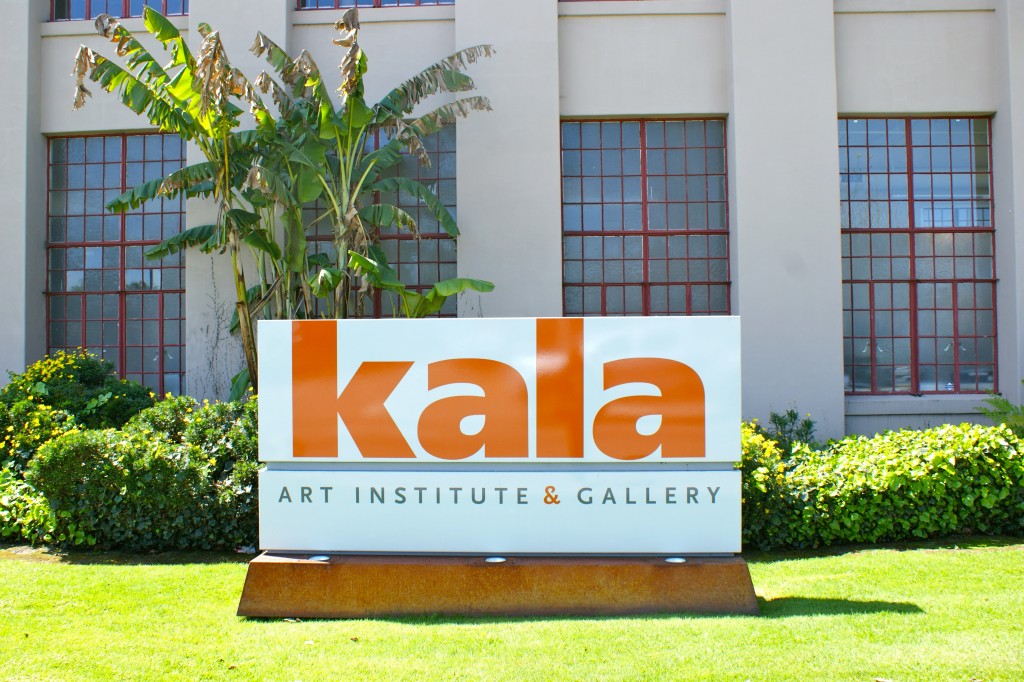 Kala Art Institute Sign, 2990 San Pablo Avenue, Berkeley, CA. April 2012. Photo credit: Kelly Inouye
KI: Can you introduce yourself and your position at Kala?
AH: Yes, I am the Co-Founder and Executive Director of Kala. I am also a Board member, but not an officer. This month I'll have been working at Kala for 38 years.
Wow. Can you talk a little about your history before Kala?
I was born in Chicago and grew up in California from the age of 10. My mother taught sculpture at UC Davis from 1959-72. She took me to Europe during a sabbatical and that had a big effect on me. I did a lot of travelling and I went to college at UC Davis and UC Santa Cruz and then I went to the University of Padua for my third year abroad in Italy. I lived one year in Rome with my mother before college and then went on my own to Venice Art Academy in Venezia, then came back and graduated from UC Santa Cruz. After graduating I worked as an apprentice to a sculptor in Italy and after that ended up at Atelier 17, which is a workshop in Paris started by Stanley William Hayter in the 1920s. So he and Krishna Reddy were two of my teachers during my post-graduate work at Atelier 17 and that's where I focused on printmaking, especially Intaglio printmaking and that's where I met the other Co-Founder of Kala, Yuzo Nakano. Yuzo is still involved at Kala as our Artistic Director and is also involved at the Board level, too. He and I began it in 1974 in the Spring- we opened the doors in April. It was just a one-car garage in San Francisco. We had one press and a homemade hotplate and a table that we built.
Can I ask where the name Kala comes from?
Sure, that came along a little later. At first we called it the Wilmot Street Studio. It was an alley in old Japantown, which is where Yuzo landed. I was still travelling in India and when I came back we just called it the Wilmot Street Studio because that was the little alley we were on.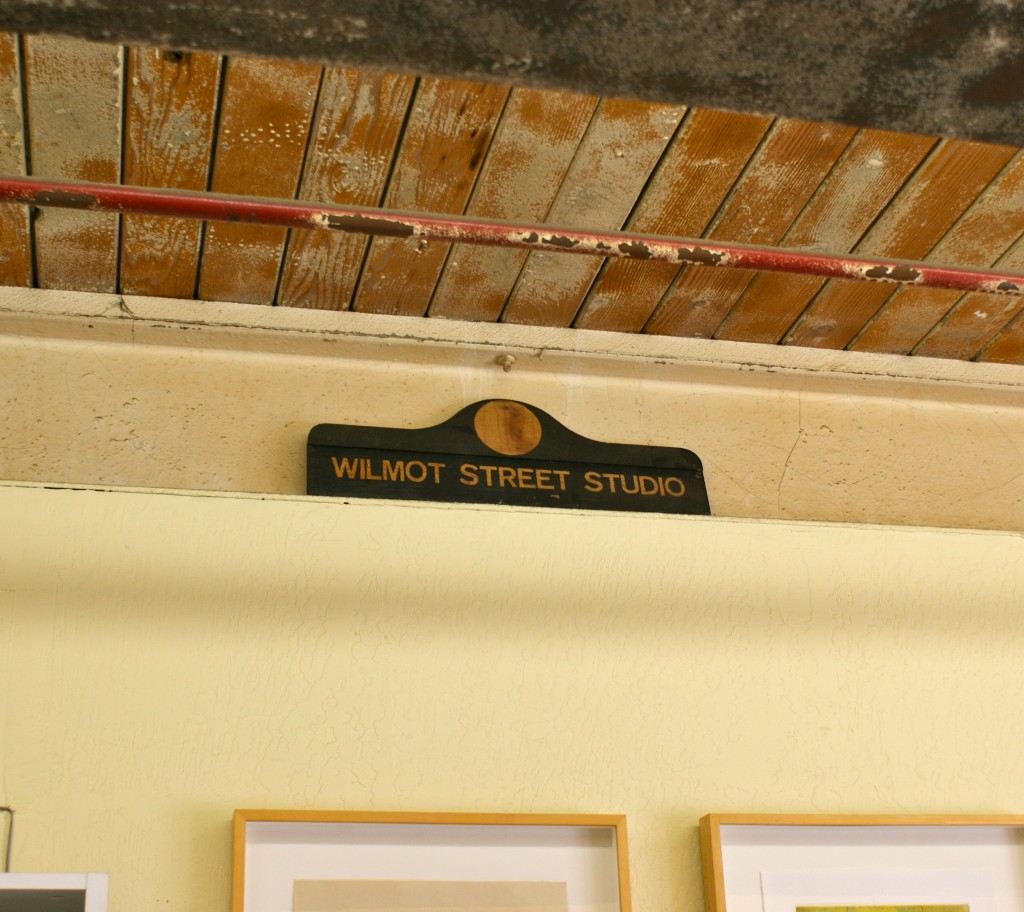 Original Wilmot Street Studio Sign. April 2012. Photo credit: Kelly Inouye
Then we moved over by the Ashby BART station for five years to a place on Fairview and Adeline, and that's when we gave it the name Kala. Kala means a lot of different things in different languages. It means "good" or "beautiful" in Greek. It means "all the arts" in Sanskrit. It means "sun", "the color of gold", therefore "money" in Hawaiian. And Yuzo, being from Japan originally, liked it because it also meant "emptiness", "sky", or the "spirit of eternal creation". So we both thought "emptiness" meaning empty of pretension, bureaucracy, or assumptions sounded good. Of course it sounds a little bit like a nut place, too (laughter). Another translation for Kala is just "art". We inserted the word "art" in the title a little later- at first it was just Kala Institute. We inserted that because people just didn't know what it was.
And you have operated out of this building since 1979?
Yes I think we took over the lease in August of 79 and we moved by the end of the year. We were kind of fixing it up and moving at the same time.
What was that like in the beginning?
Well, we just had this space [one floor of print studios] and we had to put in some walls because it was completely open. We didn't want to put in walls because it was so beautiful and there were no columns or anything because of the truss structure. It was beautiful. We've put in walls and taken them out over the years and kept it as simple as we could- keeping the feeling of openness and also the possibility to rearrange when we need to.
Empty Kala Studio. 1970's. photo credit: Kala Art Institute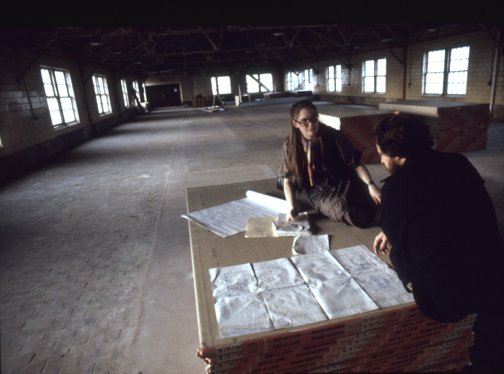 Archana Horsting with Yuzo Nakano in the Empty Kala Studio. 1970's. photo credit: Kala Art Institute
It was the Heinz ketchup factory?
Yes, originally in the 1920s, around the same time Hayter's studio, Atelier 17 opened in Paris. So as a joke we would call it Atelier 57 amongst us. You know, for 57 varieties? (laughter) There's a big 57 out on the parapet. It's been such a fun, wonderful place to work. I fell in love with the space the moment I saw it. I tried not to smile too much when the landlord showed it to me. He didn't think anyone would walk up to the third floor. There is an elevator, by the way.
We had a gallery in the old space on Fairview and Adeline but we didn't open the gallery again until 1980 because we just needed that much time. It's funny we didn't have much furniture when we moved in and people said "Archana, you'll never fill up this space!" but of course we use every inch of it and we always wish we had a little more space. It has been a real dream space for us. We've also acquired part of the space on the second floor where we have our media center: all kinds of computers, scanners, and printers.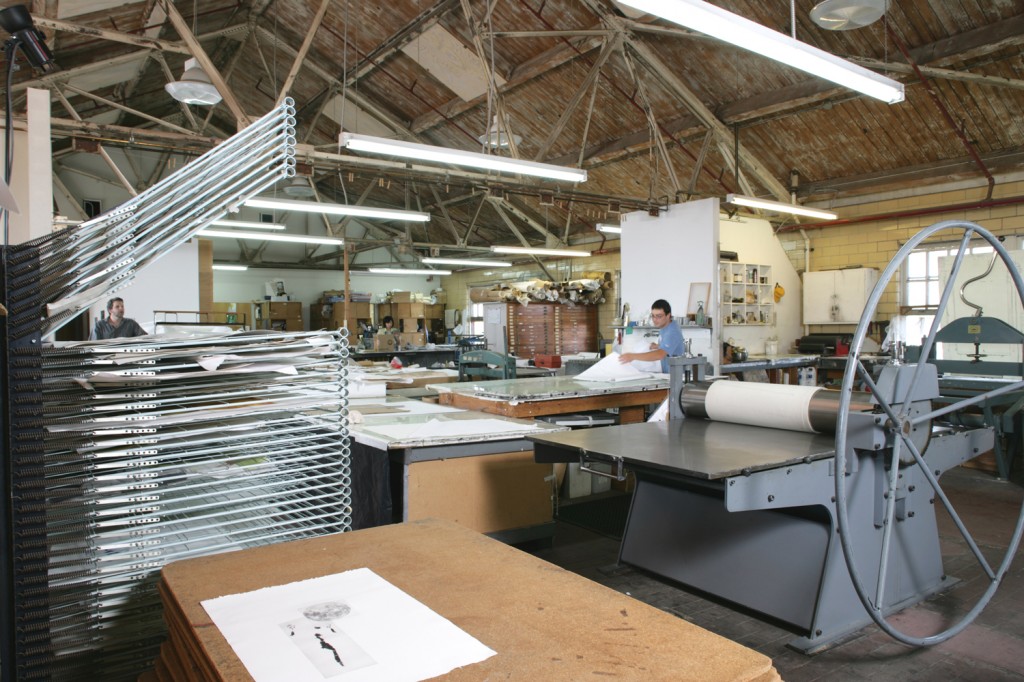 Kala studio (recent view). 2010. photo credit: Kim Harrington
Can you talk a little bit about the evolution of Kala? How did it become what it is today?
It started as truly just an etching studio. But certain core principles are still the same. One is that we are a very international program- we've got people coming from all different parts of the world. That's been true from the beginning and still is. We try to make everyone feel welcome wherever they come from. Nakano and I didn't want Kala to be only local artists. We love local artists but we didn't want it to be only local artists because when you start committing yourself to something you can't travel as much. I mean travel as in staying away for a year or six months, which we both had had the opportunity to do. We learned so much travelling and learning about other cultures that we both really wanted that to continue happening. Partly for very ulterior motives: wanting to keep things interesting for ourselves. But we also knew the local artists would get a lot out of it, too. So that international principle along with the idea of Kala being designed to work for artists, which is not necessarily the easiest thing for people administrating it. We have 24-hour access. Artists have keys, storage areas, and the ability to come and go according to their own schedules. I think this makes a big difference for the artists. It's not like a classroom situation, it's really a true workshop and experimental space where people can try different things and learn new techniques and so forth. So it went from an etching studio to a more general print shop, to then adding digital media including video.
It just turned out that all kinds of things about paper and film are very compatible. Not only compatible but they can build on each other. For example, you can do a digital print on archival paper with archival inks, then you can print a woodcut on top of it and that kind of thing just opens up so many possibilities. You could have a pre-printed digital chin collé, which you could then glue as you are printing an etched, hand-drawn plate. So it just gives you all of these possibilities to connect different ideas and so that's partly why it expanded the way it did.
In the beginning we did a lot of experiments with papermaking because that is a substrate everyone uses. All artists use paper, whether they are architects, or painters making studies for a painting, or sculptors thinking of plans for larger work. So that sense of paper connected artists from all over the world. We don't have a full paper mill or anything like that but we still occasionally teach courses in papermaking. A lot of us from the early days studied papermaking so we understand how it works, how papers from different cultures are very useful to us. There are various ways sculpture and installation happen here, too. Like cast paper for example. Nakano designed the digital media center in 1995 and things have continued to improve and we got better equipment. These things just seemed to mesh and they were tools that all artists needed, either for documentation or for actual art making.
Can you talk a little bit about your experience in Berkeley and share some thoughts on the artistic community in the East Bay?
I really love the East Bay. It's got the better weather (laughter). There's a lot more affordable housing and studio stock than in most of San Francisco. So a lot of artists are over here. It's very dense and that makes it exciting. It's easy to get art supplies. I like to think of Kala as an urban residency. So many residencies are out in the country and that's the classic model, but really where artists need the most help is figuring out how to integrate the making of art with their daily lives in order to continue to be an artist for their whole lives. Though it's wonderful to go off to a residency, I'm not knocking it. I'm ready to go to MacDowell any moment, so I'm definitely not knocking it. But I think what artists need the most help doing is figuring out how to balance everything and get some support on a regular basis. So we have long-term types of residencies and renewable ones so if you worked here ten years ago and you want to come back, you can. Or if you have done a residency and are still involved with the project and want to do more, you can renew it. This idea of supporting artists through time, and in a place where there are a) a lot of other artists b) art materials and supplies you can get easily c) the opportunity to show work and d) be more integrated with the larger community which is hard to do immediately on your own.
Lately Oakland has gotten very lively with the Art Murmur and all of that. I think the more people that live in downtown Oakland and also Berkeley, the more lively a scene we can support. I think there are fantastic artists in the East Bay and in San Francisco as well. I don't think we have a shortage. But I do think that it's always good to bring artists from other places, too, so the dialog can continue.
I frequently think, "How did we do all this before the Internet?" because the Internet has made communication so much easier. But on the other hand, we're also overwhelmed with the amount of stuff that comes through. So we use the Internet now to maintain a kind of grape vine, but for a long time we had an old fashioned grape vine: Artists came and worked here and went back to their countries and cities and told other people about the experiences they had. Then we'd hear from somebody else from that city or place. The good thing about that was even though we didn't have a lot of advertising money or anything like that, people from around the world sometimes knew about us better than people right in Berkeley. So the East Bay is great but it doesn't have enough of an art supporting culture, or hasn't until recently. So we're hoping that we can help develop that. I think it starts by supporting the artists themselves.
A lot of the structure of our programs is set so we can pay artists. We'd like to pay them more quickly sometimes, but we always do pay them. So if artists sell something in our gallery, of course they get their commission. If we have them teach a class, we pay them for that. If they teach kids in schools, not only does that help the kids- which we very much want to do- but it also helps support the artist. Although very few people earn their total living from Kala, other than the staff and perhaps a few artists whose work we sell a lot of, most of them benefit in a way that is like micro-finance in the sense that it helps keep body and soul together and enables them to have the funds to purchase the materials they need to do that next piece or set of pieces.
We sell artists work in our Print Room; Andrea Voinot does a wonderful job as our Art Sales Manager. There might be a small honorarium here, or a stipend for a Fellowship there. It just helps artists keep making progress. As much as we can, we want to do that. At least 25% of our budget goes back into artists' pockets, 50% goes to our staff and you could count that because most of those people are artists. And then there's 25% for the rent and stuff that we can't do anything about. You know, we have to pay it (laughter). So the majority of our budget really goes to artists, but 25% goes to our Artists-In-Residence or former Artists-In-Residence that are working with us in some capacity. Whenever we design something we are always thinking, "How does it help artists survive and keep it together?"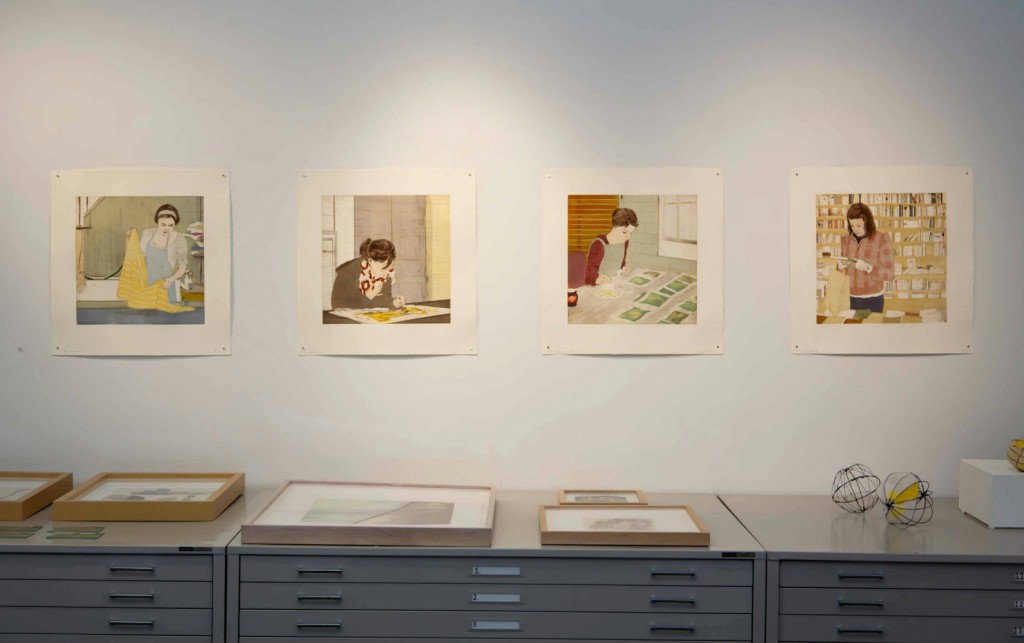 On View: Ellen Heck prints in Print Room. 2012. photo credit: Eric Hoffman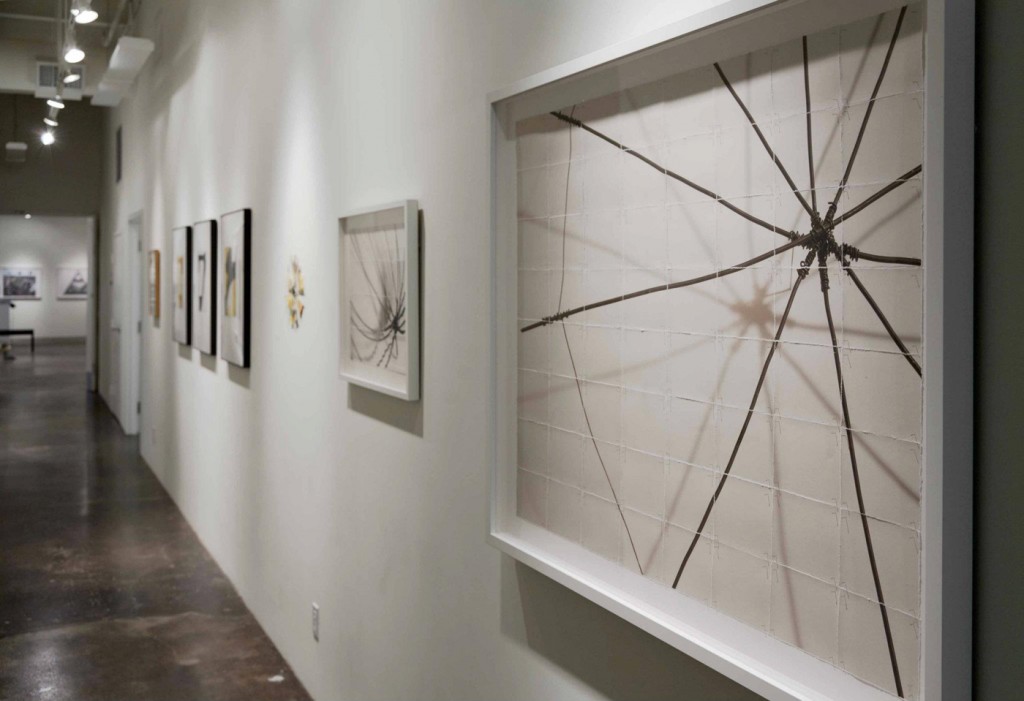 On View: Emily Payne print works and sculpture. 2012. photo credit: Eric Hoffman
Back to your question about my thoughts on the East Bay: It just keeps growing and morphing and developing. I think artists have had a hard time in the last number of years but it's never been easy. At Kala, we've gotten more ambitious over the years in what we think we can pull off but we also have a harder nut to crack each month given our growth and the state of the economy.
I'd love to hear more about the Artist-In-Residence program.
We actually started as a workshop space for artists, but then I realized we had a lot more in common with artist residency programs even though we were urban based. First of all, we always reviewed people's portfolios and chose artists we thought could thrive here. It was always competitive and we just thought really what we're doing here is giving artists time, space, equipment, technical knowledge, opportunity to meet each other, share information, and so on. That's much more like an artist's residency than it is simply being a member of a workshop or something.
Our concept of what we do morphed over time because it became clear to us that this was the right way. It also became harder and harder for artists to receive individual funding. For example, there used to be individual NEA grants and then that program ended. There are some new ones now but there are still not that many. Individual funding opportunities for artists are very limited. So, we thought that we a) wanted to design Kala to fit artists needs and b) we wanted to help them financially and c) if artists saw it as a residency they would think about it differently and use it more intensely, it would also go on their résumé in a different way. Fundamentally, even though we don't offer housing, artists have keys and can come here 24 hours a day, they can work on Christmas, they can do whatever they want while they're on contract with us. Over time, all of that convinced me that it was a residency program.
Every year I visit the Alliance of Artist Communities. We're also a part of an international group called Res Artis that is an association of organizations with residency programs. When you fill out information for grants or cultural data projects or statistics they really aren't set up for residency programs. They are much more oriented towards performing arts or museums but not toward supporting artists doing their work. I think a lot of people need to be educated about residencies in general: That they exist as both the retreat and urban style and that by supporting those organizations you can directly support artists in a way that they aren't being supported as much they need to be – with funding.
That's a long circle. It took me a while to get there speaking to you, but in reality it took us a while to evolve and understand that was what we really needed. Because here in the US we don't have the Atelier system- I mean there are some ateliers in this country but it is a much more European structure and it was more mentor/student based. There was a point where Nakano and I knew quite a bit about printmaking but we didn't want to just invite people who were our students. We really wanted it to be more of our peers in the art world. So the Artist Residency program has been growing steadily over the years and the field has been getting stronger and this Alliance of Artist Communities, which is our association, has been doing a lot.
There's a new position in the category at the NEA, which the AAC helped to create called "Artist Communities". A long time ago there used to be a category called "Artist Colonies" but it disappeared. And again, we don't quite see ourselves as an Artist Colony but as a Residency Program. It's a really great structure and I'd like other organizations that support artists by giving them space and time, to think of themselves as Residency Programs, then maybe they could join this organization and the program will get stronger. Artists should know about these opportunities, too. They exist all over the country and I encourage artists to research them on the AAC [http://www.artistcommunities.org] and Res Artis [http://www.resartis.org] websites.
Can you list some examples?
Some of the oldest ones are MacDowell and Yaddo. But there's a place up in Washington State called Pilchuk and Anderson Ranch. In this state there's The Headlands, Djerassi, The Exploratorium, Montalvo, 18th Street Arts Center in Southern California. There's another urban residency program in Omaha, Nebraska called Bemis. The McColl Center in North Carolina. There are many more. I recommend that artists go directly to the Alliance of Artist Communities website to learn more [http://www.artistcommunities.org].
Can you tell me how many Resident Artists Kala accommodates? What type of artists do you seek?
Right now during any particular month I think it's somewhere between 75- 78 and some artists make more use of it than others. We have part time 3 day per week usage versus full-time, which is 4-7 days per week. If an artist coming from another country will only be here for one month, they're more likely to do the full time program. I'd say most artists, not all but most, are in the part-time mode because they have job or family obligations. But there are also many people who take advantage of the full time. Artists spread themselves out with this system. Sometimes they're night owls, sometimes they're early birds, sometimes they're weekend only.
You give them a lot of flexibility.
Yes, flexibility is what I think artists need. Regarding what we look for, we look for artists that have ideas of their own that are making good marriage of technique to concept. We aren't the style police, we don't say you can't do something representational or you can't do abstract work. But it's much more satisfying for us to see something that is well thought through and well executed.
You're looking for good artists.
Yes, that's it (laughter)- very good artists. And we understand that artists have different phases in their careers when they are more developed or articulate about their work so we do have a place where people come in as interns, or their just emerging but we're definitely not a degree granting institution. We never wanted that. We wanted to be mostly focused on people doing their own work for their own motivations. We do a lot of teaching but we're not a school in the traditional sense. We are a teaching institution partly for self-defense. If you want to keep a nice shop going you need to have people know what they're doing. Nobody knows everything so there's always something for someone to learn. And that's another way we pay artists- for teaching.
Can you talk about the classes that are offered here at Kala and the Artist-In-Schools program?
Those are two very community oriented programs. One of the things Kala likes to do in general is introduce artists to members of the community and community members to artists so that there isn't so much isolation. Although at times artists need a contemplative environment, they also really need to have a living and to be supported and have their work purchased or shared.
The Artists-In-Schools program is something that we philosophically believe in. You have to introduce the arts early in peoples' lives and, although you're not going to turn everyone into a professional artist, you are going to allow those who have the talent and interest to develop if they know it's out there. You're also going to create better problem solvers and more resilient people; people who can look at a problem and turn it 90 degrees the way an artist might; Break it down, edit it, be critical, close the critic off for a while so new ideas can flow. The whole way of artists thinking about their habits in life, in the studio, their way of creative problem solving is very useful for every human being. Of course, we would have many more artists if everyone gave as much time, in education, to art as they do to reading or writing. People would have more appreciation for art, too.
Most people don't understand that art is something available to them and they can live with real art and find something new in it every day. For our Artists-In-Schools program we hire people connected to us through our Residencies or we see their work because they apply for other things- we find them. Also we find good artists who have a capacity and motivation to work with kids and we work with 12-15 schools during a given year. We reach 2500-3500 kids a year.
We often design true art projects that support the school curriculum because frequently there is no other way to introduce art into the classroom day. Elementary and Secondary education is very fraught right now so, while the Kala artists try to motivate the kids to want to be in school, they also create projects that illuminate other topics like math or science, social science or English. There are so many ways that art can play a role that we're happy to design programs that specifically do that. We don't have a lot of cookie cutter programs. The projects are really designed for the needs of the schools and those kids and built around the talents of the person we put in there. We always come up with good things.
Beyond our work in schools, our program also includes Camp Kala during the summer months [http://www.kala.org/campkala]. Jamila Dunn, Kala's Youth Arts Program Manager, has done a wonderful job organizing that in addition to our new Family Art Days. Both are held at Kala in our on-site classroom.
Can you talk about the classes offered here at Kala, too?
We teach all of the systems we have here. All the various printmaking forms: intaglio, etching, engraving, woodcut, silkscreen, lithography, and all the digital processes, including video editing. We also offer things that people can't get easily at other places. It's hard, for example, to go find an encaustic class, or a felting class, or for years we had fresco painting- we don't have it now but we had it for years. These are things that even people who went to art school may not have learned and yet they are perfectly relevant techniques. Our feeling is that technique is not something that disappears. Just because people did it four thousand years ago in China doesn't mean it has no relevance. At the same time learning a new technique is not antithetical to doing good work. As long as an artist has a good reason to use a particular technique and your not just turning out nice posters of your watercolors. Kala Resident Artists get a 20% discount on any classes they take while they are in residence. Once they've got the nod from a teacher that they are ok to work alone, they can. Again this is self-defense because you don't want someone new here who may be attracted to something someone else is doing trying it without the proper preparation. They can hurt themselves or the equipment, or ask too many questions. It's better to have a more structured, formal teaching program but at the same time make it flexible enough for artists.
That's why we added tutoring, in case the class you wanted isn't being offered while you're here. Carrie Hott is in the role of registering people for classes and creating the class catalog as well as registering people for on-the-spot tutoring. She does a great job. Sometimes people just need a few hours- they get the general gist but they are really stumped by a few things so we try to help them do that. This also protects equipment from abuse.
We also offer some professional development courses, how to write a grant or ways of teaching kids, or how to present your materials to a gallery, that kind of thing. There are photography courses now. But we started out with very few classes and they have grown in number over the years. It's been part of the evolution I was explaining earlier. I have always felt that if you had a creative core of artists working here in residence, from that everything was possible: exhibitions, classes, publications- all have come from this ability to have an ongoing working studio.
How does Kala foster and maintain its sense of community?
That's a very good question, and we've given it a lot of thought over the years. It's partly because we let people come back. Some artists have worked here for years because we keep letting them renew but we also really try to have an open door. We don't want to be a private club. We've always maintained ways for new people to come in. So we have our application cycle four times a year- plus the fifth one for the Fellowship. If people only come once, that's not much of a community in my opinion. If you have a closed door, then you can't grow and be exposed to new ideas and new blood and new excitement. So the question becomes balancing how many new people you let in and how many people you let continue or come back. Ideally we do both. Both are necessary. Part of it is that artists have been able to go off and do something else for a while and come back and make prints, or go make a video and come back and edit or something. So that gives a sense of continuity, that this is an ongoing resource in artists' lives. That is what we were trying to do in the first place.
I don't know of anywhere else that does this. It seems like an incredibly unique, thoughtful, and helpful organization.
You know it is a little tricky to do it, but we try to do it as fairly as we know how. Obviously if somebody broke our stones and left our shop a mess we might not invite them back (laughter). We reserve that right. But that is a rarity, really. Life also intercedes, you know. Peoples' mothers die, their buildings get foreclosed, they may have to move away because a spouse got a job somewhere else, you know, things happen. It's never going to be static. Life just intervenes too much. But if you know you are welcome, that you can come back, it makes the artist feel this is more their place. That's why we have what we have. It's designed for you, the artist, and not some hypothetical person. You know, if we care about somebody the first time we get involved we're going to still care about them six months, six years, sixteen years later.
We haven't been that good about following up on everybody's individual progress in life, but we do love hearing from people and hopefully we'll get better at tracking their progress as time goes on. Our alums can always potentially come back and work here again. As a result, the artists get to know each other and help each other. Friendships, professional collaborations, relationships, and even marriages have resulted. Artists hear about shows so they exhibit together and do projects together. There are all sorts of events that we have like openings and gallery events. We also often have food out and food is often a connector. We have a kitchen and dining area, and this is partly to keep the food out of the printing area, but it also creates a place where people can talk to each other without feeling like they are interrupting work-in-progress. We want a working atmosphere in the rest of the space, but you do need a place where you can be social.
We have artists' talks and panels that allow artists to share their work. Carrie's been organizing talks just for the Artists-In-Residence, too. So we want to introduce the guest artists to the ongoing community and the ongoing community to the guest artists. There just aren't enough hours in the day or financial resources to do all that we'd like to do. We'd love to offer some housing to people to make it easier, but we do have a good connection to a number of people who have housed artists repeatedly for very reasonable rates. People create their own grape vine at Kala, and artists end up travelling to visit each other around the world. Many times our artists get invited to teach or give a talk in other parts of the world because of their connection to Kala. We've just had a group of artists down in Zacatecas, Mexico who were teaching for us and have gone down there and taught recently. Does that answer your question?
Yes. The sense of ongoing community is such a unique aspect of Kala. It's really wonderful.
What can we look forward to at Kala in the future?
Well, most immediately we have our auction. I think it's going to be great and it's already online. The works are listed on our website. For the first time we are using this software called "Ready, Set, Auction" so you can look at the work enlarged and look at all the prices and notes [http://auctions.readysetauction.com/kalaartinstitute].
Can people bid online?
No, but they can call with their bid or purchase for just over 100%. There are also items available for purchase that can only be bought at the live auction. Some of the restaurant offerings and things like that are only available at the live auction. Many things can be viewed online and purchased through the staff at Kala.
And after the auction, in the gallery we are going to have the Visions from the New California show that Lauren Davies spoke about. I already spoke about the evolution of Kala, but one of our biggest evolutionary leaps was when we took on the space downstairs.  We ran a capital campaign and built it out and had architects help us figure out how to lay it out in a way that was most flexible for us. Of course it became a huge challenge financially for us because it doubled our monthly nut. We basically have our same staffing numbers but we have more rent, electric, telephone, etc. So we're still growing into that space in a sense. It's helping us but it's still a challenge every month. So that was a really big step in our evolution that I didn't discuss earlier. And beyond that our next goals are to continue to improve the layout of the workshop and the equipment. We're also always coming up with new and engaging programs. The Board and Staff have recently done serious work on developing a Strategic Plan for the organization led by our wonderful Development Director, Celeste Smeland.
We're going to be doing more of the same but we hope more interestingly and better. We just have a lot of improvements that we want to accomplish, such as improving the artists' workspaces. That will happen under the leadership of Jesse Houlding, Kala's Print Studio Manager.
It sounds like the organization is constantly evolving and thinking of ways to be better.
Yes we are always thinking and coming up with ideas. But it all comes down to funding, so that's the challenge. The granting institutions seem to be holding on to their funds or stretching their year to eighteen months so that you don't get on an annual grant cycle so often anymore. So that is a challenge. We're going to have to depend on more individuals and even more earned income. A lot of our programs are going in that direction in order to figure out how we can stabilize a bit more. For example, we're going to be doing more custom printing and publishing. As a service to artists, and a source of earned income for the Institute, Unai San Martin, Kala's Custom Printing Manager, will be organizing those projects. For instance, we just published a book of prints by Lawrence Ferlinghetti printed at the Kala studios by Wendyn Cadden.
Thank you so much for talking with me. 
Of course, I hope you got most of the answers you wanted.
– Kelly Inouye is a San Francisco-based artist and contributor to SFAQ.