Since its start, Kala Art Institute's gallery has produced ambitious exhibitions showcasing local, national, and international artists including those invited to work at Kala's well-equipped facilities. In 2009 a major expansion project enabled Kala to occupy their current 2200 square foot exhibition space and further develop their exhibition program. Dedicated to working with emerging and established artists in a wide range of media, Kala produces some of the most thought- provoking and socially relevant exhibitions in the Bay Area.
I recently sat down with Lauren Davies, Director of Kala's Exhibitions and Public Programs, to talk about the programming at Kala, her approach to curating, Kala's Fellowship and Awards programs, the East Bay, and her own work as an artist.
-Kelly Inouye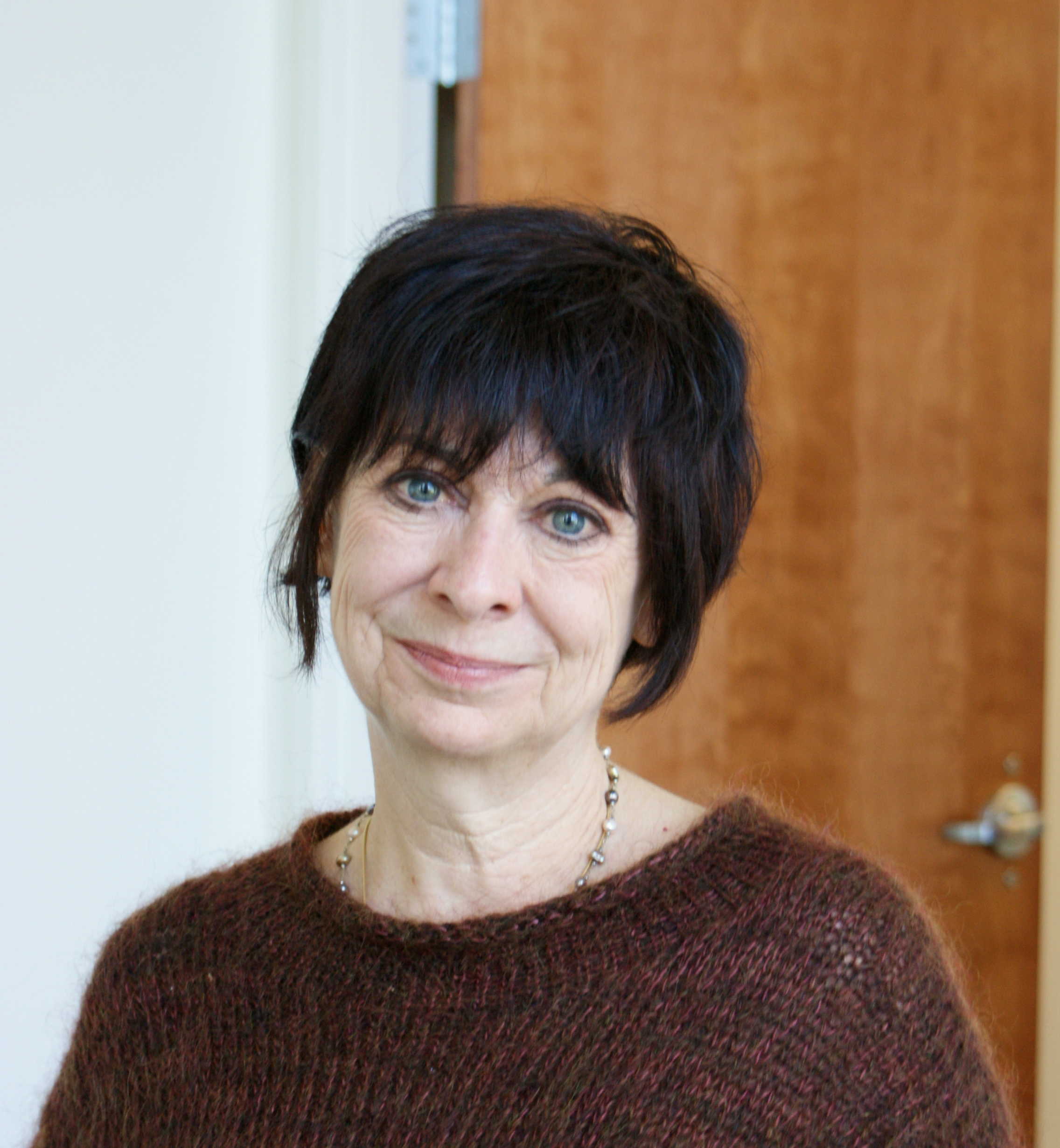 Lauren Davies, Director of Exhibitions and Public Programs, Kala Art Institute. April 2012. Photo credit: Kelly Inouye
KI: Can you talk a little about yourself and how you became the Director of Exhibitions and Public Programs at Kala?
LD: Well, it's nice to hear that question because it makes me re-think how I ended up here. To talk a little bit about myself, I came to California many years ago to pursue becoming an artist and specifically wanting to live in San Francisco. I went to the San Francisco Art Institute and got my MFA in Sculpture. That was a good while back. It was a really different era then. There was no focus on career paths or professionalism and in some ways I'm really happy that I had the opportunity to go to school back in the day when it was affordable and my MFA program was a world apart from being interested in commerce and careerism.
Recently I toured David Ireland's house in the Mission district. Being there that night looking around the house, looking at his work in that situation really reminded me of everything I loved about San Francisco and the kind of work I was looking at when I graduated from SFAI. I'm still really involved in my own studio practice, exhibitions, and residencies. I'm still primarily involved in sculpture, sometimes combined with printed materials. Most of the work I do has a goofy humility about it. I'm very much involved with using odd materials and explorations of the weird ways we re-create aspects of the world to experience life on our own terms: Natural History dioramas, taxidermy and such. Some of this was probably informed by going to a youth arts education program in a Natural History Museum. I grew up in Pittsburgh and went to classes at the Carnegie Museum of Natural History, which was also attached to an art museum. This was probably when I was about fourteen or so.
As fate would have it, I ended up at Kala about twelve years ago. I was working at a library for a long time and making a career change when a mutual friend introduced me to Archana [Horsting], one of Kala's two founders. I came to work on a temporary project, it was a symposium being held at the Oakland Museum in 2000 and I somehow never left. After working on that first project I had a sense of the organization of Kala and it seemed like there was a lot of potential to move Kala into a more visible position in the Bay Area art world. At that time the gallery was a really modest space that was right off the print studio. I organized a few shows that seemed appropriate to the organization's print media identity; exhibitions that focused on different print processes such as photogravure, mono prints, woodcuts, and that sort of thing. As time went by the exhibitions expanded into video, sculpture, installation work, and photography. Some of the exhibiting artists at Kala, both then and now, were affiliated with the studio, but as I took over the management and curating of the gallery, I brought in more artists from the outside and that really expanded the identity of the gallery. The other thing that really changed the organization and our gallery program was digital media. It played such a huge role in the expansion of our organization. More artists who didn't have a background in print media were experimenting with digital processes and sculpture, video and textiles and that really opened things up.
So you approach your curatorial work from the standpoint of an artist?
Yes, as I said I went to school in such a different world. Now there's a lot of interest in curatorial studies programs, especially here in the Bay Area with everything going on at CCA. So I certainly come to this experience of curating from a different position than people are in now.
Do you work with any of those curatorial programs?
You know, I don't. I teach some classes here [at Kala] periodically but they're not related to curating. I've worked with Jens Hoffmann; he was here about two years ago for the Fellowship program. Every year we invite a guest curator/juror to come in and help us with the selection. It was interesting to talk to him about the program but no; I am not affiliated with any program in curatorial studies.
Talking about the curatorial focus at Kala, the new gallery is totally different than the little gallery we used to have. We've been here a little over three years now, in this approximately 2000 square foot space, and it's hugely different than what we had before.
We've started focusing mainly on group exhibitions. They revolve around annual themes that we select each year. The first year we explored environmental issues and this included a major exhibition by Helen and Newton Harrison. That show included talks and an urban planning panel discussion. In that year I also curated a show – I didn't curate the show with the Harrisons, I worked with them – I curated a photography show that explored housing issues.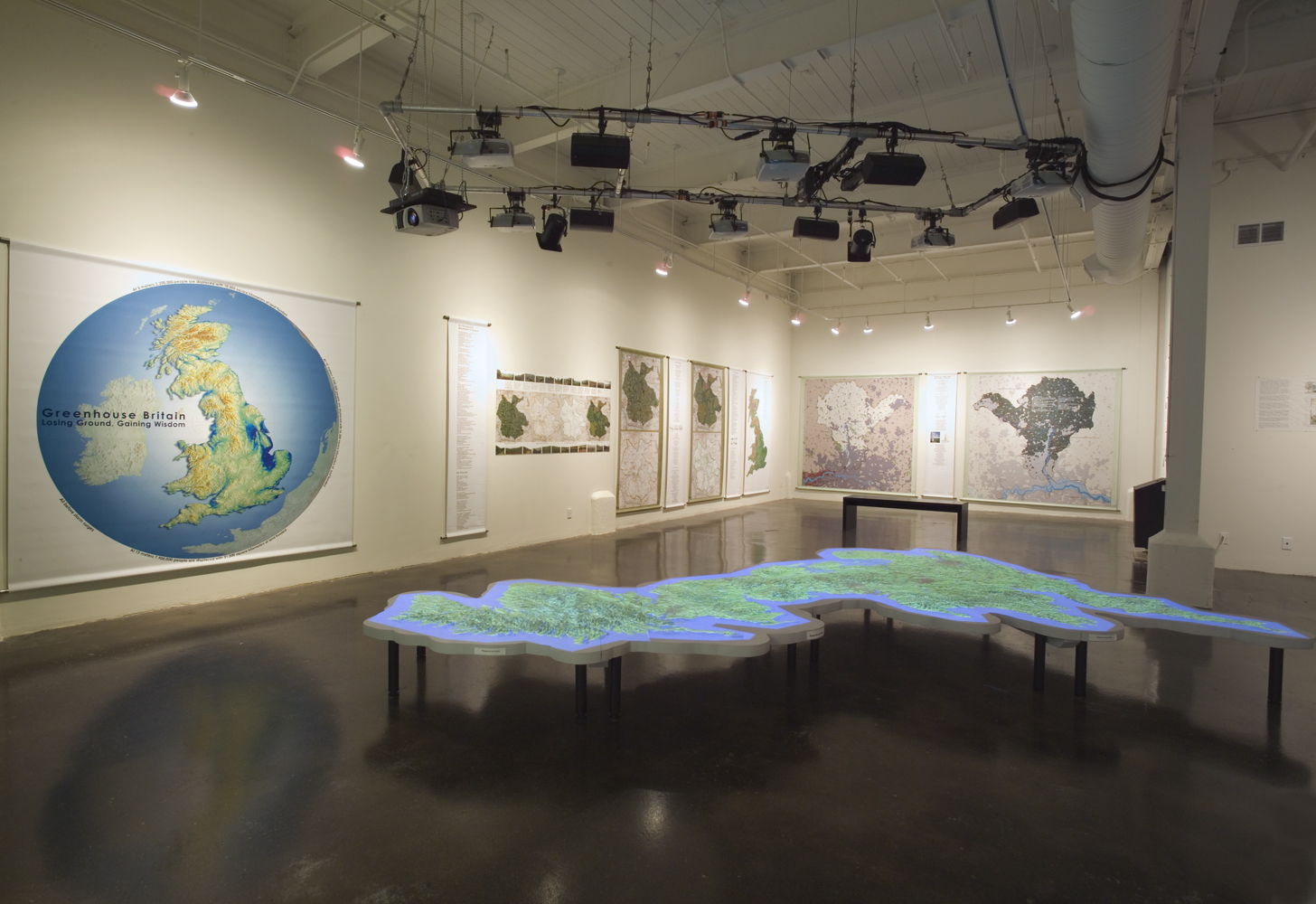 Greenhouse Great Britain and The Force Majeure, Helen Mayer Harrison and Newton Harrison, retrospective of works by collaborative team. December 2009-February 2010. photo credit: Mayumi Hamanaka
Last year's theme was about systems. We exhibited a retrospective of work by Sonya Rapoport; she was a seminal systems artist from the Bay Area who is now in her 80s, I believe. For our systems theme I curated "Systems of Collecting", which was one of my most personal favorite shows. Also in the systems theme last year was a show called "Cashing Out" which was a juried show in which Julio Morales came in and selected works that were done through an open call process. He was looking at artists' responses to the financial world and the recent financial meltdown and even though we planned the "Systems of Collecting" and "Cashing Out" shows well in advance it was really ironic that the [Cashing Out] show opened the same week that Occupy Oakland was on the front page of every newspaper in the country. That show oddly ended up being beyond timely to super in-the-week, in-the-moment timely.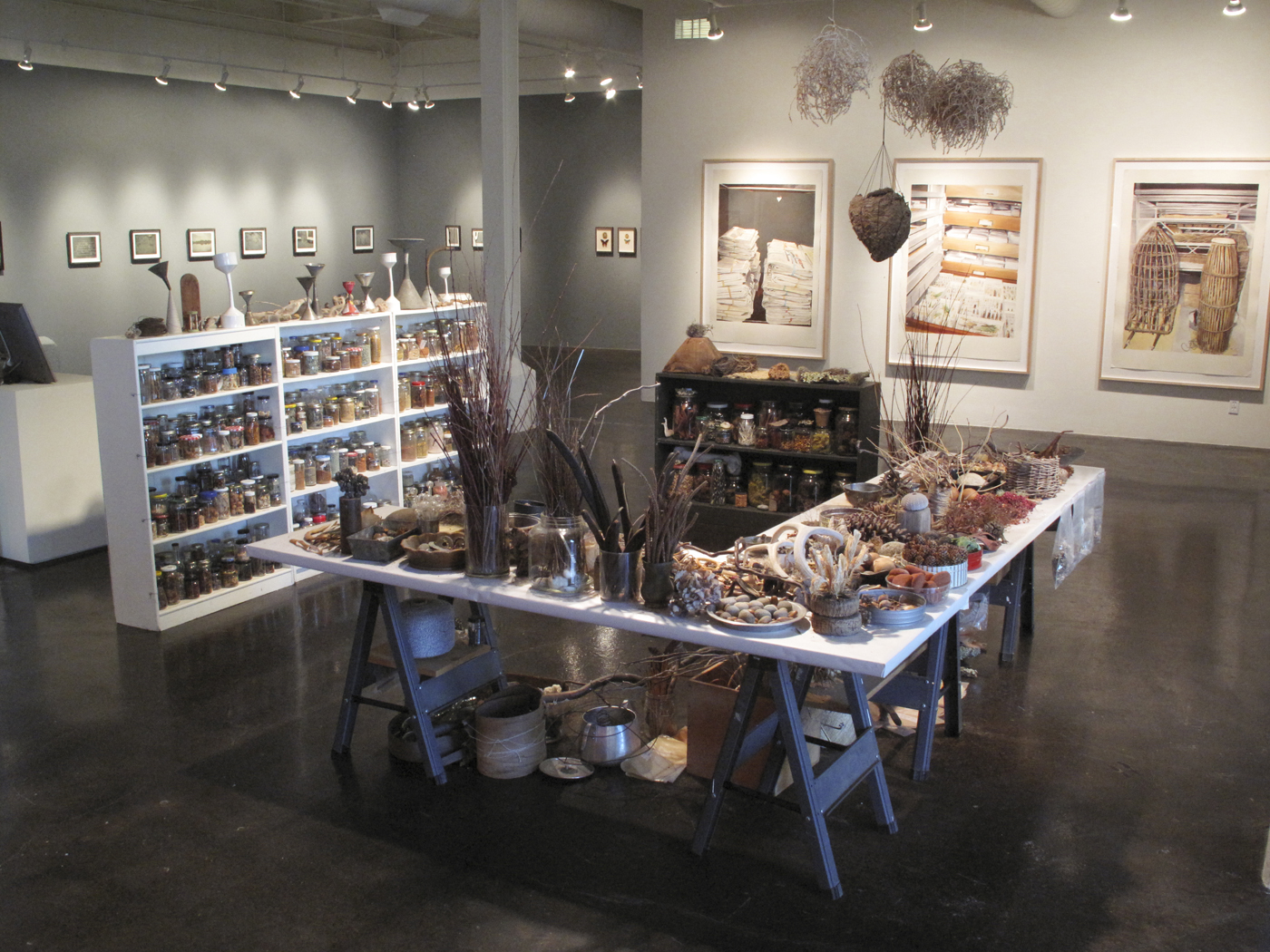 Systems of Collecting. Group exhibition curated by Lauren Davies. May-July 2011. Image: Mari Andrews, Matthew Troy Mullins and Binh Danh. photo credit: Eric Hoffman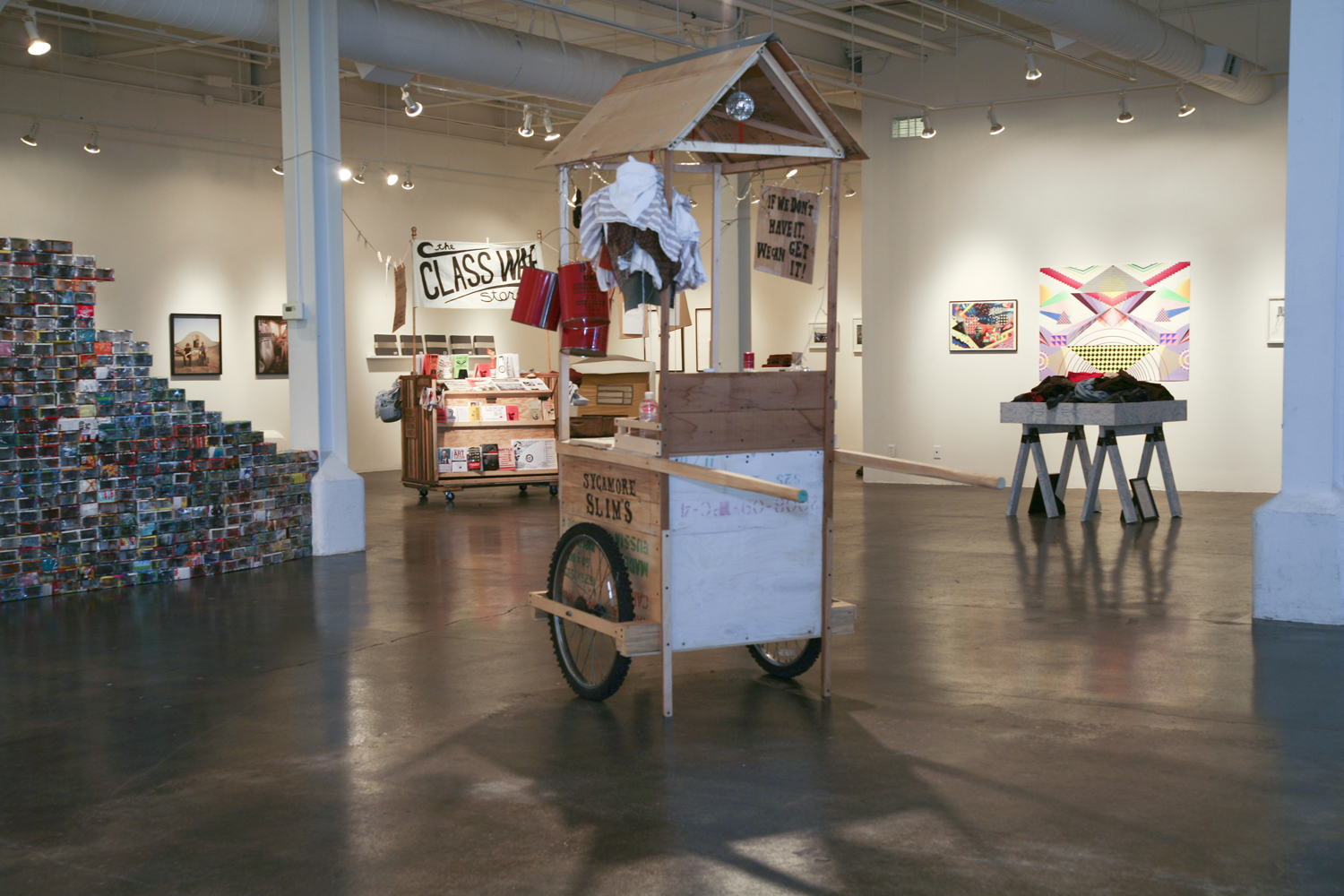 Cashing Out. Group exhibition juried by invited guest curator Julio Morales. October/November 2011. photo credit: Eric Hoffman
Relating to our curatorial focus, I also manage our Fellowship Awards program and the Visions from the New California awards program, which is funded by the Irvine Foundation. The Fellowship artists we select factor heavily into our gallery program because we feature these nine artists we select every year. We present exhibitions of the work that they create during their residencies at Kala. That's usually shown in the summer or early fall. We've got a number of different artists who come from different parts of the country and from around the world for the program.  We've had a lot of really well known artists from the Bay Area including Chris Duncan, Terry Berlier, Ranu Mukherjee, Elisheva Biernoff, Renée Gertler, Leslie Shows, Richard T Walker, Scott Kildall, Packard Jennings, Stephanie Syjuco and Zachary Royer Sholz. Those names are probably very familiar to people in the Bay Area. It's really funny, Ridgway Gallery is one of my favorite galleries in San Francisco, and it's amazing how many artists Eli [Ridgway] is showing that have been in our Fellowship Program.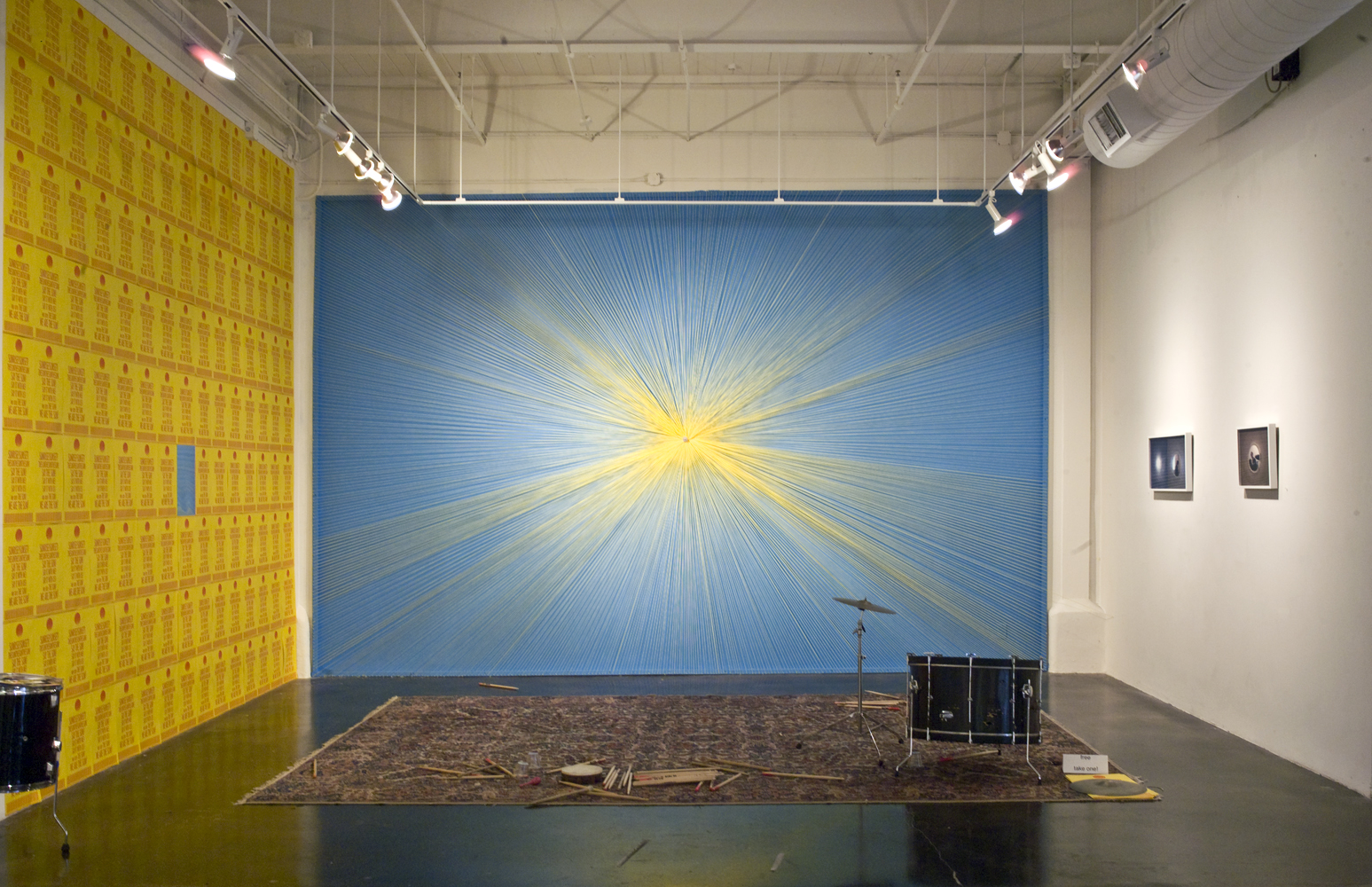 Residency Projects. Chris Duncan, The Sun, installation view. Group exhibition of Kala Fellowship artists' projects. July/August 2010. photo credit: Mayumi Hamanaka
So that's how our shows come together. The curatorial focus is structured around these annual themes and there is a lot of involvement with our Fellowship artists every year.
You seem to have your finger on the pulse of a lot of things happening all over the Bay Area.
I hope so. It's certainly a responsibility that everyone involved in programming takes seriously.
You feel a responsibility to be inclusive and topical?
Yes, to be topical and to find a blend of young artists and more experienced artists. There are so many great educational programs in the Bay Area – I really like meeting people who are just getting their MFA- but I don't want to become a gallery that is completely about the next wave. There are also so many artists in the Bay Area who are in their forties fifties who don't have the opportunities that people just out of an MFA program have. I really like to mix what we're putting together between young artists and say, mid-career artists to keep a nice balance.
Can you talk a little about what you look for when you are selecting work for a show?
What I'm looking for ranges. Now that we've moved to the new gallery, with that comes a lot more grant applications and constant fundraising because we are a non-profit organization. A big difference between when I first started curating and what I do now is that everything requires much more advanced planning. I need  to have shows planned out one year or eighteen months in advance. When I first started, the timeline was a couple of months in advance. So, selecting these themes is something that's really primed me for looking at work. I tend to direct my attention to work that is dealing with these topics. I'm certainly open to looking at everything, but I have a focus based around the advanced planning/agenda we're doing.
An element of my job that's really great, in addition to running the gallery, is that I also run the Fellowship program. So I am looking at over 300 applications every year between the Fellowship award and the Visions of the New California award. We do a lot of group shows so looking at all these applications really helps a lot. Anybody out of school can apply for the Fellowship Award, so again we get a lot of applications from people right out of an MFA program. We also get mid-career artists applying. It's really great to look at that much work because it actually helps me select the themes. Through this process I can see themes bubbling up like the show that we just de-installed the other day titled "Myths of Progress". This year time is our topical focus. There had been so much work around ideas of utopia/dystopia that I had seen bubbling up for the last two years that it played a role in selecting the theme.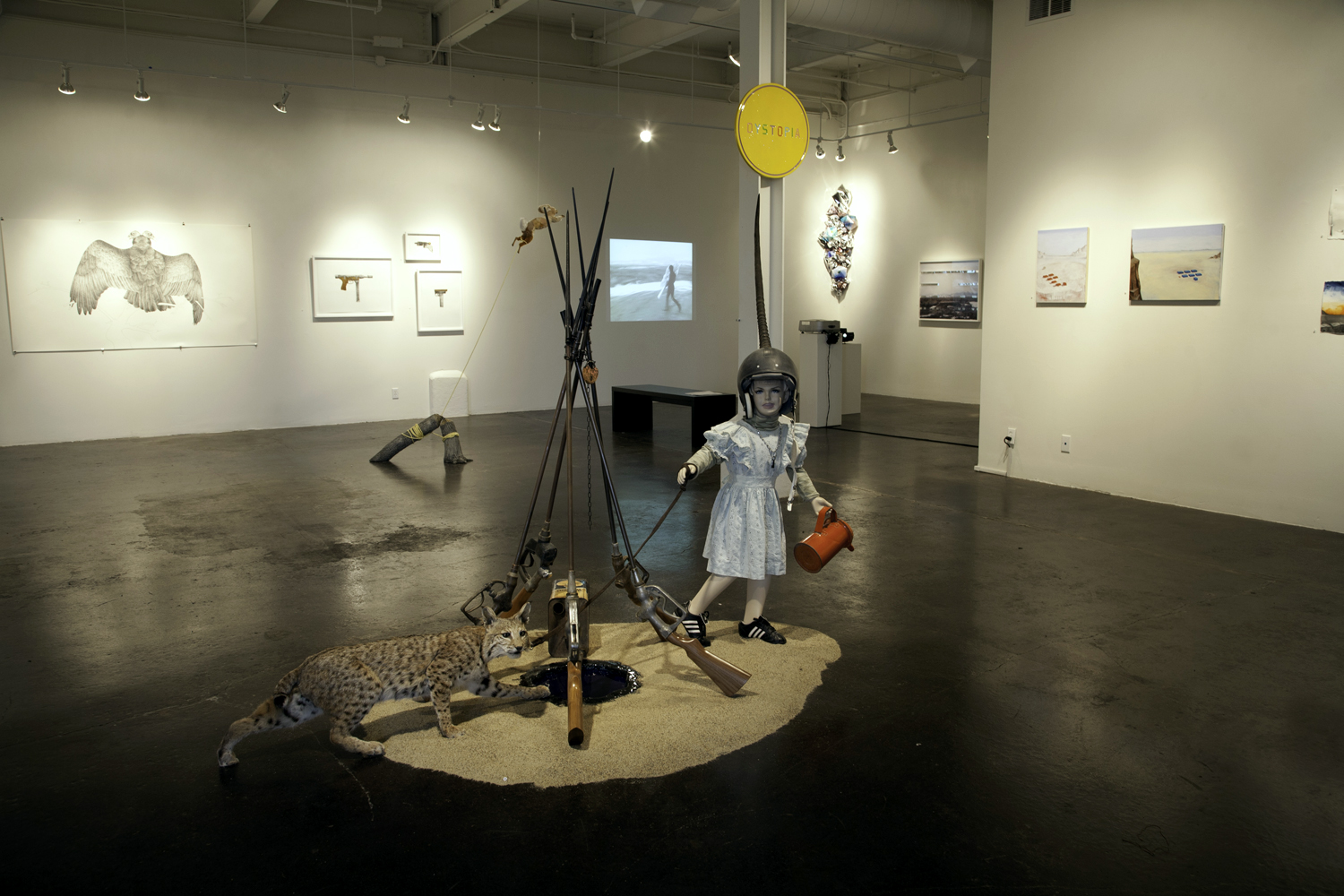 Myths of Progress. Group exhibition curated by Lauren Davies. Image: Walter Robinson, Jeff Eisenberg, Michael McConnell, Anna Ayeroff and Erik Parra. February/March 2012. photo credit: Eric Hoffman
In terms of selecting work from the Fellowship panel review it's interesting engaging with outside jurors like Jens Hoffmann, René de Guzman, and I particularly enjoyed working with Renny Pritiken last year. It's great to sit with these other curators who are operating at a much higher level certainly than I am and have conversations and hear their responses to work. They also see these themes bubbling up, so that's a great way for me to stay on top of what's happening. When I am working with these guest jurors, I see them discreetly writing down the names of people who they want to follow up on for their own programming. I think everybody enjoys the opportunity to see that much new work because it is an international call for entries and a competition. We get a lot of work from different parts of the country as well as Asia, Europe, and South America.
How big is the selection of international artists?
Well, you know it constantly changes. I've worked here for twelve years and we used to conscientiously make selections based on creating a balance, making sure we had people working in all the different media and coming from different places. For example, we would try not to end up with seven video artists and we tried to make sure we'd still have some people in the print studio and people who came from other countries. A couple of years ago we really stopped doing that. We just pick what we perceive is the work that is most suitable for our program and the artists we feel are going to best use what we have to offer here. There's  a panel agreement on that during the selection process.
So you look for work that is suitable for the resources you have here and artists that you feel would work within the community?
Exactly. So it's a lot of factors. I wouldn't want to say it's just "the best work" because what is the best work? But it's maybe the best fit with our organization. We really want to have diversity. We really want to have people working in different media. We love having people come from other countries. Of course it has to do with their timing, schedule and availability, and the actual project they want to do here. It's a variety of factors based on what ends up looking like the best fit for Kala and the artist.
Moving on from the international aspect of Kala, can you talk about the artistic community in the East Bay?
Its funny, I've worked here for twelve years and I just moved to Berkeley two months ago.
Where did you live before that?
Before that I had lived in San Francisco my entire adult life.
What are some of your favorite venues in the East Bay?
There are a couple of places that I'd like to give a big shout out to. One is the Berkeley Art Center for their revitalized programming. I think there is really innovative programming at Krowswork. I think there is always something really great to see at Swarm, Johansson Projects and Chandra Cerrito. Just right in our immediate neighborhood I was really sad to see Blank Space close. They were our nearest gallery – just  a block or two down the street. They've gone on to do some other great things but I miss their presence right in our immediate neighborhood. Certainly Mills College is always doing great things. The director at Mills is going to be our guest juror this year for our Fellowship competition so I look forward to working with Stephanie Hanor on t this year's selection. And obviously the Berkeley Art Museum – I really admire Larry Rinder. He was one of our previous Fellowship jurors. – really smart, fun and insightful.
It's such a rich community.
It really is. There's so much to see and I can't make any claim that I get out to see everything I want to see.
Going back to talking about selecting work for the shows here, people do ask a lot about that. I basically get to look at a wide range of work all the time. That helps me not only select the artists but the themes that we're going to work on every year. The show that we just de-installed, "Myths of Progress", was interesting because I hadn't worked with presenting much painting here – and I'm interested in painting. Recently I started to see quite a lot of narrative painting going on, in addition to narrative print media. I was seeing a lot of very hands-on, hand-done work based on images sourced from the news media.
In working with these themes I try to find ways to address a topic in a not-so-obvious way. One of my favorite shows I've worked on here was "Systems of Collecting" which of course was about collections. I really admire Binh Danh's work and I used his Cambodian genocide images from the Tuol Sleng Genocide Museum in Phnom Penh. So that was a really interesting, disturbing way to think about collecting. I like being able to have the time to really think about a topic and find non-typical, not-obvious ways of talking about it.
The other thing I do, because I am here in this 2000 square foot space, is when I'm looking at work I'm sort of simultaneously thinking about how it's going to come together. I really want everybody, every artist I work with, to feel their work is being presented in the way they want it to be seen, the best possible presentation. I don't want to put together shows that are about me as a curator – that suggest these people are here to illustrate my particular curatorial viewpoint on anything. I really want to have a nice dialog and collaborative experience.
With each show we present, we also have a gallery conversation with the artists. Sometimes it is a panel discussion and sometimes it's a presentation with each artist talking about his or her own work. This past weekend we had a gallery conversation with the artists in "Myths of Progress", which was about utopia/dystopia. It was great, because some things came up in conversation that I hadn't even thought about when I was putting the show together and that was illuminating. It took place on the last day of the show- it was the closing party and the talk – and there were a lot of overlapping themes that the artists in the show are working with that I had not thought about in a more formal manner. I don't think any of us really had thought about them. There was some commonality that had to do with childhood. Every artist seemed to end up talking about some dystopic aspect of where they grew up. Like in Texas, or growing up near a nuclear power plant, or growing up near some weapons station. In some way it seemed to inform the work they're producing now.
One other thing about selecting the work for the shows here: From the feedback I get from people who come to the gallery, how they view the exhibition program- I don't mean to make it sound overly self-congratulatory – but what they like about our programming is that there's always this interesting array of works that bring together known artists with young not-so-well known artists in exhibitions that mesh a certain kind of thoughtfulness that creates a strong visual exhibition based on a solid installation layout that is clean and sharp looking but also presents some oddball quirky works at times. That's the feedback I get from visitors when I ask people about their gallery experience at Kala.
Over the years, have there been particular shows or projects that stand out in your mind as pivotal moments in Kala's exhibition history?
There certainly are. When I first started working here, going back to the old gallery. I don't remember the square footage of the old gallery but it was a big room that certainly had its charm and appeal and was right off the print studio next to the office that I worked in. Before we expanded our facilities, there were a whole bunch of us working in a very crowded office. Some visitors really liked trekking up three flights of stairs and coming through the print studio to visit the gallery but it also made it less accessible. It felt like a semi off-the-beaten-path kind of place.
One of the first shows I worked on was with Unai San Martin, who is a master photogravure printer. This is back when we were working on doing a show each year that focused on a particular print media process. So I worked with Unai, and because photogravure was this little known nineteenth century technique, not many people worked in that way and Unai knew everybody in the country who worked in photogravure. When Unai  and I worked together, we were able to invite all these people he knew from New York and the Midwest and New Mexico. We did a contemporary overview of the photogravure process. So that was a really great experience working with someone as knowledgeable as Unai. He left Kala – he was an Artist in Residence and I believe he had also been a Kala Fellowship Artist. He's Basque, he's from Spain and he recently came back again. He is actually working here now as our Master Printer. So it's great to have somebody here that I've known the whole time I've worked at Kala.
I also worked on a show called "Casual Labor" that was a great sculpture show with Zachary Royer Sholz, Alex Clausen, and Kirk Stoller. These three artists worked in a similar, overlapping manner that was just really cohesive, compatible, quirky, and smart. I love those guys. That was one of my favorite shows- it was provisional sculpture that was just wildly assembled and Alex Clausen was working at that time with going into peoples' homes and creating temporary sculpture out of their furniture and then photographing it. That was a really good show.
"The Real World" was a show that dealt with facsimiles, models and simulations. Tracey Snelling was in that show and she's really well known for her dioramas and models that include video works. Those shows touched on things that are very personally interesting to me. Of course I'm interested in everything that I'm working on but there are topics that I can't help but feel a deeper connection to. Photography, sculpture, things involving models, dioramas, simulations, are really interesting to me.
When we moved to the new gallery, the "Systems of Collecting" show that I mentioned really was one of my favorite shows in so many ways. I loved the artists I was working with. We did some really different things like painting out parts of the gallery different colors. Binh Danh was in it. Mari Andrews, who has this incredible studio that I'd seen years ago. Mari basically transported part of her studio to the middle of our gallery. She's got a crazy collection of things. I mentioned before that I had grown up taking these classes as a kid in the Natural History Museum, so there was a lot of that sensibility in the show that had to do with Natural History collections. We included paintings by Matt Mullins, who is a young guy who just graduated from UC Berkeley last year. He was in our Visions of the New California awards program as was Ethan Turpin and Binh Danh. So that was personally a really satisfying show.
Also, the Helen and Newton Harrison show I mentioned before that had a big panel discussion with people working in urban studies and architecture and issues relating to water. Periodically I get to do some outside shows. I worked on a show at the Brower Center in Berkeley with David Maisel, who I think is a really terrific photographer. The solo show at the Brower presented his Lake Project series.
You touched on the relationship between your work here at Kala and your studio practice. Can you talk a little about how one informs the other and vice versa?
Well, I've worked with Gallery 16 for quite a long time. I love Griff [Williams]; he's a really great guy. I met him ten or twelve years ago when he took over Urban Digital Color and Gallery 16 and eventually they moved from 16th Street over to Third Street. I've done a couple of one-person shows with Griff and he just does crazy amazing things with digital media. So that has provided me with a nice opportunity to create sculpture, and work with Urban Digital Color on some  digital media pieces for my show at Gallery 16. They also produced some interesting digital prints on fabric that I used in a show at Ampersand Arts. I actually don't have any particular skill in print media.
I'm shocked (laughter).
I know, exactly. In my own world of studio work it's nice to work with somebody who can facilitate and work with me on some ideas about photography. After being here for such a long time, I recently had the opportunity to take a five-month leave of absence to do some residencies of my own. I went to France and worked on a project there and then I spent several months at the Santa Fe Art Institute in New Mexico. Amazingly I started working on a photo project when I was in Santa Fe. I didn't even have a decent camera. I had to order one and that project involving photography is what I'm working on now. It's a project that's going to be a type of collaboration between images and sculptures that correspond to photographs I took when I was in Santa Fe.
And what exhibitions can we look forward to at Kala in the upcoming year?
Right now we're getting ready for our big fundraising auction, which is very important to us. The next show after that is the Visions from the New California award show. That show is being funded by the Irvine Foundation in collaboration with the Alliance of Artists Communities and involves all of the residency centers in California. That includes the Headlands, The Exploratorium, Djerassi, Kala, Montalvo, and 18th Street Arts Center. We are doing a two-venue exhibition with artists who have been in the program in the last three years. One part of the show is going to be at 18th Street Arts Center in Southern California. I've been working with Mark Greenfield, an independent LA curator on that. I'm doing the other half of the show here at Kala. As much as possible we're trying to bring Southern California Artists to Kala and send Northern California Artists down to LA. That's going to be this summer. Then we're doing our Fellowship artists show in late Summer and in the Fall we're going to be doing another exhibition around the theme of Time and I'm working on curating that, which will be a group show of artists dealing with visual manifestations of ways of tracking time. It could be video, it could be painting, it could be drawing, and it could be objects. We're going to do a call for entries very soon in order to include some artists that I might not be aware of. I'll probably be curating a core group of artists and bring in some other artists whose work I'm not familiar with to round out the exhibition. Next year I'm really excited about our thematic focus, which will be scale. I think that's going to be a lot of sculpture and photography. So that's what we've got going on in the near future.
Sounds wonderful. Thank you so much for talking with me.
Thank you. I always love looking at The Quarterly when it comes out so I'm flattered that you have come to Kala to interview Archana and myself today.
– Kelly Inouye is a San Francisco-based artist and contributor to SFAQ.