If your in Los Angeles, Blum and Poe should be on you're list of galleries to visit.  Known for it's great program of noteworthy exhibitions, Blum and Poe presents a collection of works by Kishio Suga spanning across fifty years of his artistic practice.  Suga has his hand in molding Japanese art through his involvement in Mono-ha in the 1960s which shares features of Land Art, Fluxus, and conceptual art movements.  Suga explores the relationships between natural and man made industrial materials by creating works and installation that involve both elements and their physical/conceptual relationships.  Looking at "Shaiso [Diagonal Phase]"  you can clearly see how Suga presents these ideas through the balanced relationships of the objects and materials that are involved in the piece.  Effortlessly leaning on one another for support, the large sheet and beam of wood both stand in unconceivable positions only made possible by the existence of the stones placed on the ground of their maker.  The industrial materials' could not stand tall without the natural foundation layed down by Suga.  Their are many more works that follow these guidelines that Suga expresses in his work on view at Blum and Poe.  When you visit the gallery be sure to check out Suga's book, Requiem for the Sun: The Art of Mono-ha.
, 1969/2012 Wood, stones 101 1/2 x 171 x 48 inches overall. Courtesy of Blum and Poe"]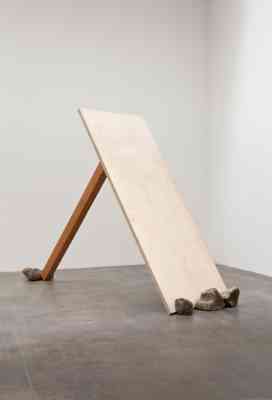 Artist: Kishio Suga
Exhibition: 50 Year Survey
Dates: November 3 — December 22, 2012
Location: Blum and Poe, Los Angeles
Website: http://www.blumandpoe.com/exhibitions/kishio-suga#images
Press Release Excerpt:
Blum & Poe is very pleased to present a fifty-year survey of Kishio Suga, one of the leading figures of Mono-ha (School of Things), a group of artists who radically redefined Japanese art during the late 1960s and early 1970s. This is Suga's first solo exhibition with the gallery and his first solo presentation in North America. It follows the enormous success of Requiem for the Sun: The Art of Mono-ha, an ambitious, museum-level survey curated by Mika Yoshitake, assistant curator at the Hirshhorn Museum and Sculpture Garden, at Blum & Poe in February.
The Mono-ha artists explored the encounter between natural and industrial materials, such as stone, steel plates, glass, light bulbs, cotton, sponge, paper, wood, wire, rope, leather, oil, and water, arranging them in mostly unaltered, ephemeral states. The works focus as much on the interdependency of these various elements and the surrounding space as on the materials themselves. Suga's ongoing investigation of "situation" and the "activation of existence" is a crucial aspect of this legacy. In Jokyoritsu (1971), the artist placed ten flat stones in a line on a twenty-meter-long pane of glass and floated it on the surface of a lake in Tokiwa Park, Ube City, Yamaguchi Prefecture. Many of Suga's works are characterized by these delicate but arresting visualizations of horizontality, suspension, and gravity.
In this exhibition—the first solo show at Blum & Poe to span both floors—the downstairs galleries feature Suga's large-scale installations from the 1970s and 1980s. Among them, two rooms are dedicated to site-specific works: Shachi Jokyo (1972), an array of small, flat stones supported by a single piece of wire that criss-crosses the room, and Tabunritsu (1975), a set of over thirty stones mounted on top of a transparent plastic sheet draped over concrete blocks.
, 1979/2012. Stone, zinc plate. Courtesy of Blum and Poe."]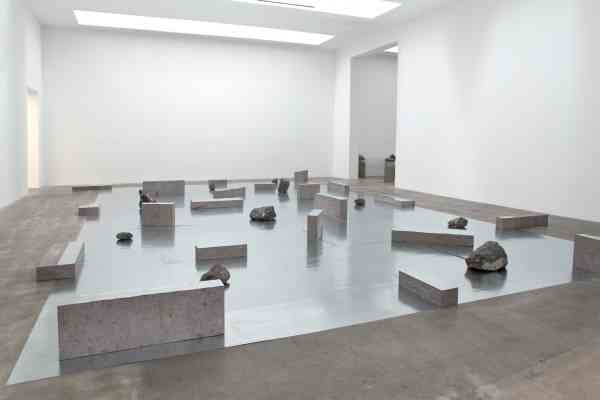 –
Contributed by Gregory Ito