There is a great exhibition currently at the Chinese Culture Center (CCC) of San Francisco which originally shown in Shanghai, China titled "Women".  Recently I visited Shanghai and heard many stories about the censorship of art and government officials shutting down shows even before an exhibition opened because of the artworks content or imagery.  I didn't see this with my own eyes, but I heard this from a number of gallerists who moved to  China to open spaces and exhibit artworks imported from outside country lines hoping to sell works in China's booming economy. Even though China is a powerhouse of a country in today's economic climate, it's cultural landscape is kept highly manicured by the government and their hands on approach with censorship of the publics opinion in art, politics, and the public domain of the internet.  "Women" is an exhibition and program consisting of artworks, installation, and video screenings exploring the feminist ideals in China and the status of gay and transgender individuals in China's current cultural climate.  Knowing that this exhibition was originally shown in  Shanghai is a big deal.  This is the first exhibit of it's kind to be exhibited successfully in China.  I was told that government officials did go to the opening to meet the artists and invite them to tea to talk, but this was probably their excuse to further their investigations on the artists and the concepts they present in their work.  Read the press release below for more information and go visit the Chinese Culture Center (CCC) to see the exhibition and their public programming.  More information and videos available at the link below: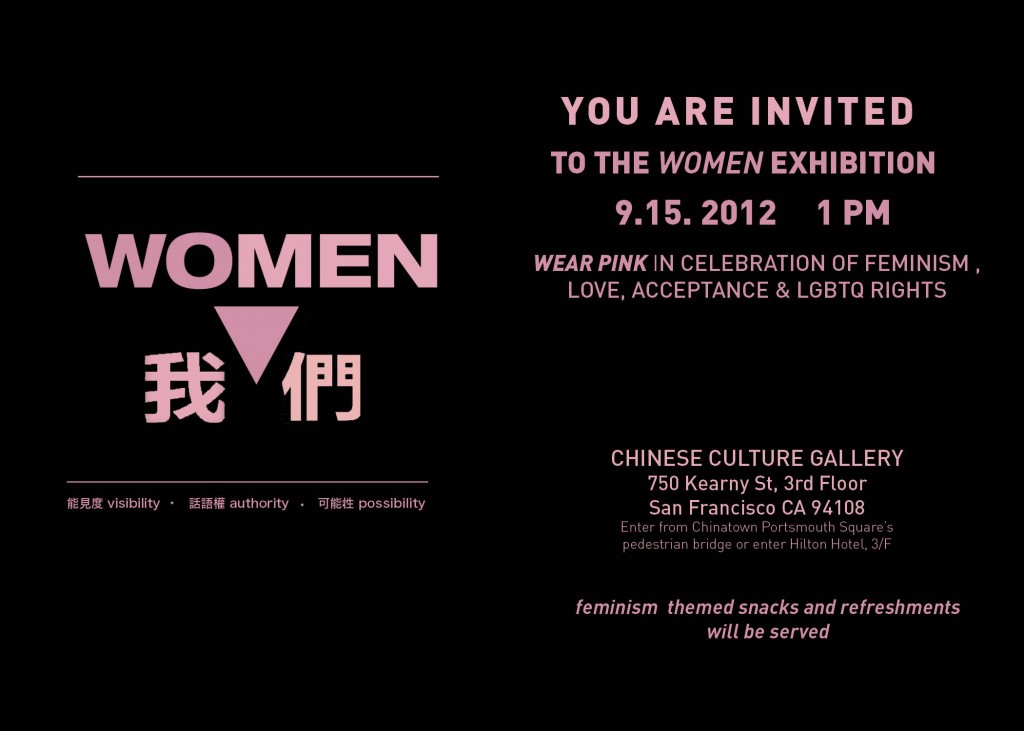 Exhibit: "WOMEN我們"
On view: September 15 – December 15, 2012
Location: Chinese Culture Center (CCC)
Curator: Abby Chen
http://www.c-c-c.org/2012/09/25/women%E6%88%91%E5%80%91-on-view-sept-15-dec-8-2012/
Press Release:
WOMEN 我們 features video works, installation art, drawings, and paintings by a diverse array of female, male, and LGBTQ artists. Titled with the Mandarin-English homophone, WOMEN 我們, meaning both 'women' and 'we,' the show evolved from a purely feminist exploration and expression of feminism in Chinese visual culture to go on to examine gay and transgender visibility, and sexual identity in China. The theme of the exhibition focuses on visibility, authority, and possibility for the movement with the goal of introducing a visual experience on the forefront of culture. These works strive to influence and push the value proposition and discourse on these issues, which are often lacked, estranged, or even feared by the mainstream society.
Originally opened in Shanghai in 2011, the exhibition focused on works by feminist, gender, and queer artists and was held as the official exhibition for the conference "International Chinese Women and Visual Representation," organized by Fudan University and University of Michigan. In its debut at EMG Gallery, WOMEN我們 was one of the first exhibitions of its kind. Traveling to San Francisco, the show will feature local artists and new performance pieces brought on by the controversy from the previous show.
WOMEN 我們is an insightful exploration and on-the-ground examination into the currents of feminism, LGBTQ, and sexual identity in contemporary China.The group show showcases 13 artists, including seven artists from China, two artist collectives, three NGOs in a social project, and five local artists. Many of the young Chinese artists were born post-1980s generation and signal a break in the artistic creation from previous generations.
Contributed by Gregory Ito